Five takeaways from Archie Miller's Zoom press conference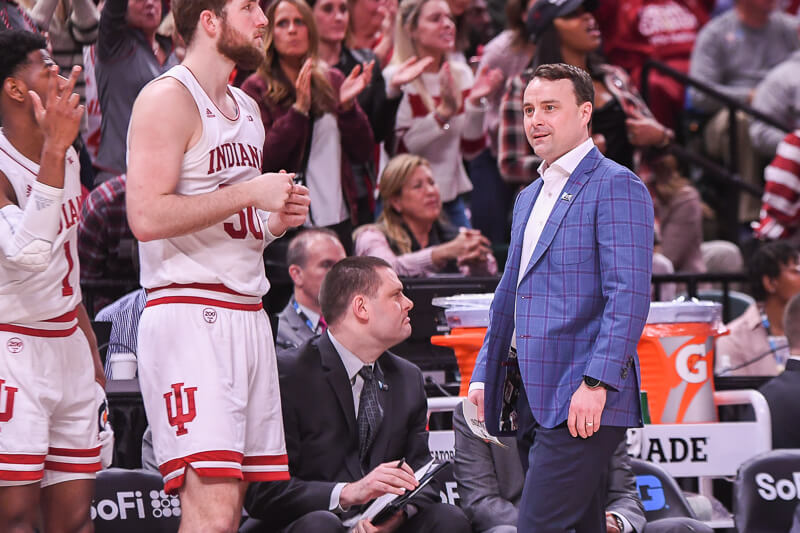 Indiana coach Archie Miller addressed the media via Zoom on Tuesday night and spoke at length on a variety of topics.
You can watch the full video conference here – it also includes comments from five returning players – but here are five takeaways from Miller's comments:
· Miller discusses phased return to campus for players: While Indiana's players were able to return to campus in mid-June to begin voluntary workouts, the roster actually came back to Bloomington in phases.
The first phase of players, six in total according to Miller, arrived in mid-June and those players focused on opportunities in the weight room and voluntary conditioning. During that time, there was no contact allowed in terms of playing basketball, but they gradually worked up into some shooting in the gym with masks and social distancing on an individual basis with managers.
The second phase of players arrived this month and since July 20, the coaches have been able to work with players. The setup for that has been two groups of players who have been doing work from anywhere from 35 to 50 minutes per day. Miller said those sessions have gone off without a hitch.
"We had two workouts again today," Miller said. "All of our players are working out minus Jerome (Hunter) who went to get a procedure on his tonsils, which basically ended his summer just a few days early. But we'll finish with a day off tomorrow (Wednesday) and then finish with two more days on the floor. And our hope would be that when we finish on Friday, we will have completed a very, very thorough six weeks."
· A different time in recruiting as everything shifts online: It's been common to hear the words "virtual visit" from recruits Indiana has been pursuing in recent months.
With the NCAA in a dead period for recruiting for the foreseeable future with coaches unable to go evaluate prospects and prospects unable to visit campus, college programs from around the country have been forced to get creative.
Miller said he wouldn't be surprised if the dead period lasts through the end of the year, which means recruiting via Zoom is going to be the norm.
"I think once we sort of figured out that there wasn't going to be a whole lot of coming and going or seeing each other face to face, we had to do our best to be able to separate a phone call or a text from an actual meeting type of a visit," Miller explained. "Like we're doing right now on Zoom, we've done hundreds.
"We're just trying to get in front of people face to face the best we can. And then with your own style and however you want to work it, whatever that kid needs to see in terms of basketball or maybe a kid wants to see where he is going to live, you're going to have to use modern technology to have visits now."
· Miller anticipates a "hybrid" approach this season: Justin Smith's departure opens up a lot of possibilities for how Indiana will play whenever it takes the court again.
The Hoosiers could choose to plug Hunter right in to the minutes vacated by Smith and continue to roll with a bigger lineup in the frontcourt.
Or Miller could audible and play three guards like he often did in his first two seasons in Bloomington.
"We're going to be more of a guard oriented team," Miller said. "I don't want to say half of the game or whatever, but we're going to play three perimeter players around Trayce (Jackson-Davis) and Joey (Brunk) like we did a year ago. Or we'll play even some smaller stuff. I think with Jordan Geromino and Jerome being more of a perimeter oriented guy out there around one of those guys."
· Khristian Lander is only 17, but is more than holding his own: While acknowledging that there will be a learning curve as a freshman attempting to play point guard in the Big Ten, Miller was effusive in his praise for Khristian Lander.
Miller said the Evansville Reitz product is going to have to learn to play through mistakes and get stronger, but from watching him the first couple of weeks he's been on campus, he looks like he belongs already.
"He is so gifted on the court and has such a great feel that you can't teach," Miller said. "That's the one thing about him that I've always said and I still feel about him right now. He just has that 'it' factor, that feel factor with the ball in his ability to know how to play. And as a point guard, not having to teach them how to play sometimes, you know you have a good one."
· Optimism for a season from Miller despite uncertainty on how it might look: The COVID-19 pandemic has cast serious doubt on what the NCAA's winter sports season might look like, but Miller remains optimistic that a season will happen in some form.
While stating that the program continues to prepare for the season to be played as scheduled, Miller also acknowledged the uncertain future that lies ahead as the summer moves along.
"This is not going to be easy and we have a lot more hurdles to get through," he said. "I'm just crossing my fingers that we can get this fall term going, fall sports. Everybody needs it and our kids need it more than anything. And basketball will adjust.
"I'll be shocked, absolutely shocked if we don't turn out a good basketball season. Whether that's non-conference, conference only at Thanksgiving, conference in January, I don't know, but I feel like we'll have a great college basketball season."
Filed to: Archie Miller