Khristian Lander is Indiana's youngest freshman since 2013, is he ready for the challenge?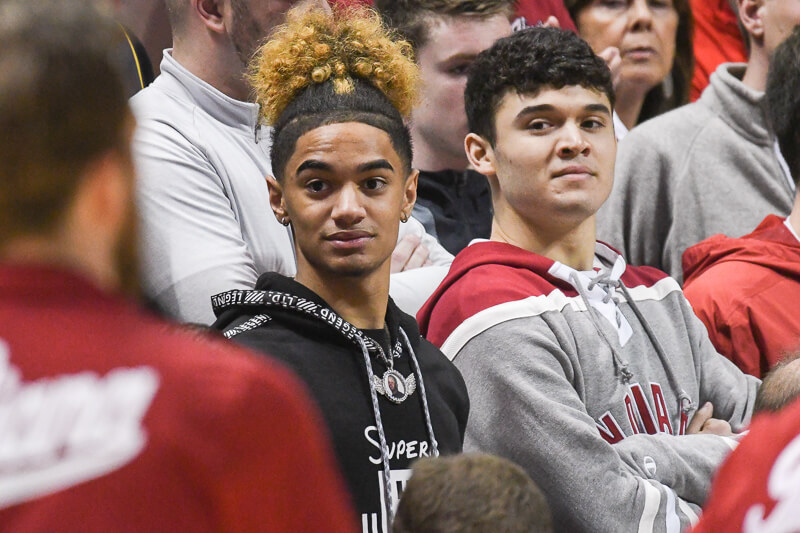 Until recently, only three IU basketball players in the last decade had turned 18 years old after arriving on campus as freshmen.
Noah Vonleh, a 2013 McDonald's All-American, didn't turn 18 until August 24, 2013, which came after he completed an entire summer of workouts in Bloomington and just days before the fall semester began at Indiana.
Vonleh was 6-foot-10, 240 pounds and went on to earn Big Ten freshman of the year honors after leading the conference in rebounding. He's now in his sixth NBA season.
In the summer of 2015, OG Anunoby and Thomas Bryant both arrived on campus at age 17 with Anunoby celebrating his 18th birthday on July 17 and Bryant just two weeks later on July 31.
Both played pivotal roles on Indiana's 2015-16 Big Ten championship team that advanced to the Sweet Sixteen of the 2016 NCAA tournament and went on to be selected in the 2016 NBA draft. As a freshman, Anunoby was listed at 6-foot-8 and 215 pounds while Bryant checked in at 6-foot-10 and 245 pounds. Anunoby is in his fourth NBA season with the Toronto Raptors and Bryant signed a three-year deal with the Washington Wizards last summer worth $25 million.
The fourth IU player in the last decade to arrive on campus as a 17-year old freshman is Evansville Reitz point guard Khristian Lander.
Lander, who turns 18 on August 9, just completed his first set of summer workouts in Bloomington and faces a challenge Vonleh, Anunoby and Bryant didn't have to navigate. Lander, a consensus five-star recruit, will attempt to play major minutes at the point guard position while at a disadvantage from a strength and physical maturity perspective compared to his peers.
That reality is not lost on Archie Miller, who played point guard at North Carolina State over five seasons from 1997 through 2002.
"Khristian is 17-years old. He's been on campus now for three weeks," Miller said last week on a Zoom meeting with reporters. "That's so hard. I think back to when I was 17 years old and going into my summer of my senior year of high school. He jumped straight to college."
The reclassification trend in college basketball has grown in recent years as the rush among top prospects to make the leap to the NBA has intensified.
In most cases, however, when point guards move up a year, they haven't been as young as Lander.
Kentucky's Jamal Murray had already been 18 years old for four months when he announced in the summer of 2015 that he would reclassify. Arizona's Nico Mannion and Kentucky's Ashton Hagans are two other five-star point guards who reclassified in recent years, but both turned 18 well before graduating high school.
Listed at 6-foot-1 and 165 pounds, Lander will have to face the reality that he'll often be both the youngest and smallest player on the floor.
"As a young player he's going to have to learn how to play through mistakes and not get down on himself," Miller explained. "This is hard for the first time. Real hard for the first time. He can't let any of that doubt creep into his head. It's going to be okay. He's allowed to make mistakes. He's going to have to learn there's going to be different guys out there that are pretty good and are bigger, stronger, older."
What is clear from listening to Miller talk at length is his confidence that Lander is going to make an impact immediately for an Indiana program that needs a boost of talent in the backcourt.
A smooth lefty who picked Indiana over offers from Louisville, Michigan and several others, Lander netted 1,314 points in his career at Reitz and averaged 21 points as a junior while earning second team all-state honors.
In his first extended comments to local media since the season abruptly ended in March, Miller acknowledged that the Hoosiers will be more "guard oriented" and junior Rob Phinisee made mention of offensive tweaks that include more ball screens.
"I think we'll complement each other pretty well," Phinisee said. "He's very quick, he likes to take ball screens. I feel like in the new offense we have, we'll be able to play together and create for each other."
Shortly after he announced his decision to commit to Indiana in late February, Lander told Inside the Hall that the possibility of playing in pick-and-roll situations with Trayce Jackson-Davis weighed heavily in his decision.
"I feel like if I get ahold of Trayce, we can dominate the Big Ten," he said. "I've been working pick-and-rolls since I was about in seventh grade. I'm just starting to get like the pro-style pick-and-roll now."
The possibility is now a reality – assuming the 2020-21 college basketball happens in some form – and Miller's confidence in Lander having success as one of the country's youngest players was evident from his words last Tuesday.
"The thing I think about him is as a basketball player, he's so natural," Miller said. "As he gets experience, he's going to keep getting better and better. He's another guy that's very coachable. I love that he's very competitive too. He's a young guy, 17 now but he's very competitive.
"I feel good adding Khristian to the mix just in watching him with upperclassmen in his five to six workouts. If I walked in, I wouldn't know he's a 17-year old kid. He's got that going for him. Now, it's just maturity and learning things are okay when you don't make a shot or make a mistake. He's going to be that young guy you coach hard. You're going to push him but you want to push him through mistakes as well and get his confidence up."
Filed to: Khristian Lander