Freshman Focus: Khristian Lander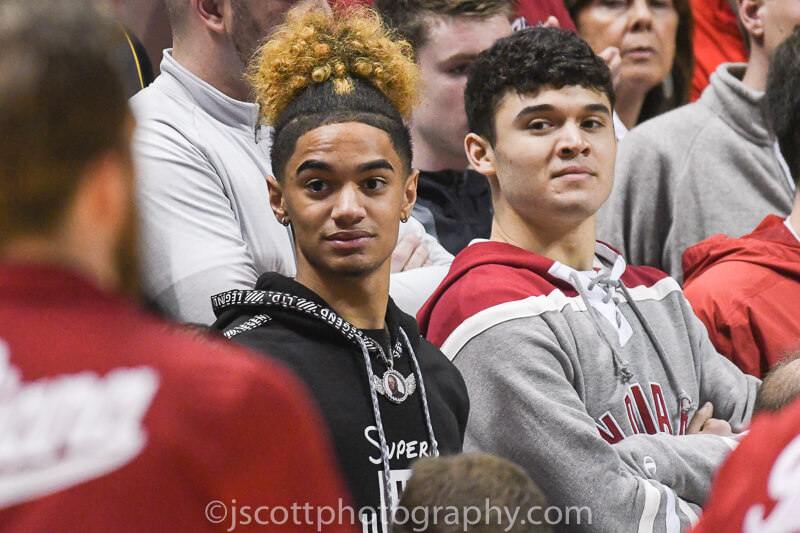 "Freshman Focus" is an Inside the Hall series on each of Indiana's incoming freshmen. Today: Khristian Lander. Previously: Anthony Leal, Jordan Geronimo
The words poured out of Michael Adams' mouth with pace and passion.
Lists were quickly formed.
One represented all that Khristian Lander is leaving behind. The other laid out all that is now in front of him.
Adams, Lander's high school coach for three seasons at Evansville Reitz, is keenly aware of what Lander is sacrificing by reclassifying from 2021 to 2020 and forgoing his senior year of high school to arrive at Indiana ahead of schedule.
Missing out on the chance to become an Indiana All-Star, a McDonald's All-American, Indiana Mr. Basketball and the all-time scoring leader at Reitz and in the city of Evansville are among the tangible things listed by Adams.
For good measure Adams also covered more abstract things, like Lander being unable to attend his senior prom.
"I know that may all sound a bit silly, but I just kind of feel bad that he's not going to experience those things," Adams explained. "I think we live in a time where everyone wants it right now or early, and the faster the better. I think sometimes it's good to just slow down and just enjoy what's going on… I think Khristian is leaving things on the table."
But as easily as Adams can name what Lander is missing by passing up his final year at Reitz, he can also recite the reasons why his departure makes sense, and the skills Lander has that are ready to be translated to the college level.
It's Lander's speed from one end of the court to the other. His talent of delivering pinpoint passes to rim-running big men. His ball-handling skills and his ability to play through contact. His individual capacity to score the ball at all three levels.
String those endorsements together and the full picture of Lander's potential comes into view.
"I think with Khristian, he just checks so many boxes," Adams said.
Any discussion about the pros and cons or rights and wrongs of Lander's reclassification is effectively null.
The mid-May announcement that Lander would be joining IU's 2020 recruiting class brought an official end to a whirlwind two years for all involved in the Reitz program.
Early in his coaching career, Adams spent four years as a volunteer assistant and graduate assistant at his alma mater, the University of Indianapolis. Part of his job was recruiting, traveling the state to evaluate high school players for the next level.
That context is needed to understand Adams' demeanor each time he was asked about Lander's future prospects.
"When people say (to me), 'Is he really that good? What do you think?' I've always said, number one, all of these guys aren't gonna be wrong," Adams said. "He's getting all this hype and interest because this is what these guys do for a living."
Even though Adams described Lander's recruitment as "overwhelming" with the likes of Chris Mack (Louisville), Juwan Howard (Michigan), Tony Bennett (Virginia) and Archie Miller all making frequent in-person visits to Reitz's gym, it wasn't a frenzy that took the coaching veteran by surprise.
Lander began coming to Adams' basketball camps in middle school. Memories remain of an adolescent Lander sticking around after camp was done to scrimmage and work out with Reitz's varsity team.
"I can remember that little stinker being out there with our varsity guys, making plays as a seventh, eighth-grader. And me and the coaches would just look at one another like 'This dude's special,'" Adams recalls.
By Lander's sophomore season at Reitz, high-major offers became common, and the attention increased as his on-court play continued to impress.
His junior season at Reitz, which ended prematurely due to the COVID-19 pandemic after the Panthers had won a Class 4A sectional title, saw Lander average 21 points, 6 rebounds and 4.6 assists per game.
There were still off nights, like when Lander was outplayed by Castle's Isaiah Swope in a late December home loss, but the body of work was there across the season. It was there for Lander's entire three-year high school career, which ended with him fourth on Reitz's career scoring list with 1,314 points (230 points shy of Jaelan Sanford's school record).
For the praise built around Lander's junior year performance, which included leading Reitz in deflections, rebounds, scoring and steals according to Adams, all involved parties know things are different in the Big Ten.
Playing through bumps and knocks is hard enough for guards in the Big Ten, before you factor in that Lander will be a year younger than most of his freshman peers due to reclassification.
"Certainly his athleticism is going to serve him well, but the worry is what is his size?" Adams said. "He's got good size, but the Big Ten is the Big Ten. He's got good strength, but again the Big Ten is the Big Ten. I know IU is going to work to get him there, but it'll be interesting to see what his growth is in some of those areas."
Unlike the other two guards in the 2020 class, Trey Galloway and Anthony Leal, the path to playing time seems simple for Lander.
Five-star talent doesn't often sit on the bench in college basketball, and Lander's propensity to score should provide added incentive for Miller to give him playing time. Add in the potential for a new-look IU lineup following Justin Smith's transfer and the stage could be set for three-guard lineups this season with Lander, Al Durham and Rob Phinisee.
But as Lander said himself in late February after committing to IU, it's his passing that could immediately improve IU's offense.
"That's a great attribute of his, his ability to see the floor, get it to people and get it up the court quickly," Adams said. "There's one thing about being able to make the pass, but I think he's a willing passer to open shooters. At this next level he's going to have people that he can be more of a facilitator (for)."
During that February interview, Lander shed light on his haste to come to IU in 2020.
Trayce Jackson-Davis is likely only around for one more season, Lander said, and he wants to take advantage of the pick-and-roll possibilities with the All-Big Ten forward while there's still time.
And for all the things he's leaving behind, Khristian Lander has plenty of time now in front of him.
Filed to: Freshman Focus, Khristian Lander