'We have a more skilled team': New-look offense takes shape for Indiana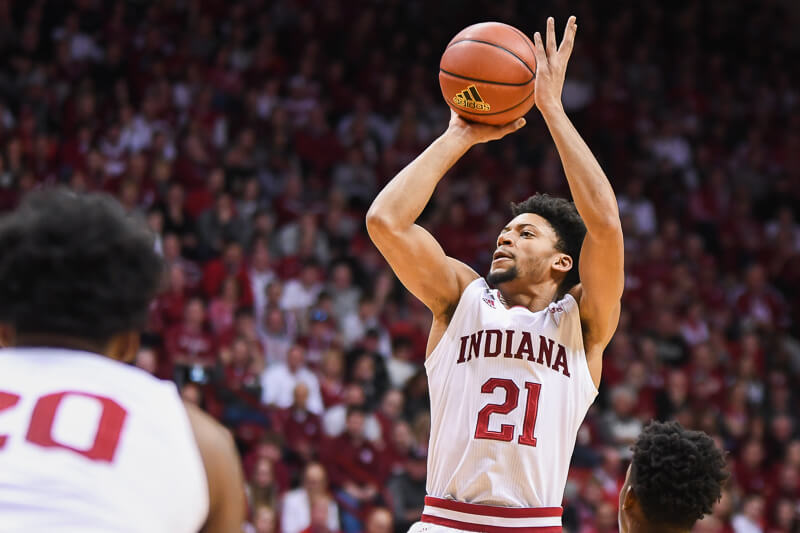 Archie Miller has never been one to exaggerate.
That statement was true in the best of times, like the tail end of the 2019-20 season as the Hoosiers were headed toward their first NCAA tournament appearance since 2016.
It remains true now in more challenging times, as the past few months saw the COVID-19 pandemic take away the 2020 NCAA tournament and throw IU's offseason into flux.
But when discussing IU's new-look offense for next season (and whenever that next season begins is anyone's guess) during a recent Zoom meeting with reporters, Miller used enough meaningful words to merit further exploration.
He provided tangible descriptions about what changes Indiana's offense has undergone ahead of his fourth season, changes spurred by an influx of backcourt talent and the offseason transfer of a starter.
The result, as hinted at by Miller and his returning players, includes a smaller, more perimeter-oriented lineup that seeks to space the floor.
Here's a look at some of the new offensive approaches Miller and his players touched on, and their importance to an Indiana team with the highest expectations of any during Miller's time in Bloomington.
Increased use of three-guard lineups
Once Khristian Lander reclassified to be part of IU's 2020 recruiting class, use of a three-guard lineup became a foregone conclusion.
Lander's quickness, skill and scoring ability are just some of the reasons why IU is eager to take advantage of his presence right away.
"I think once Khristian joined the floor, it was inevitable we were going to have to play Rob (Phinisee) and Khristian and Al (Durham) together," Miller said. "I don't necessarily know whether that combo works the best or the most, but it's going to give our perimeter guys way more opportunities to get out there and play more of a three-headed monster, (a) three-guard lineup."
With Justin Smith starting 64 of a possible 67 games and averaging 27.5 minutes played over the past two seasons, there were few recent opportunities for IU to use three-guard sets.
Smith's transfer to Arkansas opened up the three spot, and Miller intends to fill it by playing his three best guards together.
"I don't want to say half the game or whatever, but we're going to play three perimeter players either around Trayce (Jackson-Davis) and Joey (Brunk) like we did a year ago," Miller said.
For their part, both Durham and Phinisee seem enthused about a three-guard lineup.
"It's more interchangeable with three guards around the perimeter," Durham said. "You can reposition, whether that be at the corner or the top."
Last season cemented Phinisee's role as the team's primary ball handler. He's set to serve in that capacity for IU again next season, especially as Lander adjusts to the college game.
But Phinisee also welcomes Lander's ability to control the tempo of the offense when the ball is in his hands.
"Just having another primary ball handler is allowing me to be more off the ball," Phinisee said. "That will allow me to create more and do more things on offense."
Focus on perimeter play behind the 3-point line
A natural result of more three-guard sets should come at the 3-point line.
The Hoosiers ranked 204th in the country last season in 3-point percentage (32.6 percent), but it wasn't a detriment to the offense.
According to KenPom, just 23.1 percent of IU's total points came from 3-pointers, ranking IU 326th in the country in this metric. This is to say while IU's 3-point shooting was mediocre, it didn't comprise a large chunk of the offense.
One can expect that to change next season with three capable 3-point shooters on the floor together.
Durham had the best 3-point shooting season of his career (38.3 percent) in 2019-20, as did Phinisee (33.3 percent). Sophomore Armaan Franklin had his moments from behind the arc as well, and the shooting threat provided by newcomers Lander and Anthony Leal bode well for IU's distance shooting moving forward.
"We're much more in the realm of how we want to do it," Miller said. "We're much more perimeter oriented with a smaller group of people."
Relying on Jordan Geronimo and Jerome Hunter to replace Justin Smith
The driving force for IU's changed offense, above all else, was Smith's decision to leave the program.
He had become an omnipresent part of the starting rotation, but one that offered little threat from outside and limited IU's floor spacing.
Smith's lack of outside shooting allowed opponents to pack the paint against IU, which doubled as effective defensive measures against Trayce Jackson-Davis on the interior and against dribble penetration and drives to the rim by Al Durham and Rob Phinisee.
Now, Miller has tabbed freshman Jordan Geronimo and redshirt sophomore Jerome Hunter to take over the three spot and offer more pace and space to the Hoosier offense.
"I think Jordan Geronimo or Jerome being more of a perimeter guy out there, it really opens up the flexibility," Miller said. "It will also give us the opportunity to stay with the size component when we put Jerome and move him into that spot."
Flashes of potential from Hunter last season showed his promise, and plenty of buzz has surrounded Geronimo's athleticism this offseason.
Per KenPom, Indiana was 206th in the country last season in adjusted tempo, so it won't take much for the Hoosiers to run their offense faster than in the past.
But the basic purpose of replacing Smith with players that can offer more outside shooting, be it Geronimo, Hunter or a third guard, is that it will open things up on the offensive end as opposing defenses no longer pack the paint.
"Guards being able to drive the ball, less clogged areas especially coming off of ball screens," Jackson-Davis said. "It also allows the bigs to have more freedom. (They) can pop to the top of the key and really play off each other."
Continuing to be comfortable playing big
With the changes mainly found in the Indiana backcourt, it will be more of the same up front.
Miller said Justin Smith's transfer won't entirely change IU's style of play, and he said the Hoosiers are more comfortable playing with a big lineup this season compared to last.
This means the focal point of the offense will again be Trayce Jackson-Davis, who returned to school after a stellar freshman season that nearly saw him win Big Ten freshman of the year honors.
"Very few players in America are as impressive or as productive as him, and I think he just has to up the production," Miller said of Jackson-Davis, who averaged 13.5 points and 8.4 rebounds in 32 starts last season.
"I think having more space to play and more guys around him, it will make him better on ball screens and help him be more of an offensive weapon on the run, (in the) pick-and-roll game," Miller added.
Jackson-Davis said he's prioritized his jumpshot and stretching the floor in offseason work. Citing first-hand experience playing against Daniel Oturu (Minnesota), Jalen Smith (Maryland) and Kaleb Wesson (Ohio State) last season, Jackson-Davis mentioned how his inability to space the floor hurt himself individually and IU as a collective.
Joey Brunk said the Jackson-Davis he saw during summer workouts was more confident on the perimeter than before, and Jackson-Davis' ability to finish at the rim with his right hand (his off hand) has also improved.
A player who used 21.8 percent of IU's possessions last season per KenPom (second on the team only to Devonte Green), Jackson-Davis again figures to be crucial to IU's offense in his second year.
Consistently reaching the foul line
One of the defining offensive characteristics for the IU offense last season was getting to, and converting from, the foul line.
Per KenPom, 21.3 percent of IU's total points came from the charity stripe (65th in the country). This became of particular importance during conference play.
Indiana's free throw rate of 36.2 in conference play was the best in the Big Ten, helping offset an adjusted offensive rating that ranked only above Northwestern and Nebraska in Big Ten games.
IU's new-look offense should be conducive to continuing to reach the foul line, from giving guards more room to drive to the expanded offensive game players like Jackson-Davis can showcase.
Indiana's free throw shooting improved by 2.4 percent last season (from 65.5 percent in 18-19 to 67.9 percent in 19-20), part of a trend of offensive growth Miller wants to see continue.
"My hope would be this, our skill level goes up, our turnovers go down, our shooting percentage goes up, our style is a little bit more up-tempo," he said. "I feel like we have a more skilled team, which is what we needed."
Filed to: Al Durham, Archie Miller, Jerome Hunter, Jordan Geronimo, Khristian Lander, Robert Phinisee, Trayce Jackson-Davis