6-Banner Sunday: Jackson-Davis returning to Indiana for "unfinished business"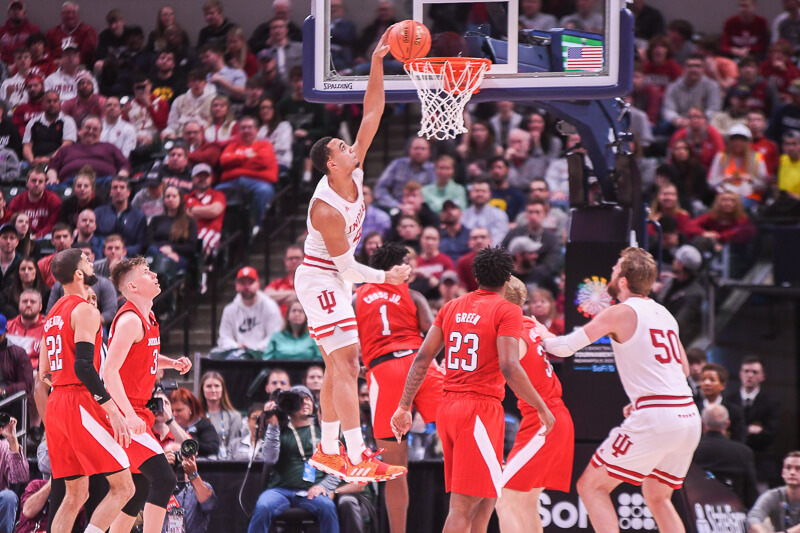 6-Banner Sunday is Inside the Hall's weekly newsletter in partnership with The Assembly Call. More than 7,000 Indiana fans receive the newsletter each week. In addition to appearing each week on the site, you can also opt to receive 6-Banner Sunday by email. A form to subscribe via email is available at the bottom of this week's 6-Banner Sunday.
Welcome to another edition of 6-Banner Sunday, a joint production between The Assembly Call and Inside the Hall where we highlight the five most essential IU basketball stories of the past week, plus take a look at how the other IU sports programs are doing.
There's been a lot of moving parts this offseason around college basketball, especially the Big Ten.
Indiana's roster had been quiet up until very recently. Then we found out Damezi Anderson is transferring last week, and now this week Trayce Jackson-Davis and Justin Smith made moves regarding their future.
That, coupled with more talks with former Hoosiers, rounds out an overall good week for Indiana basketball.
• Trayce Jackson-Davis announces return for sophomore season
• Justin Smith testing NBA waters for second straight season
• Damezi Anderson finds new home, two non-conference opponents revealed for next season
• Update on former Hoosiers Nick Zeisloft and Derek Elston
• Will Indiana offer 2021 four-star Louis Lesmond?
• Hoosier Sports Roundup
Banner #1
Trayce Jackson-Davis announces return for sophomore season
The big news of the week came when Trayce Jackson-Davis took to Twitter on Sunday afternoon and announced he was officially returning to Indiana for his sophomore season.
Jackson-Davis tweeted a video of highlights from his freshman campaign with the phrase #UnfinishedBusiness. The unfinished business Jackson-Davis is alluding to, could be in reference to the fact Indiana was bound to make the NCAA tournament for the first time since 2016 before the season got cut short due to COVID-19.
He helped lead the Hoosiers to a 20-12 season by averaging 13.5 points and 8.4 rebounds per game. Jackson-Davis was named third team All-Big Ten and made the All-Big Ten Freshman Team.
He was seventh in the league in rebounding, seventh in blocks at 1.9 per game and second in field goal percentage at 56.6 percent.
Indiana is only losing Devonte Green, De'Ron Davis and Damezi Anderson from the team next season, and they are bringing in Anthony Leal, Trey Galloway, Jordan Geronimo and potentially Khristian Lander. So, having Jackson-Davis back, along with a strong core of players from last season, puts Indiana in good position for next season.
Jackson-Davis' return was the major topic on this week's edition of Assembly Call Radio, which was actually a CrimsonCast Takeover featuring Galen Clavio and Scott Caulfield on the mics.
Banner #2
Justin Smith testing NBA waters for second straight year
One player that may or may not be back for next year is Justin Smith after he placed his name on the NBA draft early entrant list.
Smith, who will be a senior in 2020-21, is keeping his eligibility through this process, and it's quite possible he will return for his senior season. Smith did this same thing before his junior season, along with Al Durham and Devonte Green, just to get feedback from professional NBA talent scouts.
That is most likely the case this time around. The NBA just announced Friday that it has indefinitely suspended the draft lottery and draft combine in May in Chicago due to COVID-19, so there's no telling how this is going to affect Smith's decision and his ability to get feedback.
Either way, Smith has the body build and athleticism of an NBA player, but his offensive skill, most notably dribbling and shooting, is below average of what it takes to play in the league at 6-foot-7. A senior season could be good for Smith to raise his draft stock, as he has improved each year at Indiana, averaging 6.5 points his freshman year, 8.2 his sophomore year and 10.4 last season.
Smith led the team in minutes last season at 30.3, and his defensive versatility and rebounding ability would only help Indiana next season.
What Smith brings to the table was discussed on this week's edition of Podcast on the Brink with Alex Bozich, Dylan Wallace and Cam Drummond.
Also, Inside the Hall updated its list of players who are coming and going out of the Big Ten for next season but it was done before Smith put his name in the draft.
Banner #3
Damezi Anderson finds new home, two non-conference opponents revealed for next season
After announcing two weeks ago his intents to transfer, Damezi Anderson has found a new home at Loyola Chicago.
The Ramblers were 21-11 last season and are just two years removed from their miraculous Final Four run.
As Anderson will be in new uniform at the start of next season, Inside the Hall has learned of two non-conference games for Indiana come the fall.
The Hoosiers will host Robert Morris on Dec. 22 and Nebraska Omaha on Dec. 29. These will possibly be the two final non-conference games on the schedule before Big Ten play hits.
Robert Morris was 20-14 last season while Nebraska Omaha was 16-16. The other non-conference opponents that are known for Indiana so far are Butler in the Crossroads Classic, and three of these seven teams who will be in the Maui Invitational: Alabama, Davidson, North Carolina, Providence, Stanford, Texas and UNLV.
Still to be determined are Indiana's Big Ten/ACC Challenge opponent and Gavit Tipoff Games opponent.
This is all hoping sports will be happening come college basketball season. The NCAA recently outlined "core principles" for sports to resume.
Banner #4
Update on former Hoosiers Nick Zeisloft and Derek Elston
Inside the Hall has continued to catch up with former Hoosiers during this time, and this week saw two more features.
Alex Bozich
spoke with Nick Zeisloft, who played at Indiana from 2014-2016, and talked about his career with Iberostar Tenerife in Liga ABC, Spain's top league, as well as his time with the Hoosiers.
Zeisloft is currently in the Canary Islands, and since his season still has the possibility of resuming, he hasn't come home yet during quarantine. Here's a snippet of Zeisloft talking about IU's path to the Big Ten Championship in 2016:
"Obviously, we wanted to win as much as we could that first year, but we just weren't mature enough, detailed enough, tough enough on and off the court to make that happen. The process of just buying in the culture and understanding Coach Crean and all of the coaches and their points of detail and all of that, it just took time. It was a process and the experience that we developed from it from the very beginning, it finally all paid off when guys like Yogi and I, and then Max was obviously a great addition, we kind of just learned how to lead, too."
Later in the week, Dylan Wallace caught up with Derek Elston, who played for Indiana from 2009-2013 and was the Director of Player Development from 2015-2019.
Elston is currently working at United Fidelity Bank in Carmel as a Community Development Officer.
He said he's happy with his new role in life and spending more time with his wife, but he'll always remember and cherish his time at Indiana as a player and on staff.
Elston was around both Tom Crean and Archie Miller when he was on staff, and he feels the program is in good hands.
"I feel very confident with who they have on staff at IU, those guys are definitely turning the page. Some really, really good basketball is to come."
Banner #5
Will Indiana offer 2021 four-star Louis Lesmond?
So far for the class of 2021, Indiana has commits from Khrisitan Lander (who might reclassify to 2020) and Logan Duncomb.
Cam Drummond wrote an intriguing piece on a player that Indiana is looking at but hasn't offered yet in Louis Lesmond.
Lesmond is a four-star shooting guard and top-100 player nationally by 247Sports. Lesmond played for France at the 2018 FIBA Under-16 European Championship, and then he and his family moved to the United States, and Lesmond attended Evanston Township High School.
His dad, David Lesmond, played for Purdue in the mid-1990's, then professionally in France.
After one season at Evanston Township, Lesmond transferred to Notre Dame College Prep, where he averaged 16.5 points, 5.3 rebounds and 2.3 assists and shot 44% from three this past season.
Archie Miller and Tom Ostrom came to watch Lesmond play on Feb. 14 this year.
Drummond caught up with Mike Mullens, director and founder of the AAU program Illinois Wolves based in Chicago, to talk about Lesmond.
"I think Louis is one of the best players in the country. His character and his work ethic, he really appreciates everything," Mullins said. "When people get to see him again, I think they'll see how much he's grown and matured and progressed."
Banner #6
Hoosier Sports Roundup
Covid 19 continues to keep sports on the shelf, but offseason news was abundant this week.
• Football had head coach Tom Allen appeared on the Indiana Insider Podcast and Tennessee Titans' signee and former Hoosier Nick Westbrook won an award.
• Men's Soccer added two transfers to boost them to the no.1 ranked recruiting class for this season.
• Women's Soccer added a late recruit for this coming season.
• Wrestling added a late recruit as well.
• Softball had a grad manager sign with the Chicago Bandits.
• Two Water Polo players at IU were named All-Americans.
• The Spirit of Indiana showcase honored multiple Hoosier student athletes.
• This weeks Q and A's were with Baseball's Tommy Sommer, Rowing's Piper Maaka, Men's Golf's Drew Giacchetto and Track and Field's Joely Pinkston.
Thanks for your continued support for The Assembly Call. We'll be back next weekend with a new roundup.
Now go enjoy yourself a 6-banner Sunday.
Filed to: