Justin Smith continues to make impact felt in Penn State win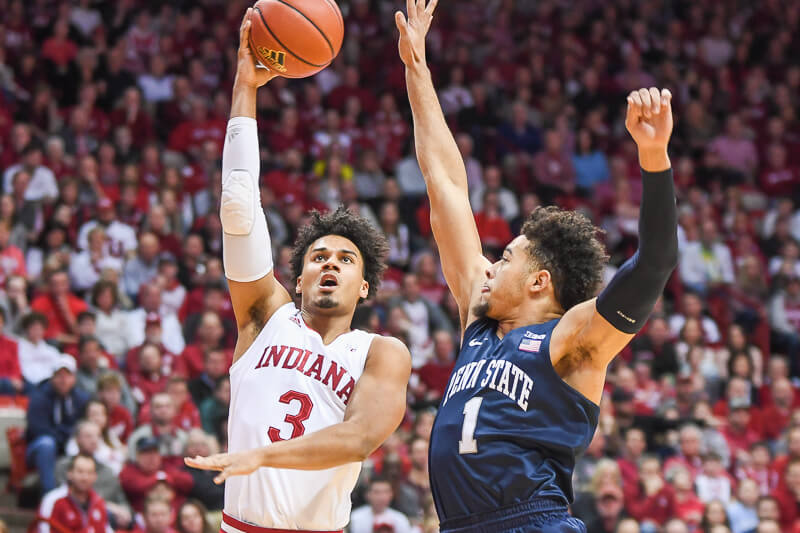 Justin Smith is always there.
Certain moments make the junior forward more noticeable, like when he records one of his team-leading 28 steals or commits a series of maddening turnovers with the ball in his hands.
But whether he's front and center of the action or faded into the background, Smith is omnipresent, a common cog in an IU lineup featuring a rotating cast of frontcourt players and guards that deliver inconsistent showings from game to game.
Sunday's 68-60 home upset win over No. 9 Penn State saw Smith play 31 minutes, tied with freshman Trayce Jackson-Davis for the most on the team.
Smith has started all 27 of IU's games this season. He has led the Hoosiers in minutes played in 14 of them, each time playing at least 30 minutes.
It's worth noting that Smith, the only Hoosier to average more than 30 minutes per game, maintains this level of playing time without the gaudy rebounding and scoring numbers produced by Jackson-Davis, and sans the obvious importance to the offense possessed by primary ball handlers like Al Durham and Rob Phinisee.
It's easy to focus on those in the backcourt with the ball and those in the frontcourt demanding it while losing track of the link in between.
Athleticism is what keeps Smith on the court so much. His versatility as a defender and his ability to space the floor on offense replaces the raw production offered by his teammates.
All the same, Indiana doesn't win games like Sunday's without Smith playing, and playing a lot.
"When Justin's good, Justin's activity level — and you can see his effort level — making plays others can't make," Archie Miller said after the Penn State win. "Whether he just goes and gets a rebound nobody else can get … he gets a steal, a deflection, because he's in the right position."
Smith's stats against the Nittany Lions (9 points on 2-4 shooting from the field, 5-7 shooting from the foul line, eight rebounds and two steals) don't jump off the page in a postgame summation of how Indiana was able to secure a victory vital to its NCAA tournament hopes.
But the dependability of Smith on the court reveals his importance to the way IU operates.
As the season has evolved, Indiana has dealt with issues at the five spot.
De'Ron Davis' foul trouble meant he was used sparingly during non-conference play, Race Thompson's injury fits further prevented him from getting a ton of time at the position and Joey Brunk has regressed significantly from the physical interior presence he once was.
Of late, the adjustment from Miller has been to play Jackson-Davis more at center and utilizing Thompson at the four.
Both moves have led to increased frontcourt success for the Hoosiers, but they only work because of Smith's ability to shift between being an undersized four with the vertical leap to get rebounds and a wing player at the three spot, who is agile enough to hold his own defensively.
"Sometimes Justin wants the game to go a certain way and it doesn't," Miller said. "It takes him a minute."
With Thompson gaining more trust on the offensive end from teammates and Indiana finally sticking to a strategy of feeding the ball inside to Jackson-Davis, Smith has seen the amount of time the ball is in his hands, which was already limited, decrease even more.
Indiana's last four games, a stretch during which the Hoosiers have gone 3-1, have all seen Smith attempt six shots or less.
Instead, he's making his mark in other ways.
"If the ball doesn't come to me offensively, I've got to make my impact somewhere else," Smith said. "And I'm okay with that. Whether it's getting steals, getting rebounds, whatever is needed of me."
Coming to acceptance with his role on this Hoosier team is emblematic of Smith's maturity, something also revealed Sunday through Smith's revelation that he's turned off social media notifications, part of a concerted effort this season to focus solely on the on-court product instead of the off-court noise.
That's allowed Smith to shift his attention to his work on the hardwood, which Sunday was reflected through his rebounding.
He led Indiana with six second-half rebounds (two offensive and four defensive) in the final 20 minutes.
A period that saw the Hoosiers blow a 13-point halftime lead in less than four minutes ended with stout defensive resistance: Penn State made just one field goal from the 7:16 to the 0:53 marks of the second half, a period which saw Smith sink four free throws and help the Hoosier defense see out the win.
"I thought in the last eight minutes of the game we made almost every single hard hustle play," Miller said. "Whether it was an offensive tap, a long rebound, a defensive stop, a block, our guards got in there a few times and dug it out. We were able to make some plays when it was really hard."
Leading the charge in this aspect was Smith, who has embraced the defined roles Indiana now has for its rotation of players.
"We lose a couple (of games) in a row and everybody counts us out," Smith said. "Everybody wants to freak out. But we never wavered. It's always how you bounce back and we responded really well."
In a season, both individually for Indiana and in general for college basketball, devoid of a dominant presence that can be counted upon, Smith has always existed in this role.
Brief respites in favor of Jerome Hunter may arrive, but no player on this Indiana roster has earned playing time like Smith has.
He's always on the court for Indiana.
Smith may be easy to gloss over at first, but his presence is increasingly more obvious as the Hoosiers continue to record crucial wins in search of a return to the NCAA tournament.
Filed to: Archie Miller, Justin Smith, Penn State Nittany Lions