Q & A: Nick Zeisloft on life in the Canary Islands, IU basketball and more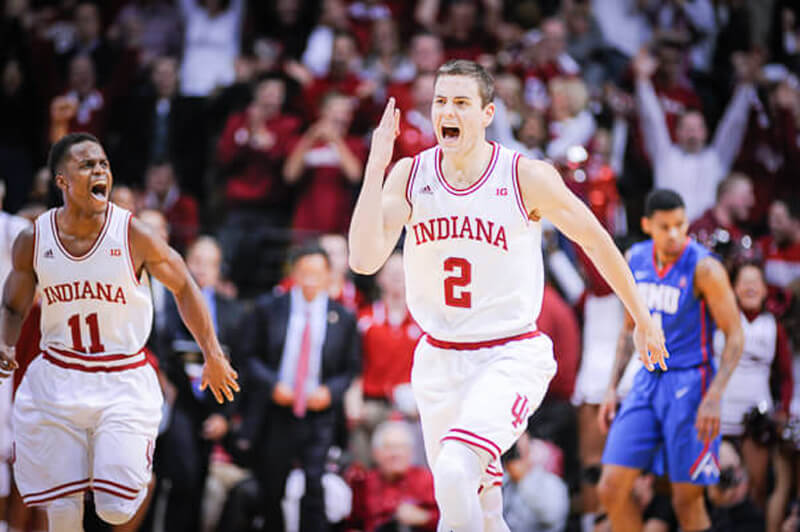 Former Indiana guard Nick Zeisloft spent the majority of this basketball season playing for the Santa Cruz Warriors in the NBA's G-League.
But in late February, Zeisloft inked a deal with Iberostar Tenerife in Liga ABC, Spain's top league. Unfortunately for Zeisloft, he didn't appear in a game for Iberostar Tenerife as the season was stopped due to the COVID-19 pandemic.
Inside the Hall recently spoke with Zeisloft, who is still in the Canary Islands where his team is based, about life during the pandemic, his basketball career, IU basketball, his time in Bloomington and much more.
Our full Q & A is available below:
Inside the Hall: When did you start to first hear about the pandemic and how it might impact your season?
Nick Zeisloft: It all happened so fast. We were in Belgium. I couldn't play yet. We had a game and we got back on Wednesday, March 11. As we were coming back that day, we heard that we were going to playing my first game that Saturday coming up, the 14th of March, it was going to be with no fans. And it was a huge rivalry game against the other team in the Canary Islands. And we were like, 'wow, a derby game without any fans? That's crazy.' And then, a day later, everything shut down. All of the leagues throughout the world were shutting down. In that 24 hour time period was when it all hit the fan. And you realized it was something different that we never expected or ever thought would happen. We didn't see Spain having the outbreak that it did. From that point, we didn't know what was gonna happen. We thought we were going to be playing again two weeks later. But clearly it hasn't happened.
ITH: You mentioned the upcoming game as being your first game … did you recently switch teams?
Zeisloft: Yeah, I started the season in Santa Cruz with the Santa Cruz Warriors in the G-League. Started up there in November. And then this opportunity came up out of nowhere at the end of February and I literally got here February 29. And was going to play in my first game on March 14. I was here for 12 days before we went on lockdown. It's just a tough situation for me because Spain still wants to play, they still want to resume. All teams in this league still wish to do that, it's just a matter of how and when.
ITH: Why have you made the decision to stay there for now and what's the next step for you? I'm guessing you don't want to stay there indefinitely if play isn't going to resume.
Zeisloft: For sure. The team wants the players to stay here because if you go home, it's almost impossible to get back if we do resume play. So that's the main thing keeping me is the fact that the teams want to resume and for me to do my job, I have to be here obviously. It's a tough position being here alone with my family all back in Chicago. That's the tough part about it, but I've just got to suck it up right now and wait for the league to make the decisions which have unfortunately not been very fast for us players. It's tough basically being told to stay here. It's not fun. But how fast can we really know what is going to happen with this whole thing?
ITH: What's your day to day like right now?
Zeisloft: The team brought me yoga mats, bands, a few weights, a stationary bike. I kind of transformed my second bedroom into just a workout room now and then use my living room when I need to do some stuff, too. But basically, I go to bed late and I'm on the phone with my people back home and then wake up late. Get the day going later and I watch some US economy and market shows with my dad just to see what is going on with the stock market and just to keep my interest with some things there. In the afternoon, I'll do a little reading and try to work out later in the afternoon. And then dinner. Workouts are a lot of biking, a lot of HIIT exercises, I have a basketball here that I can shoot up at the ceiling. Other than that, a lot of Netflix. It's been going quicker than I anticipated. The first few weeks were rough. But now I've got this routine. I'll go to the grocery store once or twice a week. That's been life for the last few weeks. Just waiting.
ITH: How did things go in the G-League this season?
Zeisloft: It was good. A good experience. I really liked the staff, the management, the organization from top to bottom with the Golden State Warriors and the Santa Cruz Warriors. The play is still similar to what I was used to back in Fort Wayne. Very open, a lot of points and not a lot of defense. It was nice weather out there in Santa Cruz. I liked the city and I liked the people a lot. It was a good situation. But this situation came out of nowhere and to get back in the ACB in Spain was a no brainer. It's the best domestic league in Europe, easily. You are playing against top EuroLeague teams, EuroCup teams. I just didn't get to do that yet, unfortunately.
ITH: You mentioned talking to your family a lot. Have you guys talked about any differences in how the pandemic is being covered in the media over in the Canary Islands and Spain as opposed to in the United States?
Zeisloft: Everything you read is about COVID-19 in both places. The good thing about being here on the Island is that it is just very calm. There aren't a lot of cases. You go to the store and it's not all picked over. I know that has been a problem in Chicago in the grocery stores and markets. It's nice that I'm not in mainland Spain right now in a place like Madrid which I've heard is just a nightmare. In terms of that, it's been nice. But in terms of how the heck I'm going to get home when the time comes, that's another story being on an island off the coast of Morocco. We're way south of Spain.
ITH: Have you looked at what the path home might look like?
Zeisloft: Looking at just the flight plans, I'm hoping the team here is able to help us a little bit with that being that we stuck it out for this long and had the good faith with that. I'm hoping that comes back around and they can help us, if possible. But just looking at it, it's looks like it is a good 30 hour travel time from the Islands or 50, depending on the layovers and the airports I'd have to go to because I'm not on the mainland Spain. It's a tough one to look at. I just check the flights every once in a while to just to see what it's looking like in case something changes. And it's a tough route home. We'll cross that bridge when we get there.
ITH: Do you have anybody you know or teammates over there that you interact with on a daily basis or are you just isolated by yourself every day?
Zeisloft: Pretty much isolated. One of my teammates and I, we pretend to run into each other at the grocery store just so we can see somebody we know. We've kept plenty of distance the entire time. It's pretty strict with those rules over here. Besides that, no interaction, really. It's tough for sure. The other American on the team is Aaron White, who played at Iowa. Luckily for him, he has his wife and three kids here. So we stay in touch a little bit here and there about things from our side of it because we are the only Americans on the team. It's different for us being so far from home.
ITH: When was the last time you were in Bloomington? I remember a photo of you going back to sign the wall in the new locker room last summer. How closely have you followed the program since graduation?
Zeisloft: I've been overseas so much over the four years since I left that it's been tough to follow the program because of the time difference and just watching the games alone. This year, I followed a little bit more, but I was on west coast time so that was different. It's been hard to keep up since that first year when I was with the Pacers and the Mad Ants. Obviously that was when (Tom) Crean was still there as well. I wish I could just watch more games, honestly, just to see what's going on, on the court. I love getting down there. This past summer, I think it was August when I got down there to get a little work in. I was able to lift with De'Ron (Davis) one day, which was great. Coach Clif (Marshall), I really enjoyed his energy and his passion that he brought just to a workout with us three in it. I can only imagine when the whole group is around with him. That was great. And seeing the new locker room, goodness, I thought we had it nice. Just being able to sign that board. I was one of the first few I think. It was very cool, very special. I know the board is just going to fill up if it hasn't already by this point. They'll probably need a second or a third one with all of the alums who come back. It's special. You remember your time there. Coach (Rob) Judson actually texted Collin (Hartman), Max (Bielfeldt) and I last night because on BTN they were showing the Iowa clincher, the Big Ten championship clincher. So just going down memory lane a little bit with all of this time. I had already watched that game on YouTube a few times throughout this quarantine, throughout this lockdown process. Coach Jud, that was cool though. It was on BTN and he was letting us know. That's one of the best ones, if not the best one, to watch.
B1G champ @n_zeis2 inked his signature this morning ?#IUBB pic.twitter.com/ZV0M11mlbt

— Indiana Basketball (@IndianaMBB) August 28, 2019
ITH: With everything you went through in Bloomington in terms of the accident with Devin Davis and battling through that adversity, what do you remember about that? And going through that and then winning a Big Ten title, that was quite a turnaround.
Zeisloft: From the first moment I stepped on campus in July (of 2014) to winning the Big Ten championship about 18 months later … it's interesting, I always think about this, how college coaches prepare for a season. Not just college coaches, but any coach has to prepare for a season and you think about your goals. You want to reach your potential … it was almost like an 18-month plan for us. Obviously we wanted to win as much as we could that first year, but we just weren't mature enough, detailed enough, tough enough on and off the court to make that happen. The process of just buying in the culture and understanding Coach Crean and all of the coaches and their points of detail and all of that, it just took time. It was a process and the experience that we developed from it from the very beginning, it finally all paid off when guys like Yogi and I, and then Max was obviously a great addition, we kind of just learned how to lead, too. I wouldn't say I knew what leading really meant until I started working with Coach Crean. And I know Yogi had four years of developing that which was paramount. Going from all of the ups and downs from the summer to the fall all just paid off and we just all stuck with it throughout that time to make that last year great. It was all worth it in the end.
ITH: Even in that last season … from the performance you had at Duke and in Maui to then running through the Big Ten and finishing 15-3, what do you think changed in that season? I remember watching you guys beat Kentucky and from that team to go from losing to Wake Forest and UNLV in Maui to where you guys finished up … what changed?
Zeisloft: I think it was just our familiarity with everyone. Just understanding each other better. We had a lot of good freshmen. OG (Anunoby), Juwan (Morgan) and obviously Thomas (Bryant). We stuck together and it sounds cliche, but we figured each other out. We figured out how to get everyone to respond and just work and hold each other accountable as well. There was that point early in the season where Thomas and Yogi got upset with each other, right? And Yogi and Thomas figured out how to work together. It wasn't like one stood in one corner and the other in another corner for the rest of the year. They just figured out how to work with each other. I figured out how to talk and coach up Thomas. And I acknowledged when Thomas needed to tell me when I needed to do something better, too. It was just, top to bottom, holding each other accountable. It didn't matter if it was a freshman or a senior or anyone in between. We just respected each other to tell each other what needs to happen and when. And if we make a mistake, we accepted the consequences of a teammate calling us out for it … not a coach. That didn't even have to do with the coaches. And obviously the huge thing was the development put in. We already knew Thomas came in as a heckuva player. But Coach Crean really developed all four freshmen, including Harrison (Niego). And Harrison came in clutch when Rob (Johnson) went down and obviously James (Blackmon Jr.) went down in the middle of the season. And we were low on the guard depth. So the development of OG making shots, Juwan making corner shots and obviously those two can just guard like no other. And Harrison giving Yogi a breather whenever you need. The freshmen really stepped up. Us seniors, we brought them along, but they bought in. So all of that goes hand in hand to why we were able to withstand that negative start … a very, very bad start and then keep it going and win a lot.
ITH: What do you feel goes into making a great shooter? I've always said that the three best I've seen since starting to cover the team in 2007 are you, Matt Roth and Jordan Hulls. And the last three seasons, really since you and Blackmon left, IU hasn't had a knockdown shooter. Is shooting something that comes into a program or is it developed?
Zeisloft: There's definitely some just natural ability, but there's just a lot of will and a lot confidence at the end of the day, too. I've definitely noticed that from a young age, that I was keen on the accuracy and the details and then I just always wanted to work at being a great shooter. And I worked so much that the confidence built to where I'm like, 'yeah, I can make that or he can't shoot better than me or I'm the best shooter on the court at this time.' It's just a mentality that you have to have if you want to be the best shooter out there. You can't have any moment of doubt. It happens … you get in slumps and you just have to keep going on with the process, tweaking a few things here and there. Not big changes, that's the thing. So many guys go into college and think they have to change their form. Some quick changes are good, but big ones for guys that aren't great shooters as it is, can really mess with their head and their mechanics. I would say it is a good mix of hard work, natural ability and just attention to detail because the details do matter.
Filed to: Nick Zeisloft