'I knew it was going to be something special:' Derek Elston reflects on time with Indiana program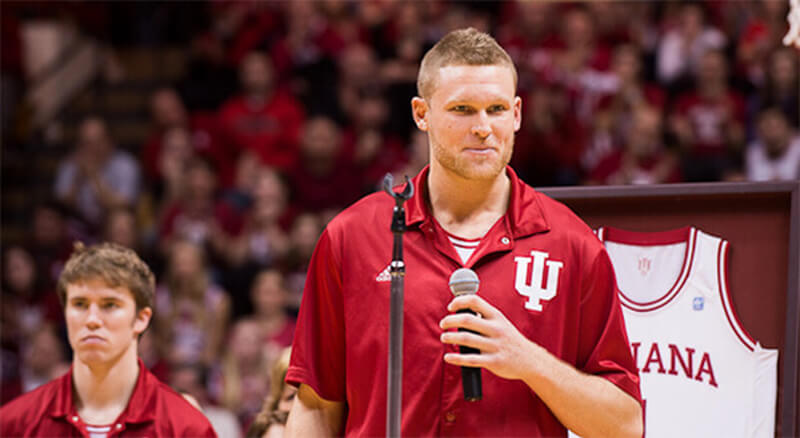 According to the Student Affairs website, Indiana University has 69 fraternities and sororities, but from 2009-2013, there was a 70th under the roof of Cook Hall.
At least that's how former Indiana basketball player Derek Elston put it — 15 guys in the "doghouse," grinding so hard that gamedays felt like off days.
"We always say we had our own fraternity," Elston said. "Guys are in on the weekend, on off days, preseason stuff, we were there all day long. I've never been around a group more willing and wanting to get better."
Growing up in Tipton, Indiana, Elston wishes he could say playing in Bloomington was fulfilling a dream of his, but he really wanted to follow his dad's footsteps and play at North Carolina.
When thinking about playing at IU, he was more worried about playing time and having his family around, but that soon went away.
"When I got on campus and when I came in with the group that I did, I knew it was going to be something special," Elston said.
It took time, though. In Elston's first two years, the Hoosiers went a combined 22-41 overall and 1-19 on the road. But at the start of the 2011-12 season, the special feeling Elston had when he arrived on campus started to come to fruition.
Indiana beat Evansville on the road after not winning a single road game the season prior, then they went to N.C. State for the Big Ten-ACC Challenge, knocking off the Wolfpack in a raucous environment, 86-75.
"It was after the North Carolina State win where I think we all kind of looked at each other and were like 'oh my gosh,'" Elston said. "Then, obviously we go beat Kentucky, and the wheels just start rolling from there."
A Sweet Sixteen appearance ensued that season, then another one the following year, and all of a sudden, Indiana basketball was back on the map.
Elston finished his career averaging 4.3 points per game across his 115 games played over four years.
"We didn't get done what we wanted to do. You know, I think a lot of us wanted to hang banner number six," Elston said. "But from where the program was at to where it was when we left, I think just kind of speaks volume to who coach (Tom) Crean brought in and how hard we worked as players. Besides a banner, I don't think we could've asked for any more."
It's been just over seven years since Elston last took the floor with his former teammates, but one of the things he cherishes the most is the fact they all remain so close despite the different paths each player has gone on. Christian Watford got married and just welcomed a daughter into the world, Jordan Hulls is married with two kids and plays overseas, Cody Zeller and Victor Oladipo are enjoying respective careers in the NBA, Elston is married as well, but they can all pick back up where they left off whenever they reunite.
"We would jump each other's asses in the locker room, or the huddle, and you didn't take it personal because you wanted the same thing," Elston said. "You feel special because we had a special tight-knit group of guys, and it's just a really, really incredible group."
Elston played two seasons professionally overseas, but his ultimate goal was to coach basketball in the future. He was in between Japan and Sweden in 2015, at home in Carmel, Indiana, awaiting his next contract.
He went to Bloomington one day to workout with Zeller, and then Crean asked him to speak to the team. A few days later, Crean called Elston and said he wanted him to be a part of his staff, so Elston joined as the Director of Player Development.
Indiana did something Elston was all too familiar with in his first year on staff — win the Big Ten and advance to the Sweet Sixteen.
The following season Indiana started out hot, but injuries derailed the team as they missed the tournament, leading to the release of Crean. In the search for a replacement, Elston and head athletic trainer Tim Garl were holding down the fort in Bloomington.
When Archie Miller was hired in 2017, he kept Elston on staff, maintaining the bridge between the past and present.
"There were some things that I absolutely loved with coach Crean, and some things that I didn't think kind of applied or worked with these new, younger kids coming up," Elston said. "I think basketball's one of those things where coaches need to adapt certain ways around new kids, so when Archie came in, he kind of filled that void that I didn't think coach Crean necessarily did the best job at."
Elston said he fit right in with Miller and his staff, working with the new players and trying to help them develop their game.
But on Oct. 31, right before the start of last season, Elston decided to step away from the program and take a new job at United Fidelity Bank in Carmel as a Community Development Officer. Elston said the timing just felt right for him, and he was ready to head in a different direction that allows him to spend more time with his wife, Caroline.
Elston had spent last summer building strong relationships with Trayce Jackson-Davis, Armaan Franklin, Joey Brunk, Jerome Hunter and Damezi Anderson. He also mentioned De'Ron Davis and Devonte Green, who he was with since they got on campus, and that the hardest part of stepping away was leaving the players.
"Derek has been a loyal and invaluable member of our staff and we are excited for him and his new career path," Miller said in a press release. "He's had a great impact on what we are trying to do, and we want nothing but the best for he and Caroline and their family in the future."
The past eight months have been different for Elston, but he's been able to enjoy basketball from a completely different perspective. He got to attend games in Assembly Hall and cheer on the team in the stands instead of being stressed on the sideline. In his new job, they were sponsoring a basketball tournament in Evansville, and he was able to watch players like Khristian Lander and Kiyron Powell and just enjoy high school ball.
"I can't remember the last time I was just a fan," Elston said. "It's fun to sit at home when the team is on the road at Minnesota or wherever they are at, and I'm just at home with my wife and friends, and we're cheering the guys on. It was awesome."
In quarantined life right now, Elston is in the middle of selling his house in Bloomington and buying one in Zionsville. It's been difficult navigating that process with the stay-at-home order in place, but they have managed to make progress.
As for his coaching aspirations, it's never out of the question for Elston, but right now, he's content with where his life is at. And he feels good about where Indiana basketball is at.
"The best part is I'm with my wife a lot more. A part of me wanted to slow down, and we were talking what life looks like and what life with kids looks like," Elston said. "But I feel very confident with who they have on staff at IU, those guys are definitely turning the page. Some really, really good basketball is to come."
Filed to: Derek Elston