Indiana is targeting shooters in the class of 2021. Will a scholarship offer arrive for Louis Lesmond?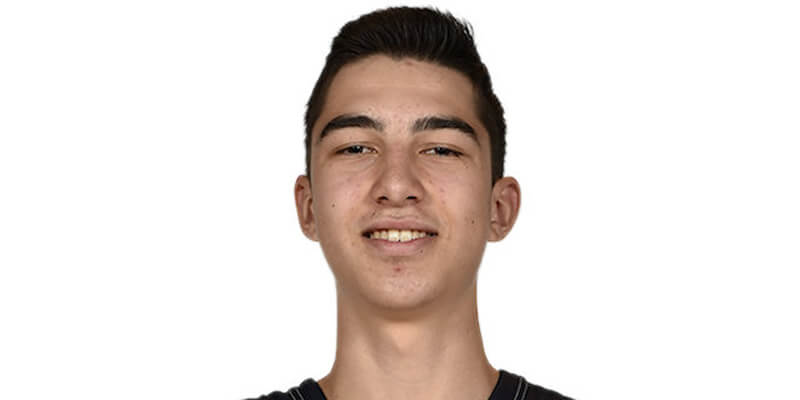 This August marks two years since Louis Lesmond moved from France to the United States.
It was a decision made based on his father's work, but still with an eye toward Louis' aspirations.
David Lesmond played college basketball at Purdue in the mid-1990s before playing professional hoops in his native France. But when the opportunity came in summer 2018 to relocate back to the United States based on his's work as a wine seller for French wineries, it meant a wholesale change for the Lesmond family.
David and Louis' mother Vanessa (a former professional basketball player herself), along with Louis and his sister Lola all had to adapt after moving to Evanston, Illinois. For Louis, this came alongside his high-level basketball goals.
He played for France at the 2018 FIBA Under-16 European Championship, and was part of the National Institute of Sport, Expertise, and Performance (an elite athlete training center in Paris) before his departure from France.
Suddenly, he was a high school sophomore trying to learn English and a new culture while also finding his way on the court at Evanston Township High School.
But before he was fully situated or had even established himself on the courts of his new country, there was a phone call.
It was made to Mike Mullins, the director and founder of the AAU program Illinois Wolves based in Chicago.
The call came in September 2018, a month or so after the Lesmond family moved, and the reason for the call revolved around Louis joining the Wolves.
Since the team holds its fall workouts right around that time, Louis came to an open gym session. Mullins can recall what he sensed from those first interactions with the young Frenchman.
"He was extremely impressive physically," Mullins said. "We're blessed to have a lot of good players in that age group, a lot of high major kids and he showed that he belonged right away. (He came) into a strange environment and made himself fit in with what he had, which was his basketball ability at the time."
Lesmond is at a new high school now, after transferring to Notre Dame College Prep in Niles, Illinois, ahead of his junior season.
Plenty of recruiting buzz has followed.
Lesmond is rated as a 4-star shooting guard and a top-100 player nationally by 247Sports, with scholarship offers from the likes of Dayton, Illinois and Nebraska ahead of his senior season.
Further interest has arrived from Indiana and Wisconsin, with Indiana assistant coach Tom Ostrom leading the way.
The 6-foot-5, 190 lbs. Lesmond still has time to attain an Indiana offer, but with a 2021 class that has already seen Jordan Longino and Trey Patterson earn Indiana offers, it remains unclear if Lesmond has enough of a scoring and shooting punch right now to fit what Miller wants in his fourth IU recruiting class.
*****
The prestige of the Illinois Wolves program is widely known.
In the last decade, three Big Ten Players of the Year — Keita Bates-Diop (Ohio State – 2018), Frank Kaminsky (Wisconsin – 2015) and Evan Turner (Ohio State – 2010) — all played for the Wolves.
Lesmond represents the longest-ever tenured overseas member of the program (his next season will be his third with the Wolves).
Mullins' son Bryan (who is also the head coach at Southern Illinois) played professionally in France and struggled to adapt to the new environment there, giving his father the context to properly speak about the Lesmond family's adjustment.
"I think Louis and his family have done a great job acclimating over here with the language, the food, the lifestyle," Mullins said. "The differences in (the) international basketball rules to ours at the high school level are all pretty significant."
The on-court fit seemed seamless enough for Lesmond.
In his lone season at Evanston Township he helped the Wildkits reach the 4A state title game. At Notre Dame last season, Lesmond and the Dons went 29-5 and won a regional championship before the Illinois state tournament was shut down due to the COVID-19 pandemic.
Lesmond earned All-Area and All-State accolades for his efforts, which included averaging 16.5 points, 5.3 rebounds and 2.3 assists per game.
Those numbers were a product of Lesmond's solid ball-handling skills and his ability to glide to the rim. The 3-point line was also a factor, as Lesmond's effortless release helped him make 44 percent of his shots from distance (he also made more than 50 percent of his shots overall).
"You combine the length with the athleticism, (and) he's got a great explosive first step and he has tremendous range and shot-making ability," Mullins said.
It was enough for Miller and Ostrom to visit the Chicagoland area on Valentine's Day to watch Lesmond play.
The length and shooting ability offered by Lesmond has kept Indiana interested, something summed up by Mullins recounting a moment from earlier in the season.
"I was at one of his Christmas tournament games and one of the Indiana assistants was there and I think (Lesmond) knocked down his first six or seven shots and they were all different types of shots," Mullins recalled. "To be able to score from all three levels as a high school player…that's why he's being recruited at the level he's being recruited."
That recruitment was set to continue and flourish in the spring and summer, but the AAU circuit's uncertain future means Lesmond and other budding players like him will, at least temporarily, have fewer chances to impress college coaches.
Lesmond's basketball strengths remain obvious.
Even as Mullins notes the need for Lesmond to get stronger and further develop his dribbling, he champions the Frenchman's floor vision and passing prowess.
All that remains from an Indiana perspective is to decide if there's enough on tape from Lesmond, or enough time left to see him develop, for a scholarship offer to go his way.
"I think Louis is one of the best players in the country. His character and his work ethic, he really appreciates everything," Mullins said. "When people get to see him again, I think they'll see how much he's grown and matured and progressed."
Filed to: Illinois Wolves AAU, Louis Lesmond