Rutgers Prep star Trey Patterson 'driven by excellence' as Indiana recruitment continues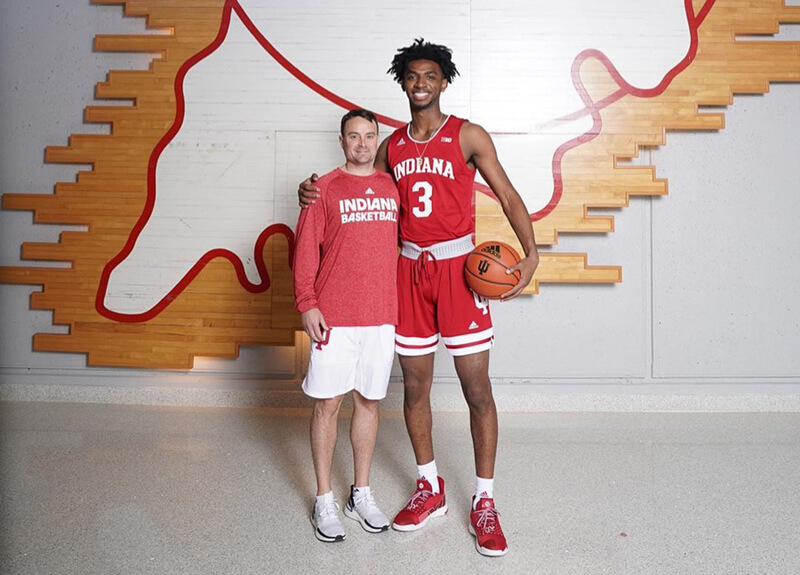 Rutgers Prep head coach Matt Bloom has been involved in organized basketball longer than his star player, class of 2021 standout Trey Patterson, has been alive.
Bloom boasts more than two decades of experience in various roles at Division I college programs. He was a team manager at the University of Pennsylvania during his four years as an undergraduate starting in 2000, before spending time as a basketball operations coordinator at Rutgers.
Most recently he was the director of men's basketball operations at La Salle for six years, where he was responsible for coordinating player schedules, media obligations and training programs, among other duties at the Atlantic-10 institution.
The point is that when Bloom was appointed the next head boys basketball coach at Rutgers Prep in Somerset, New Jersey, in May 2017, he knew what it took for a player to be successful at the college level.
In his opinion, Patterson fits the mold perfectly.
"He's driven by excellence and perfection," Bloom told Inside The Hall. "He loves the grind, he loves the game, he loves school and he appreciates everything. The guys who check all those boxes are very rare…in my 20 years being around basketball, they're the ones that rise to the top. He's one of those guys."
Rated as a 4-star recruit at small forward by the 247Sports Composite, the 6-8, 170-pound Patterson picked up a scholarship offer from Indiana in June 2019. He took an official visit to Bloomington on October 11, and IU head coach Archie Miller and assistant coach Bruiser Flint have both made trips to New Jersey to see Patterson play.
But the list of schools who have offered a scholarship to Patterson remains lengthy, featuring programs like Auburn, UConn, Villanova, Xavier and in-state school Rutgers (no relation to Rutgers Prep), among others.
"I try to at some points put myself in his shoes and I can't imagine what it's like to have all that attention and basically everyone texting you, calling you, sending you mail," Bloom explained. "One of the things that sets Trey apart (is) he's amazingly organized. At the end of the day he's going to sit down and think about the relationships that he's built and I think he's going to choose the best fit for himself and his future."
The reason for the interest surrounding Patterson is evident to Bloom, who's coached Patterson for all three of his high school seasons.
"On the court, he's the most versatile player I can think of," Bloom said. "He can play one through five on offense or on defense, and he can basically do whatever the team needs him to do. He's positionless, and the way basketball is going it suits his game."
The scoring upside with Patterson is self-explanatory. A player with the ability to stretch the floor, he has the size of a forward with the agility of a backcourt talent, finding a home for himself on the wing.
Patterson has used this combination to score effectively throughout his high school career. He was the second-leading scorer for Rutgers Prep as a freshman with 12.7 points per game and led the Argonauts with 7.2 rebounds per contest.
Those stats soared in his sophomore campaign to 19.1 points per game and 9.5 rebounds per game.
As a junior last season, Patterson was a second team All-State selection after putting up even gaudier statistics. He played every game last season for the 27-2 Argonauts, recording 19 double-doubles and averaging 19.8 points and 10.1 rebounds per game as Rutgers Prep won its first Somerset County Tournament championship since 1983.
"I tell him this pretty much daily, he's at his best when he rebounds above the rim and he pushes the ball up the floor," Bloom said of Patterson, who has already scored more than 1,000 points in his high school career. "Whether he passes ahead or drives the length of the court, he's virtually unstoppable."
Patterson comes from a basketball family, as his father played at Saint Francis University and his mother played at Seton Hall. His natural athleticism has allowed Patterson to thrive with both Rutgers Prep and his AAU team, Team Rio, in the Under Armour Association.
For Bloom, the expectations placed on Patterson only increase the need for him to develop all parts of his offensive game: The ability to post up smaller defenders, maneuver past bigger bodies and execute catch-and-shoot and one-dribble pull ups from 3-point range.
"Any basketball game we play, he has a target on his back and the other team keying on him, so for him to continue to improve his game and numbers, it speaks volumes to what he does day in and day out," Bloom said. "He's a coach's dream, he does everything you ask of him."
Defensively, Bloom said Patterson is able to guard the best player on the opposing team, whether that's a point guard or a center.
It's another luxury afforded to him as a coach thanks to Patterson's versatility, one that Bloom believes any college coach, including Archie Miller, would be fortunate to gain.
Bloom cited the more than 500 shots he said Patterson takes daily as a testament to his dedication, but Patterson has also displayed his ability to become a leader.
There were five freshmen on Rutgers Prep's varsity squad this season. Bloom said Patterson took them under his wing and showed them the correct way to conduct themselves as members of the Argonauts.
"He (Trey) immediately gravitated toward that leadership role, and our culture kind of flourished because of it," Bloom said. "It was a championship culture because Trey and our other leaders established that from day one."
Building that at Rutgers Prep has been a lifelong process for Patterson, who has attended the school since the sixth grade.
"He's at Rutgers Prep for a reason. He could be at any basketball factory in the world, but he wants to be more than a basketball player," Bloom said of Patterson's relationship to Rutgers Prep, which was founded in 1766 and exists on a 42-acre campus.
Bloom singled out Patterson's speech writing and speech-making skills, and even envisioned a potential future for Patterson as an activist because of his passion and ability to communicate.
This also extends to Patterson's relationship with Bloom's 6-year-old son, Eli, a frequent visitor at Rutgers Prep practices.
"I have a six-year old who adores him (Patterson)," Bloom said. "They're friends, which is pretty incredible as a coach and a father to see."
It all speaks to the story currently taking place in Somerset, unlike any other found in the state.
"He's doing something unique in the New Jersey landscape," Bloom said. "He's a special individual. Honestly, I wish there were more guys like him, because the world would be a better place with more Trey Pattersons."
Filed to: Trey Patterson