Wide-open recruitment of Jordan Longino continues, now with Indiana in the mix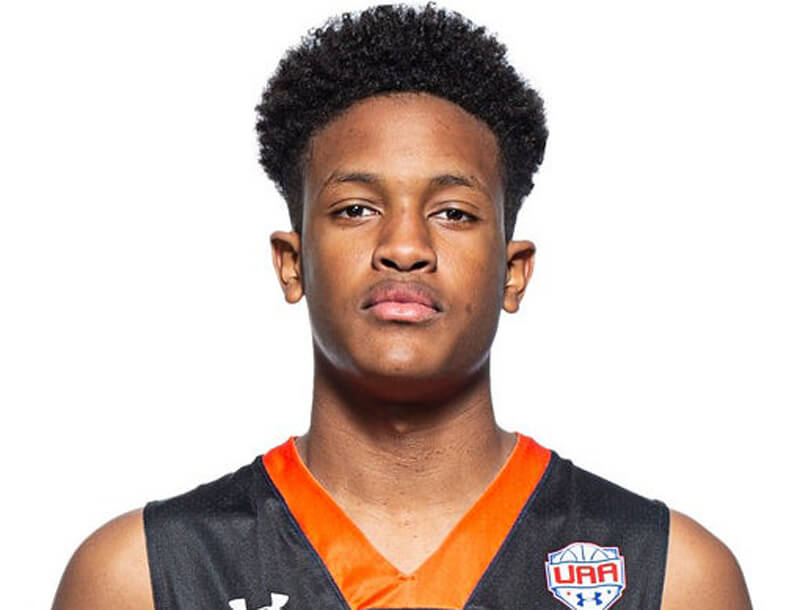 The daily trip to Germantown Academy is one Jordan Longino has become accustomed to.
He lives 40 minutes away from the school he's attended since pre-kindergarten, and it often means he shows up at the 126-acre campus in Fort Washington, Pennsylvania, well before class begins.
Longino's high school coach, Matt Dolan, as well as Longino himself, have both admitted that most days usually start the same : The high school junior arrives around 6 a.m. and puts up shots in the gym.
This habit fits the person Dolan has come to know and trust.
Hired in May 2019 to be a Middle and Upper School assistant teacher at Germantown, as well as the boys varsity basketball coach, Dolan's first interaction with Longino came in a face-to-face meeting after school.
What stuck out to him was the intelligence and thoughtfulness of Longino, as well as the then-high school sophomore's desire to get better.
Longino's recently completed junior season at Germantown displayed these same themes.
"For someone who has a lot of accolades, to be willing to be coached and want to continue to get better really stuck out to me," Dolan said of Longino. "He's humble, he's smart, he works really hard…he's a really well and balanced kid."
The 6-foot-5, 170-pound class of 2021 shooting guard has earned enough recognition to make it noteworthy that he maintains an unpretentious attitude.
Longino is ranked as a 4-star recruit in the 247Sports Composite and as a top-15 shooting guard nationally, with offers from the likes of Florida, Villanova and Virginia, as well as Big Ten institutions like Maryland, Penn State and Rutgers.
Indiana joined both those lists on April 8, extending a scholarship offer to Longino after assistant coach Bruiser Flint reached out to him throughout his junior season.
The offer comes from an area of need for the Hoosiers as well.
"His shooting is his best skill, he's terrific off the catch and shoot. He has a quick release, he has really good form," Dolan explained. "He's got a really good pull up as well. He can use his body and he can get to his spot… he's got range to college level, NBA level."
Longino's high school statistics (which include a 2019 game in which he made eight 3-pointers) back up this praise.
A three-year member of the Germantown varsity roster, Longino has always been a consistent scorer for the Patriots.
He averaged 21 points per game as a freshman (second-most in Philadelphia's Inter-Academic League), before increasing that total to 22.6 points per game as a sophomore and 22.9 points per game as a junior.
But these scoring totals weren't created equal.
Dolan said Longino's role with Germantown during his first two seasons was that of a scorer and shooter. That's not to say that went away as a junior, but Longino handled the ball more this past season.
A natural fit at point guard, Longino also moved into an increased off-ball role last season, giving him experience at both guard spots and enhancing his ability to pass with either hand and read different defenses on the fly.
"We're fortunate sometimes where we just give him the ball and he can go get us a basket," Dolan said plainly. "(But) everyone in the gym also knows who he is, so he got the box-and-one (defense) a lot, he'll get doubled off every ball screen. His ability to see the floor and growing up being a point guard, he can make the right decisions."
This put Dolan into a corner as a coach. His best player was purposefully denied the ball, forcing the Patriots, who went 15-12 overall (5-5 in league play) during the 2019-20 season to form an alternative strategy.
Dolan turned to defense for it.
"They can't box-and-one you and deny you in transition," Dolan said in reference to Longino. "Our willingness to be able to buy in and defend and create turnovers, or on missed shots rebound the ball, they don't have to pass it to you, you already have it…trying to find a lot of ways in transition to either (take) a spot-up 3 or take it all the way to the rim."
Whatever the case, the result of plenty of Germantown offensive possessions this season was Longino scoring the ball. He shot better than 54 percent from the field and better than 41 percent from 3-point range to go along with being an 80 percent free-throw shooter and collecting an average of six rebounds per game.
Expectations for next season have already been set. Dolan said Longino wants to improve to 45 percent from behind the 3-point line, and he believes the rising senior can do it.
It's a goal Longino hopes to accomplish along with continued success on the gridiron with Germantown.
Longino is the starting quarterback for the varsity football team, having recorded a stellar junior season (1,964 passing yards, 22 total touchdowns and just 4 interceptions) after a pair of right knee injuries took away the majority of his freshman and sophomore seasons under center.
Even with Longino set to focus on basketball at the college level, Dolan said distinct benefits exist from Longino being a two-sport star.
"One is his ability to read the defense before the snap, and then make the right decisions," Dolan said. "He's very aware of what he needs to do to make the successful play."
Leadership may come in a more muted fashion from Longino, who Dolan described as being on the quieter side of things, but with that comes an observant quality, one formed from being surrounded by basketball his whole life.
His father, Eric, played college basketball as a guard at Illinois-Chicago and SMU. Longino's older brother, Evan-Eric, was also a prolific scorer at Germantown and remains second in school history with 1,658 career points, a total Jordan is fast catching up to.
Longino will have time to continue this pursuit come the fall, but a current statistical snapshot of his high school career is already more than enough to validate the Division I interest in him.
Dolan joked that even he has become a bit overwhelmed with the attention placed on Longino, but he still described Longino's recruitment as "wide open" and something based around developing relationships with a coaching staff and making official visits once it is safe to do so.
"I'm fortunate that he wants me to come on some of these visits, I think that shows that he trusts me being there," Dolan said. "I just try to be a sounding board for him. I just want to support him wherever he wants to go."
Filed to: Jordan Longino