Aminu Mohammed's journey and the destination he's chasing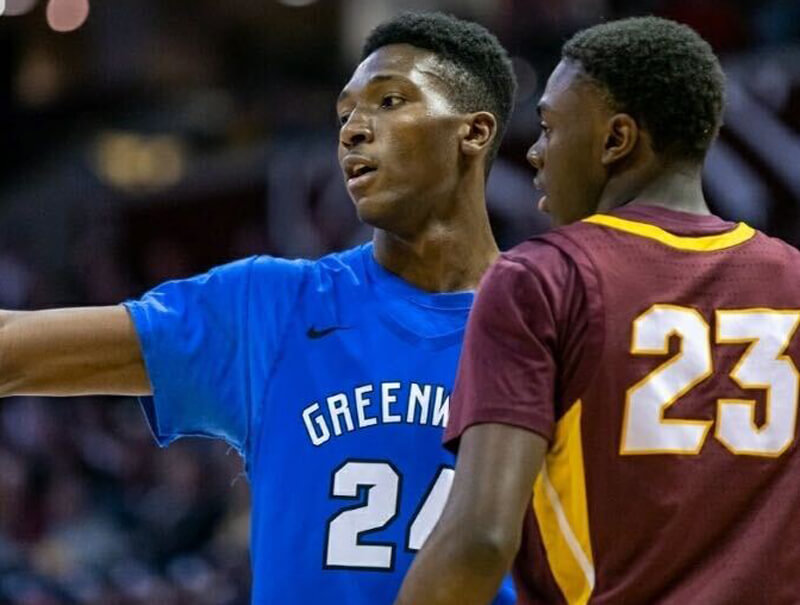 The court where his dream began was painted green and red and lined with winding white stripes. Cracks snaked through the cement beneath the wooden backboards and metal rims looped with crisscrossed nylon. There were police barracks across the way, 24 cubicle apartments with peeling grey paint, floor after floor, stretching deep into the Nigerian sky.
Now, Aminu Mohammed is an ocean away.
The court was located in the Lagos, Nigeria police district. Mohammed's father was a retired officer and they lived in the barracks. Mohammed regularly tagged along to the court with his five older brothers. Sometimes, on the way there, he'd hold their hands or carry their shoes.
When they arrived, Mohammed's older brother Kabir wouldn't even have time to get fully dressed before voices emerged across the courtyard.
"Hey, he's on my team. He's on my team."
And the youngest Mohammed would watch. He'd take in the games, glimmers of excitement in his eyes.
I'm trying to be like that, Mohammed thought to himself.
That was before Mohammed was a five-star small forward in the 2021 class. Before he became one of Indiana's most sought after recruits. Before he left Nigeria. Before he came to the United States.
Before he left the court.
For the first 14 years of his life, Mohammed's home was in Lagos, the country's largest city, nestled next to the Atlantic Ocean on the western coast of Africa. Although some parts of the city were plagued by crime, Mohammed lived in a stable environment. He went to school. He went home. He went to the court.
He was raised in a strict household, preaching discipline and control. Everything was monitored. Respecting his elders was imperative. Obedience was expected. Respect others so they respect you, he was taught.
Eventually, Kabir's game couldn't be contained by the neighborhood court anymore. The family decided to send him to the United States. The decision wasn't too difficult for their parents. There was a chance for new opportunities. Kabir started attending Hamilton Heights Christian Academy in Tennessee.
"It was just like a punch in the face," Mohammed said. "I was like 'oh man, he's gone.'"
After time at Hamilton Heights, Kabir was connected with Shawn Harmon, who had a history of mentoring young men and was knowledgeable about basketball. Harmon created an opportunity for Kabir to play at the National Christian Academy in Maryland.
All the while, Mohammed stayed behind in Nigeria. At the time, Mohammed wasn't taking basketball seriously. He'd mostly stand at the top of the key and pass the ball. But then, with his brother in another continent, a thought kept popping into Mohammed's head.
If I'm here, what am I going to do?
A few years later in 2016, when Mohammed was 14, he wanted to follow his brother. His parents were reluctant, though. They'd never seen Mohammed or his brothers play. They thought he should be focusing on academics and not hoops. Being the youngest child, his parents were extra protective of him. He was often at home, helping out his mother.
"They figured it's a chance, too," Mohammed said. "Opportunities come but once. You only have that one time."
The family got in contact with Harmon, and arranged for Mohammed to attend school in the United States. Academics would be the priority, basketball could follow it.
In his first time on a plane, he was scheduled to fly to Cairo, Egypt. Then, from there to New York. All Mohammed had was a backpack and a suitcase. Inside, there were a couple of pairs of trousers. A few long sleeve shirts. He'd get most of his clothes later in the U.S.
Before his flight, he worried about leaving home. Coming to the U.S. Adjusting to a new lifestyle. He was scared the plane would crash.
The last image in his mind before he left Lagos was the barracks, floor after floor, stretching up into the sky.
He hasn't been back since.
***
Aminu Mohammed's hands shook. His breath released a cloud of moisture in front of his face through the October air. The pungent smell of tobacco curled into his nostrils. There was a rumble of traffic. Mohammed had just landed in New York and was standing outside JFK International airport. He had to go back inside. It was too cold. He didn't have a jacket.
"It's always warm in Nigeria," Mohammed said.
Harmon eventually picked up Mohammed, the vehicle cutting through the night as they started the trek down to his new home in Washington D.C.
They wanted to stop for food. It was late and the only restaurant still open was McDonald's. Mohammed had never been. There were KFCs in Nigeria, but not McDonald's. He ordered a McChicken sandwich.
"They say that the food is not good, but when I tasted it I was like 'I need to get me some more,'" Mohammed said with a laugh.
Mohammed frequently talked to Kabir after arriving. He explained what to expect. How he should act. It put Mohammed's mind at ease.
As soon as they were settled in D.C., Harmon quickly got an impression of how Mohammed was raised. Everyday when Harmon would come home from his job at Allied Universal Security, Mohammed would race down the stairs to greet him.
"Welcome home, sir," Mohammed would say.
"Huh?" Harmon responded after the first time.
"I was like what in the world?" Harmon says now with a laugh. "No parents can tell me that their kids, when they walk through that door, say 'welcome home, sir.'"
Harmon took Mohammed to an indoor gym for a 30 minute workout to evaluate him for the first time. Mohammed didn't know where to stand during free throws. He was athletically gifted and raw, with loads of potential. He could dribble well for his age. He couldn't really shoot. He'd miss layups, get his own rebounds and put them back in.
To finish the workout, Harmon wanted Mohammed to dunk three times.
"Coach, I can't dunk," Mohammed said.
"Huh, you're 6'2"," Harmon recalls responding. "Well, I'll tell you what, we're not going to leave this gym until you get a dunk."
Mohammed failed twice. Around the fourth time, he put it in.
"We can leave the gym now," Harmon said.
It wasn't only on the court that Mohammed had to adjust. He didn't have a phone in Nigeria. He didn't know how to use a computer. As a freshman, he had to learn how to catch the bus to Archbishop Carroll High School.
Harmon escorted Mohammed through the bus route. He pointed out where the bus would stop and where he needed to get off. The school was just a short walk from where he would be dropped off.
On the first day, Harmon was worried. Mohammed ended up missing his stop. It was pouring rain. So Mohammed walked, what Harmon estimates to be close to a mile, to school. He arrived dripping wet.
That wasn't the only time it happened. One time, a car sped by, splashing water on Mohammed. His khakis turned dark brown. It was cold, too. This time, he had a jacket.
"You're going to be uncomfortable because it's only going to make you better quicker," Mohammed said. "When you get comfortable, you feel like 'oh yeah, oh yeah, I'm good'. But nah. That wasn't the mindset at that time."
Other aspects of Mohammed's routine remained relatively similar to Nigeria. He worked out. He went to school. He came home. It became a business-like mentality. He knew he wasn't as developed as the players that had been dribbling since they could walk.
"Your mindset and everything has to be right, or else you won't survive," Mohammed said. "You have to be thinking next level stuff. This is what you're trying to do and you have to put in the work."
Around four or five months after first arriving, Mohammed was playing in an AAU game. The other squad was playing physically. Elbows were flying. Mohammed drove to the basket and was hit in the face. His mouth turned crimson red with blood.
He played the rest of the game.
***
Mohammed talks to his parents every weekend. I miss you, they'll say. His father asks about school and the game. He doesn't call it basketball.
There was a lot, however, unfolding on the court for Mohammed.
Harmon helped Mohammed build the foundation of his game. He wanted Mohammed to master the simple skills that other players sometimes overlooked. Mohammed focused on rebounding and pushing the ball up the floor. Eventually, other layers of his game like passing, shooting and finishing at the rim could shine.
"I didn't want to put him in a position to where he was trying to do it and he was going about it in the wrong way and making himself look bad," Harmon said.
And Mohammed learned quickly. As a freshman, he averaged 19 points and 10 rebounds per game. He was already garnering major attention from recruiting sites, ranking No. 10 in his class by 247Sports.
Following his freshman year, they moved to Springfield, Missouri, to be closer to Kabir, who joined the basketball program at Missouri State. Mohammed began studying at Greenwood Laboratory School. Kabir and Mohammed would work out and cook together. Kabir was able to attend some of Mohammed's games.
Mohammed's transformation was on full display in his sophomore campaign. He averaged 34.2 points, 17.5 rebounds, 2.9 steals and 2.3 assists per game. He was the Class 2 District 10 Player of the Year.
In sectionals of the state tournament, Mohammed fouled out with around two minutes remaining. After the game, Greenwood head coach Darren Taylor rewatched the film. He saw Mohammed dishing out guidance to his teammates at timeouts. Taylor saw him jumping around in celebration after they secured a win.
In the championship game, Mohammed dropped in 24 points and grabbed 14 rebounds in a 55-54 victory to bring Greenwood its first state title since 1942. Later, he was honored as Missouri's Gatorade Player of the Year.
College programs were clamoring to sign him. That summer, Indiana extended an offer. So did Maryland, Louisville, Kansas State and Missouri State, adding to his list that already included Seton Hall, Florida and Towson.
It was more of the same in his junior season. He put up eye-popping figures: 34.8 points, 15.7 rebounds, 3.6 assists and 2.5 blocks per game. His multi-dimensional game became smooth and explosive. He drove into the lane with a stealthy ferocity. He soared for blocks. He delivered a soft touch on fadeaways. He chopped his feet as he threaded bounce passes through defenders. He threw down jams on his first attempt.
Mohammed remained in the top-25 of the major recruiting rankings. Following his junior year, Pittsburgh, Georgia, Wake Forest and Oklahoma State all jumped into Mohammed's recruitment. He's continued to be one of the most enticing prospects in the country and is projected as an eventual first round NBA draft pick.
"All you need was a chance," Mohammed said. "An opportunity."
***
Aminu Mohammed misses his mom's vegetable soup with rice. She would make it on Sundays. He misses the environment and the lifestyle. He misses being around the house with his mom.
Mohammed doesn't let his mind wander about Nigeria often.
"What's the point?" Mohammed said. "You came here to do a job. You got to make it when you're going back. You don't want to go back empty handed."
He still talks to his parents every weekend. I miss you, they'll say.
His father asks about school and the game. As of last year, Mohammed held a 3.75 grade point average and has the chance to finish in the top five in his class. Academics are a priority in his college choice.
Over the summer, Harmon announced that Mohammed would be making his college decision sometime this winter. Even with the recruiting dead period being extended to Jan. 1 due to COVID-19, the plan has remained.
Mohammed has been preparing for his senior season at Greenwood Laboratory School. Standing 6-feet 4-inches tall, he's currently the No. 17 player in the nation. He trains in the morning. He uses speed ladders, resistance bands, hurdles and concentrates on ball handling and shooting. Then, he goes to class. In the afternoon, he works out again.
He understands how to use a phone and computer now.  He knows where to stand during free throws. He knows how to catch the bus. Back in D.C. he even directed Harmon around the subway system.
There will be a time when Mohammed will return to Nigeria. He wants to help kids earn scholarships. He wants to help people get jobs. He'll come back to his parents. The barracks. The vegetable soup. The warm weather.
He'll return to the court where his dream began.
Filed to: Aminu Mohammed