2021 five-star Aminu Mohammed updates recruitment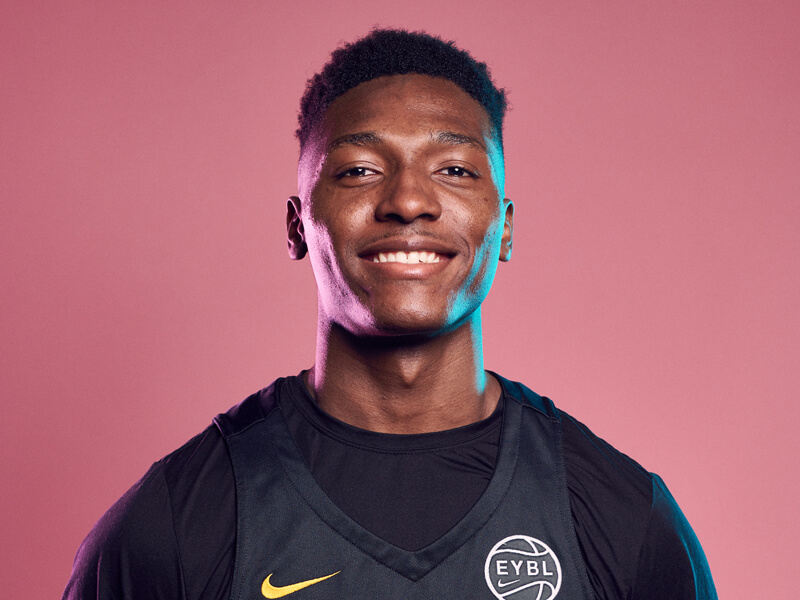 Five-star wing Aminu Mohammed has emerged as one of Archie Miller's top priorities in the 2021 class along with in-state talent Trey Kaufman.
Mohammed, who ranks as the No. 17 prospect in the nation, has been on Miller's radar for a while, earning an offer back in July of 2019. In January, he was in Bloomington for an unofficial visit and attended the game against Maryland.
Last season at Greenwood Laboratory School in Springfield, Missouri, Mohammed averaged 34.8 points, 15.7 rebounds, 3.6 assists and 2.5 blocks per game. The year prior, he was named Missouri's Gatorade Player of the Year after helping lead Greenwood to a state championship and tallying 34.2 points and 17.5 rebounds per game.
The 6-foot 4-inch Mohammed is a native of Lagos, Nigeria. He moved to the United States when he was 14 years old and currently lives with his guardian Shawn Harmon.
This summer, Harmon announced that Mohammed would be making his college decision at either the Greenwood Blue and Gold Tournament (late December) or the Bass Pro Tournament of Champions (Jan. 14-16 2021). The recruiting dead period was recently extended to Jan. 1, meaning recruits can't meet with coaches on campus, but as of right now, they're still sticking with the plan to announce a college choice this winter.
Besides Indiana, Mohammed holds offers from Maryland, Louisville, Florida, Kansas State, Wake Forest, Seton Hall and Missouri State among others.
Inside The Hall recently spoke to Mohammed about Indiana and his recruitment:
What was your first impression of Indiana?
"My first impression was that it's a big school, big history in terms of basketball. My guardian told me about one of the greatest coaches Bobby Knight and stuff like that. I watched some videos on him to see how he coached and how he changed the program. The program became one of the biggest basketball places it could ever go, so it was an excitement for me to be like 'wow, that's a really big school.'"
What has their recruiting pitch been to you?
"The coaches have been talking about they're going to use me in multiple positions basically: defensively, offensively, coming off picks, being able to handle the ball, come off ball screens."
Has the timetable for your decision changed at all?
"Depending on what my guardian wants to do. If anything changes, he's going to be the one to let us know. Right now, we're still doing what we normally do."
Will you be releasing a top-5 school before that?
"My guardian doesn't really care about no top-5 or lists like that. We're going to show gratitude to all the schools, we're not cutting nobody out. It's just going to be a decision that's made and that's it. And we're going to thank the other schools for recruiting me and everything."
When's the last time you or your guardian was in contact with Indiana?
"A week ago."
What have you been doing to get ready for the upcoming season?
"I'm doing different stuff. Workout in the morning, workout in the afternoon, sometime we'll go out there and shoot a little bit, weights, resistance bands, working on my athletic ability, doing the latter drills, jumping over hurdles, getting one leg strong, ball handling, shooting."
What factors are important to you when deciding what college you'll play for?
"Academics is going to be a big one. For the basketball part, it's just how they're going to be able to use me and their style of play: in transition, if they can trust me to lead a team, to be able to coach me up. Tell me my mistakes, teach me stuff, work on my mental part of the game, break down film. Sometimes, players make mistakes and they take them out and corrections were probably never made. Some players it's going to be like that, but for some you've got to be able to show them and say 'hey, this is what you got to do'. Some players just need them to talk about what they're doing and they're going to get it done. If the coaches are going to be able to talk to me and say 'hey, this is what we need you to be doing,' then they're going to trust me in terms of doing what I'm supposed to be doing. And all I have to do is get the job done."
Are you planning on taking a visit to Indiana or anywhere else soon?
"I don't know yet, it depends on what my guardian wants to do. He's been in contact with them. They probably want us to come, but due to the whole situation with corona, everything's been pretty chill."
Filed to: Aminu Mohammed