2021 Silver Creek forward Trey Kaufman talks top five schools, weekend visits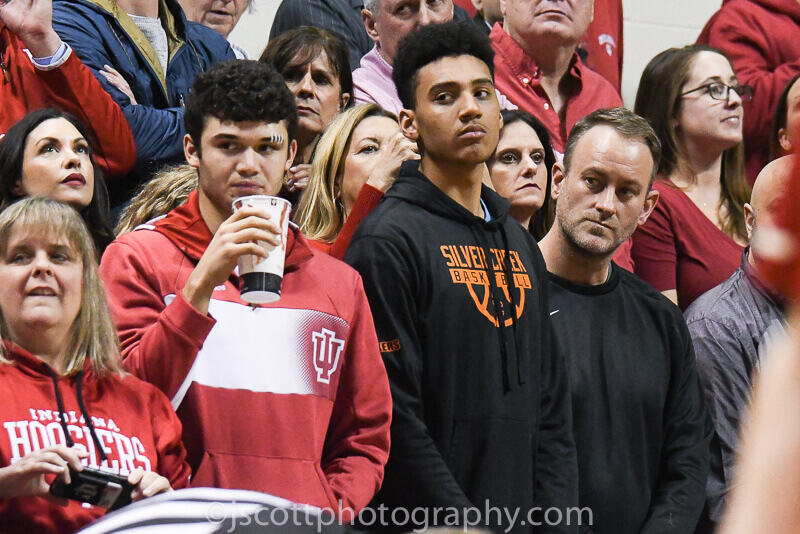 Indiana was included in 2021 4-star power forward Trey Kaufman's top-5 list, he announced on social media Tuesday night. North Carolina, Virginia, Purdue and Indiana State also made the cut.
"Just the fact that they are so close," Kaufman told Inside The Hall. "Me and my family have been talking and I've given them the pros and cons of each school in the top-5 and they really can't make a decision. Knowing that they're all so close, but I think these five are definitely ahead of the others."
Kaufman, who attends Silver Creek High School in Sellersburg, Indiana, has been made a priority by Archie Miller in next year's recruiting class. Kaufman is the No. 55 prospect in the nation and ranks No. 2 in the state of Indiana, according to 247Sports.
Last year, Kaufman averaged 25.8 points, 9.6 rebounds and 1.6 blocks per game, helping lead Silver Creek to a 25-2 record before the season was canceled due to the COVID-19 pandemic.
Indiana, who offered Kaufman early last summer, has been the presumed favorite for much of his recruitment. Kaufman, however, said there isn't one school that's clearly ahead of the others.
"You wake up everyday and you have a different team that you could see yourself, and see the pros of this team," Kaufman said. "There's not one team that's in the lead, but I think these five teams, every other day I'll switch and say 'oh, maybe I want to go to this team, or maybe I want to go to that team.'"
Indiana's frontcourt could have some major holes following the upcoming season. Senior Joey Brunk will have graduated, and there's a strong chance that sophomore Trayce Jackson-Davis could enter the NBA draft. That would leave junior Race Thompson as the only experienced big man.
"A: They've been around one of the longest of all the schools," Kaufman said of IU's recruitment. "And B: that I was trying to take Trayce's roll. Probably do some different things than Trayce could do, but play relatively the same roll that he has and pick up that large portion of minutes immediately."
Kaufman's decision to trim his list to five schools comes after he took visits to both Virginia and North Carolina last weekend. Since recruiting is still in a dead period, Kaufman's visits were a bit out of the ordinary. He wasn't able to be in contact with coaches during the visits, so he and his mother showed up, walked around campus on their own and visited the arenas.
"For me personally, the campus isn't everything," Kaufman said. "But if I were to go to one of those schools, I would want to get a feel for how it is. I think those campuses were beautiful."
North Carolina and Virginia joined Kaufman's recruitment relatively late compared to the other schools in his top five. Virginia offered Kaufman in late April and North Carolina offered in late July.
"I think Indiana and Purdue had the relationship being able to go meet with them and go to multiple games," Kaufman said. "Virginia and UNC have done a lot of Zoom and we've had plenty of time, because of quarantine. Multiple Zoom calls, whether it be with the strength coach or virtual visits. I think day-by-day, and week by week we've been able to make progress to where I could go to one of those schools."
A major aspect of Virginia's pitch has been comparing Kaufman to former Wahoo and current Atlanta Hawk De'Andre Hunter.
"They had a guy like De'Andre Hunter who's in the NBA and guaranteed multiple millions of dollars," Kaufman said. "The fact that he was a part of their team, a large part of their team and why they won a national championship. They say they see a lot of him in me. Obviously, you don't want to put a box over yourself, but at the same time when you have a player that similar to you and is developed and got to the next level. They think they can do the same with me."
After spending time in Charlottesville early in the weekend, Kaufman and his mother drove to Chapel Hill. Since UNC has transitioned to a strictly online class schedule, a majority of the campus was empty.
"But you could really tell it (UNC) was a basketball place and the culture there is basketball all around," Kaufman said.
As of right now, Kaufman said he isn't planning any more visits and doesn't have a timetable for a final decision. With Silver Creek's first official practice on Tuesday, he's gearing up for his senior season.
Kaufman will continue to be one of Indiana's top targets. Currently, center Logan Duncomb, Kaufman's teammate on Indiana Elite, is the only commit for the Hoosiers in the 2021 class.
With his decision still fluctuating, Kaufman outlined the most important aspects he's looking for in a school.
"I think that the relationships with the coaches as well as the players," Kaufman said. "Their ability to develop me, being an NBA player. How much playing time I would get. And how much they're going to win. I think those four things are the big four."
Filed to: Trey Kaufman