Meet high school renaissance man Trey Kaufman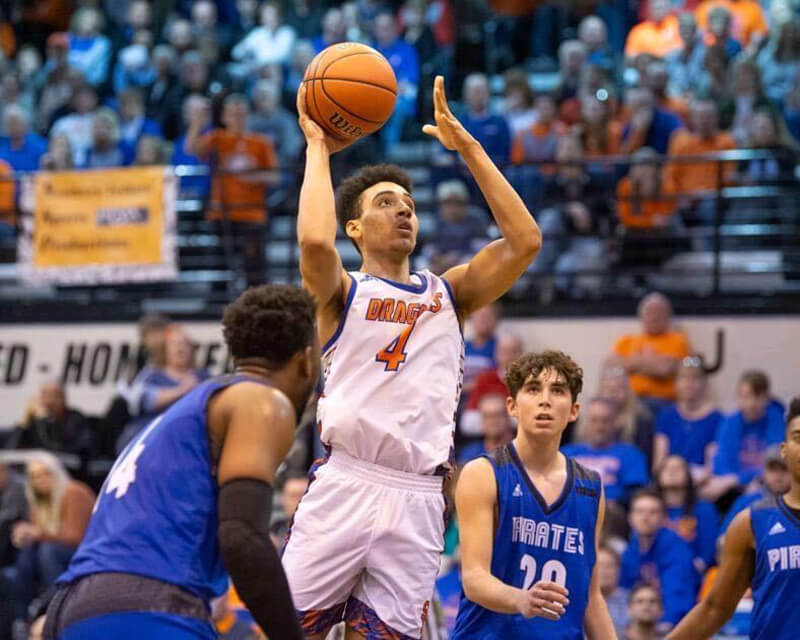 Start with the birthday parties. The ones with Trey Kaufman. The celebrations aren't for him. Rather, elementary school aged kids in the Sellersburg area. The youngsters invite Kaufman to attend their birthday gathering. On more than one occasion, Kaufman has shown up to the festivities.
In saunters the 6-foot 8-inch, 210 pound four-star power forward, surrounded by kids that are barely half his height. He sings notes of Happy Birthday. Sometimes, he'll stay longer and participate in the joyful activities.
"It's their day, it's supposed to be fun for them," Kaufman said. "If I can bring excitement to them, I don't see why I wouldn't do that."
Since the COVID-19 pandemic hit, it's been more difficult for Kaufman to get the events. But, parents have resorted to texting Kaufman and asking him to send over a video message.
"Sure, why not," Kaufman said.
In front of the camera, Kaufman wishes them a happy birthday and sends the clip to the family.
"I think that's important for the times we're going through right now," Kaufman said.
Kaufman, who's Archie Miller's most sought after recruit in the 2021 class has become somewhat of a celebrity in Indiana. As a rising senior at Silver Creek High School, he's ranked 58th in the class, according to the 247Composite, and is a clear front runner for next year's Indiana Mr. Basketball. Besides Indiana, he's garnered offers from North Carolina, Virginia, Purdue and Louisville, among others.
Off of the court, the birthday wishes are just the beginning.
Then, there's the hugs. Those are for Ms. Jerry Walker. She's the 92-year old grandmother of Silver Creek head coach Brandon Hoffman's wife. Stationed in a wheelchair, she's rolled into the gym for almost all of Silver Creek's games. Either before or after most contests, Kaufman embraces her in a hug. He considers Walker a friend more than anything else.
"Thanks for coming," Kaufman says. "I hope we play good and make you proud."
Kaufman's friend reassures him, telling him how watching the team play keeps her motivated.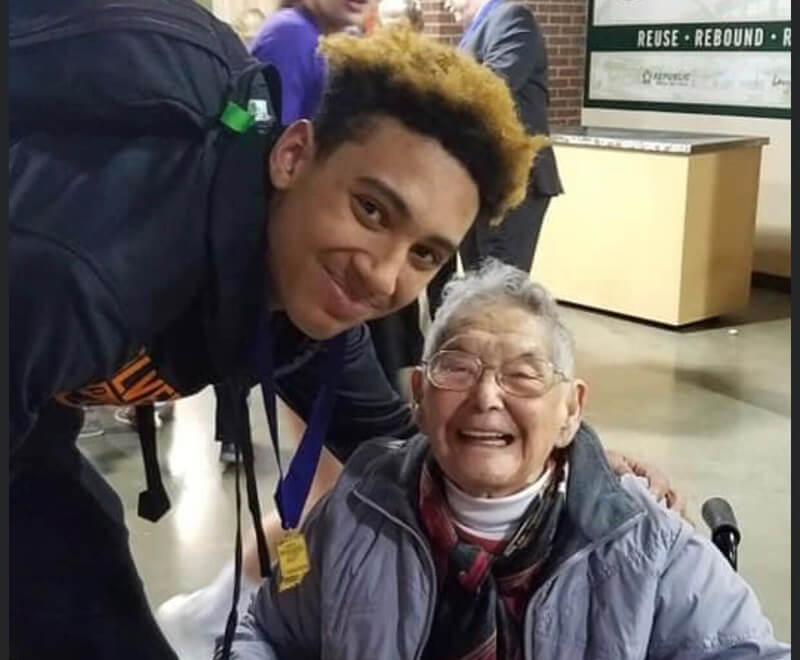 Then, there's Kaufman's grades. He has a perfect 4.0 grade point average and is No.1 in his class academically.
Kaufman is also a magician. The trickery and deception enticed him when he was eight or nine years old. At one point, he wanted to pursue it as a profession. Sometimes, he'll put on a show for his family, or stay longer to amaze kids at a birthday party.
Look at Kaufman's social media and it doesn't reflect a prototypical blue-chip recruit, either. He doesn't have a significant presence on Twitter. Most of his pictures on Instagram are of him and his mom. Others are just of him accepting Division I offers. There isn't anything flashy. Nothing of him posing in front of a car or wearing expensive clothes.
That's because he's not really interested in style. He'd rather have a school uniform if there was an option. Instead, he has a three-day rotation in his wardrobe. Usually it's a light color one day, a dark color the next and then a grey added in. He hates jeans and would wear shorts everyday if he could. At an interview with a local news station, Kaufman sported a School House Rock shirt that his grandmother gifted him.
Maybe it's no surprise then that his favorite player is Larry Bird, who was born almost a half century before him. Kaufman admires Bird because of his mental focus. He has honed that aspect of his game by reading The Pyramid of Success by John Wooden.
Everything about Kaufman adds up to encompass what has become a modern-day basketball renaissance man.
"Trey is his own kid," Coach Hoffman said. "He's always been his own figure. He doesn't really care what other people think."
***
Trey Kaufman was long and lanky. He had potential, but not much coordination.
As a freshman in high school, Kaufman stood around 6-feet and 5-inches tall and weighed near 150 pounds. The problem was that his arms didn't want to cooperate with his legs. And his legs weren't willing to listen to his arms, either.
Every step looked like an unprogrammed combination of limbs hoping to muster an ounce of cohesiveness. Kaufman would use his wingspan to block a shot and then tumble to the hardwood. Or, drive into the lane and fall down.
"Like a newborn giraffe," Hoffman added.
The basketball genes came from his mother, who also played at Silver Creek, and his uncle, who starred for Indiana State. His grandparents played, too.
After returning from a broken wrist early in his freshman season, he split time on the JV and varsity teams. Midway through the season at Bankers Life Fieldhouse, Kaufman had a breakout game against Romeo Langford's New Albany High School. He dropped in 11 points, while grabbing two rebounds and dishing out two assists.
In the offseason, Kaufman worked on his balance and strength. He also grew another two inches.
Kaufman's progression became evident as he erupted in his sophomore year, averaging 14.8 points and 9.1 rebounds per game. At the end of the regular season, he had helped guide the team to a 9-1 conference mark and a 19-3 overall record.
At the beginning of the state playoffs, Kaufman caught mono and the flu. He made four or five trips to the doctor and registered a fever of about 100 degrees. Hoffman never had a doubt that Kaufman would still play.
Kaufman hydrated with water and electrolytes. He sipped on chicken noodle soup. He stayed in a separate hotel than the rest of his team.
Kaufman played every game. Sometimes, he felt sluggish, "like I was a sloth out there," Kaufman said. But, he knew he needed to be on the court.
In the end, Kaufman and Silver Creek defeated Culver Academies 52-49 to capture the school's first state championship in any sport since 1925. While only scoring four points, Kaufman still contributed with 13 rebounds and six assists.
He raised the championship trophy over his head, a giddy smile plastered across his face. Fueled by chicken noodle soup.
"It was definitely worth it," Kaufman said.
The following summer was when his recruiting took off. He started playing for Indiana Elite, an adidas-sponsored grassroots travel program, and traveled to Chicago and Los Angeles to square up against top-ranked talent.
In early June of 2019, Indiana was in the door, extending an offer. A few days later, Purdue did the same. By the end of the summer, he collected another from Louisville.
Kaufman's name spread across the state and his dominance was on full display. He finally felt comfortable moving around the court. His game became more versatile, fully molding himself into a modern big man. There were dunks, dimes and triples.
Man, I can really play against these guys, Kaufman remembers thinking.
In his junior year, he put up gaudy numbers before the season was canceled due to the COVID-19 pandemic: 25.8 points and 9.6 rebounds, along with 1.6 blocks per game.
In a game last season against Floyd Central, Kaufman blocked a potential game-winning shot, bounced back up and snatched the orange, while drawing a foul.
Later, Hoffman turned to Kaufman's mom: "There's no way that he would have been able to do that a year ago."
Through the winter and spring, the power-five scholarships kept rolling in: Virginia, Texas A&M, Clemson, Xavier, Wake Forest and North Carolina.
"Did we know he'd be the exceptional talent he is now?" Hoffman said.
"No. But, kind of knew he would be really good."
***
As a math teacher, Mike Day is paid to recognize patterns. And Day, having watched Kaufman in the classroom and on the hardwood, has noticed some striking similarities.
Day, who has been employed at Silver Creek for 25 years, taught algebra, trigonometry and finite math to Kaufman over two years. He has watched Kaufman meticulously comb over all of the answers on a test, making sure he didn't make a careless mistake. Sometimes, Kaufman stayed after class because he would refuse to turn in the exam while stumped on a question.
"99 percent of the time he gets it figured out," Day said.
Kaufman has that same unrelenting determination during games. Last season, Bloomington South beat Silver Creek on a buzzer beater by now-Indiana freshman Anthony Leal. After the game, Kaufman analyzed the plays leading up to the shot and vowing to ensure it wouldn't be repeated.
Day often splits the class into groups for projects. He watches Kaufman observe and listen as his group mates try to figure out the problem. Kaufman will wait and if they get confused, he'll calmly interject and explain how to work through the question.
Kaufman enjoys math because he can think through problems step by step. One time during a lesson, Kaufman showed Day a different method of factoring. Now, Day teaches Kaufman's strategy to his classes.
Back on the court, Kaufman operates in the same calculated fashion. In a game last season, three defenders converged on Kaufman in the post. He swiftly made a couple of pass fakes and swung the ball to a teammate. Then, he got the ball back and scored.
"He's very methodical about his thought process and very analytical," Day said. " He's always thinking, but never in a hurry."
In class the day after a game, Kaufman will be asked something similar to: "Hey, how many did you have the other night?" Kaufman usually doesn't muster out his stats. Not because he's being disrespectful, but rather he doesn't want to flaunt about himself.
Kaufman comes to class, he asks questions and points out observations. When he's pestered about where he'll go to college, Kaufman quietly offers: "I don't know." Then, whether it's a light or dark shirt day, Kaufman goes on his way.
***
Through a crackling buzz on the phone, Trey Kaufman lets out a deep breathe. He explains how he's gotten used to everything. All the texts. The media requesting interviews. The Zoom calls with coaches. Eventually, it became ingrained in his routine.
"To be honest with you, it's not my favorite thing," Kaufman said.
It's not because he's ungrateful. He loves all of the coaches. He loves the relationships. He loves the game. It's just stressful. And Kaufman, who doesn't even like talking about his stat line in class, has been thrust into the Indiana basketball spotlight, leaving him open up for scrutiny and criticism.
Kaufman then describes how he destresses by spending time with his family. Or, simply going outside and getting some shots up.
During quarantine, Kaufman continued to work on his mobility and athleticism. He fine tuned his jump shot. He knew others would use the time to rest.
"I couldn't personally take off for basketball," Kaufman said.
Two weekends ago, Indiana Elite squared off against rival organization Indy Heat in the Battle of the Brands jamboree in Noblesville, Indiana. Kaufman commanded the first game with 30 points and followed it up with a 26-point outing. He featured next to center Logan Duncomb, who's committed to the Hoosiers in 2021.
The scene was far-fetched from the freshman year version of Kaufman. He was powerful and quick. Explosive and balanced.
Kaufman just finished his first week of his senior year. His highly anticipated college decision is quickly approaching. He's carefully exploring his options, just like in math class. The difference, though: the right answer for him, may be the wrong answer for millions of fans.
But for now, he'll continue to be a magician. A birthday party enthusiast. A diligent student. A loving hugger.
"He's taking his own time and making his own decision," Hoffman said. "He's on his own timeline."
Soon, he'll make a life-changing choice. Then, he'll be off to the next task.
Always thinking, and never in a hurry.
Filed to: Trey Kaufman