2020-21 ITH Season Preview: Wisconsin Badgers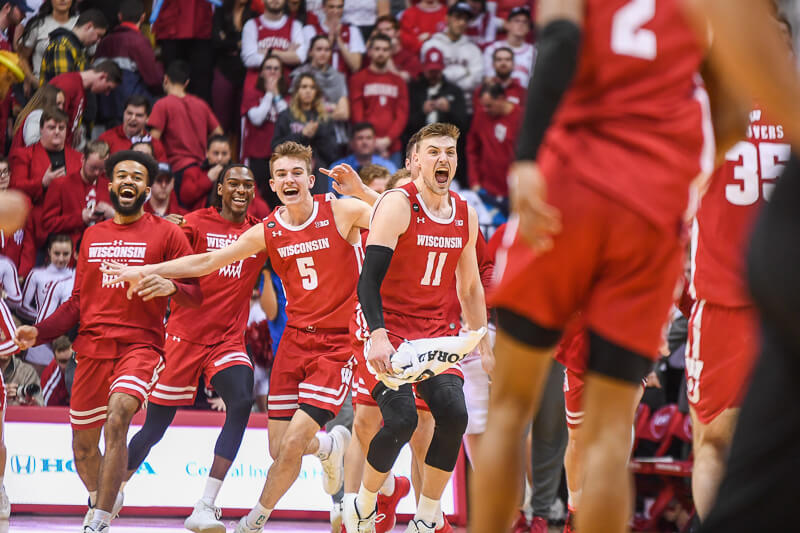 With the start of college basketball season slated for late November, we'll be taking a long look at the conference at large as well as Indiana's roster over the next month. Today, we conclude our Big Ten team previews with a look at Wisconsin.
There are plenty of reasons to buy Wisconsin as the Big Ten favorite entering the 2020-21 season.
The Badgers, who captured a share of the conference crown last winter, return all five starters from a team that steadily over the course of the season.
After a rocky start that included losses in the non-conference Richmond, New Mexico and NC State, Wisconsin hit its stride over the last month of the season. The Badgers lost 70-52 at Minnesota on Feb. 5 and sat at 13-10 overall and 6-6 in the Big Ten.
But this group showed its resilience over the final eight games in Big Ten play as it won eight straight to capture a share of the league crown. In its final game of the season that was shortened by the COVID-19 pandemic, Wisconsin won 60-56 at Indiana on Saturday, March 7.
A major reason for Wisconsin's ascent to the top of the league standings was the arrival of Micah Potter, who became eligible for the second semester. The Badgers were 5-5 before he became eligible and 16-5 after he entered the rotation. As a season and one of the nation's best pick-and-roll players, Potter will have to figure out how to spend more time on the floor alongside Nate Reuvers. As a redshirt junior, Potter averaged 10.1 points and 6.1 rebounds in just 17.8 minutes per game.
Reuvers, a third team all-Big Ten selection as a junior, is an excellent shot blocker who can also space the floor. He averaged 13.1 points and grabbed 4.5 rebounds last season while blocking nearly two shots per game. Reuvers has struggled to finish in the paint at times, but shot close to 36 percent on 3s last season.
Joining Potter and Reuvers in the Badger frontcourt is another senior in Aleem Ford. The 6-foot-8 forward made 35.5 percent of his 3s and 55.6 percent of his 2s in conference play last season. Ford averaged 8.6 points and started all 31 games last season.
Sophomore Tyler Wahl, who played heavy minutes for a large chunk of the conference season, saw his role diminish late in the season as Greg Gard tightened the rotation. Still, he logged nearly 500 minutes as a freshman and played in all of the taem's 31 games. Freshman Ben Carlson, a 6-foot-9 forward from Minnesota, could also figure into the frontcourt rotation. A top 100 recruit nationally in the 2020 class, is a skilled four who can stretch the floor.
Two more seniors, D'Mitrik Trice and Brad Davison, return to start in the backcourt. The 6-foot Trice was a third team all-Big Ten selection last season. He averaged 9.8 points, 4.2 assists and four rebounds in 32.2 minutes per game and shot 37.6 percent on 3s. His assist rate was sixth-best in the league and he had 46 assists over the team's final eight games.
Davison is loved by Badger fans but loathed by the rest of the Big Ten. He shot close to 37 percent on 3s last season and averaged 9.9 points per game, which was down from his first two seasons.
Senior Trevor Anderson returns as a backup at guard, but there aren't many minutes available due to the heavy workload taken by Trice and Davison. Anderson shot just 28 percent on 3s last season, but is a career 34.2 percent 3-point shooter when you figure in his freshman season at Green Bay back in 2016-17.
Bottom Line: In a season that could be filled with unexpected speed bumps due to the pandemic, Wisconsin has the senior leaders and the experience needed to navigate the uncharted territory. All five starters are back and all five starters are seniors. Wisconsin always plays a disciplined style that frustrates its opponents and this version of the Badgers will continue that trend. The addition of Potter to the lineup in December last season resulted in a significant improvement and having him available to start the season should allow Wisconsin to be very good from the season's onset. Other teams in the conference may ultimately have a higher ceiling due to talent, but this group is a safe bet to be in the thick of the Big Ten title hunt once again.
Quotable: "Our maturity has definitely played to our advantage. This group has seen so much — there's not much they haven't seen — and learned to roll with the punches. They're antsy. They want to play. But they're mature enough to understand the climate we're in and how we have to navigate this. And they have to look at it as an opportunity to get better individually, improve their skill level, and work on their body. They've all done a really good job of that even during the time they weren't here. That's in large part why I left them home during the summer. I knew that they were getting more done and understood what they needed to do. And more was going to be accomplished there than we could do here. Now we've got a little extra time this fall to continue to work on those individual things before we're allowed to put the whole team together." – Gard to UWBadgers.com in September.
(Previously: Nebraska, Northwestern, Maryland, Minnesota, Penn State, Purdue, Rutgers, Ohio State, Michigan, Illinois, Michigan State, Iowa)
Filed to: 2020-2021 Big Ten preview, Wisconsin Badgers