2020-21 ITH Season Preview: Illinois Fighting Illini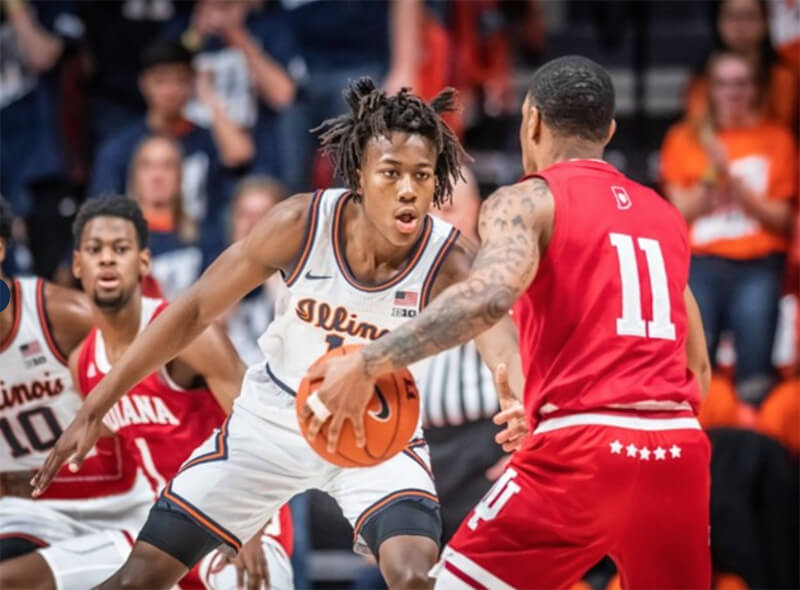 With the start of college basketball season slated for late November, we'll be taking a long look at the conference at large as well as Indiana's roster over the next month. Today, we preview Illinois.
During the 2018-2019 season, Indiana traveled to Champaign for a March 7 matchup against the Illini. The Hoosiers had recently lost 12 of 13 conference games, largely based on their opponents employing a similar defensive strategy: Pack the paint, sag off Indiana's perimeter players and dare them to shoot. In a season the Hoosiers ranked near the bottom of Division I basketball in 3-point shooting, it was an effective strategy to stymie Indiana's offense and keep their star freshman Romeo Langford and point guard Rob Phinisee from having proper space to operate.
But in his second year as the coach of Illinois, Brad Underwood was sticking to his program-building script. Despite its lack of success, Underwood continued to teach and implement an in-your-face pressure defense to try and create turnovers. Indiana, no longer being dared to shoot all game with a packed paint, capitalized in a big way, running ball screens to free Phinisee into an open middle of the court to make plays. The Hoosiers had their best offensive game of the season (1.39 points per possession) in their biggest conference road win of the year (92-74).
The Illini finished that 2018-2019 campaign with just a 12-21 record, its pressure defense ranked outside the top 100 (108th in adjusted defensive efficiency). It was also one of the most foul prone defenses in the country (338th in defensive foul rate) and allowed opponents to rebound 31.9 percent of its misses, which ranked Illinois 307th nationally in that category.
But after an offseason of self-reflection — and a look at the numbers with the help of some outside consultation from a Boston Celtics analytics staffer — Underwood decided change was necessary. Gone was the pressure defense that created too many fouls. In came a defense incorporating pack line principles. It also helped the Illini had sealed a commitment from Jamaican Kofi Cockburn, an intimidating, built, 7-footer who could block shots and clean up mistakes. And so Illinois' defensive numbers changed drastically in 2019-2020. Its defensive foul rate went from one of the worst (338th) to one of the best (20th) in the nation. While the Illini weren't turning opponents over or stealing the ball as much, their overall defensive profile improved, as they finished 35th in adjusted defensive efficiency in the nation with their conference-only defense ranking fourth in the Big Ten.
It was a transformation, coupled with the emergence of Ayo Dosunmu as a clutch offensive star, that completely turned around the trajectory of the Illini. After finishing 21-10 last season and a likely NCAA tournament team before the pandemic shut down the season, they're poised to be one of the better teams in the conference, if not the nation entering the 2020-2021 season.
Start here: Both Dosunmu and Cockburn are back this season after testing the NBA draft waters. Dosunmu isn't a lights out shooter (29 percent from 3-point range last season), but he time and again hit key buckets in the closing minutes of games last season to propel the Illini to victory. That included a dagger 3-pointer and some free throws to help beat Indiana 67-66 in Champaign on March 1. He's the best closer in the league. Cockburn's size makes him an absolute force down low. He draws fouls at a high rate and is a strong offensive rebounder and shot blocker, making him an asset on both sides of the floor.
Trent Frazier and Da'Monte Williams return for their senior seasons to provide a veteran presence. While Giorgi Bezhanishvili's sophomore season saw a dip in numbers after a surprising freshman campaign, he remains a versatile big man. Jacob Grandison sat out last season after transferring from Holy Cross, but has the ability to contribute to the team in a meaningful way.
Adam Miller and Andre Curbelo, two four-star freshman guards, can provide depth behind Frazier and Dosunmu in the backcourt. And guard Austin Hutcherson, who sat out last season after transferring from Division III Wesleyan, was a star at his previous stop who will likely be in the rotation.
Bottom Line: Illinois has arguably the best one-two punch in the league with Dosunmu and Cockburn. The Illini figure to not only challenge for a Big Ten championship, but are also poised to be one of the better teams in the country. While the Illini's defensive improvement was the story last season, its offense, though still solidly elite nationally (38th in adjusted offensive efficiency), might be the decider on how far this team goes. In conference play, the Illini finished just ninth in offensive efficiency namely because of shooting problems, as they finished 13th in effective field goal percentage (45.8) just ahead of cellar dweller Purdue (45.7). They were also the worst 2-point shooting team in league play and struggled to get to the line (13th in free throw rate). If Underwood, who in his only year at Oklahoma State coached the most efficient offense in the nation, can bring some of that spice to his emergent Illini team, a deep tournament run seems in play.
Quotable: "This is a once in a lifetime opportunity. A lot of people don't have the opportunity where they can contend for a national championship in their home state and do it in the way that my story was written from a team that went from the bottom of the Big Ten and helping attract in other great players to come and sacrifice their own talents to help the team win. It's something I have the opportunity to do, so I'm going to work as hard as I can — doubly as hard as I can — because I know we have the opportunity to and we have a target on our back." – Dosunmu earlier this fall.
(Previously: Nebraska, Northwestern, Maryland, Minnesota, Penn State, Purdue, Rutgers, Ohio State, Michigan)
Filed to: 2020-2021 Big Ten preview, Illinois Fighting Illini