2020-21 ITH Season Preview: Ohio State Buckeyes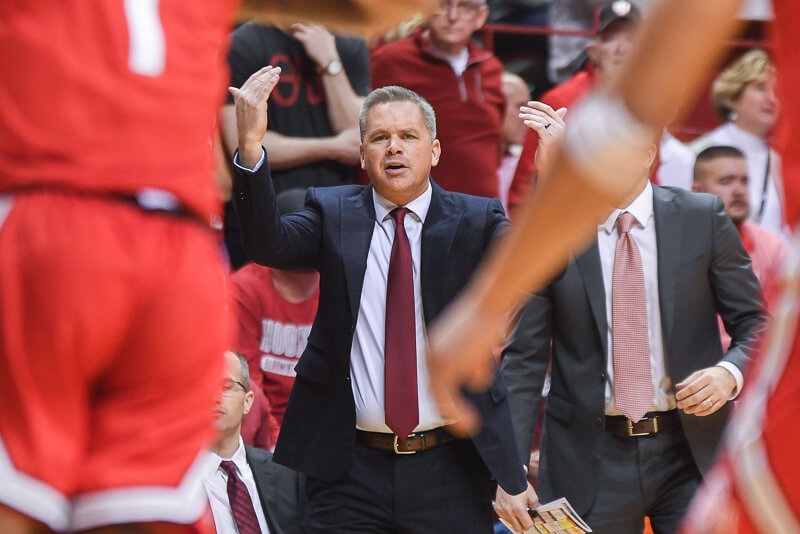 With the start of college basketball season slated for late November, we'll be taking a long look at the conference at large as well as Indiana's roster over the next month. Today, we preview Ohio State.
Last season was riddled with inconsistencies for the Ohio State Buckeyes, who finished the year with a 21-10 overall record and 11-9 mark in the Big Ten.
Chris Holtmann's squad opened the season with a 10-0 record, defeating blue bloods Villanova and North Carolina early in the year. In that 10-game stretch, the Buckeyes averaged 72.8 points per game while holding their opponents to just 49.2. They eventually moved all the way up to No. 2 in the national rankings.
Then, from late December to January, Ohio State dropped six of seven games and fell out of the top 25. They scored less than 62 points per contest, and conceded more than 68 to their opponents.
After that disastrous period, the Buckeyes turned their struggles around, winning nine of the final 12 games of the season. They took down Michigan (twice), Illinois and Maryland and tied for 5th place in the standings.
As a team, they shot an efficient 37 percent from three, ranking 23rd in the nation. They excelled from the free throw line, converting on 75 percent of attempts and ranking 43rd in the country. Their pack line defense was also elite at times. They finished 25th in the nation in points allowed per game with under 63. They also held opponents to less than 40 percent shooting from the field.
A majority of Ohio State's success revolved around junior forward Kaleb Wesson. The 6-foot 9-inch, 270-pound Wesson was a bulldozer in the paint. He notched 14 points and 9.3 rebounds per game, while earning second team all-Big Ten honors. Wesson was an all-around power, shooting 42.5 percent from the behind the arc. He also dished out 60 assists, second on the team, and blocked a team-high 31 shots.
In the offseason Wesson elected to pursue a career in the NBA. The Buckeyes will also be without Wesson's brother Andre, who graduated last spring. Andre wasn't a force like Kaleb, but still led the team in minutes played per game. Andre started 23 games, averaging 9.2 points and 3.9 rebounds per game, while shooting 42.2 percent from 3-point range.
Ohio State had two key contributors transfer out of the program, too.
Junior guard Luther Muhammad left for Arizona State after two years with Ohio State. Last season, Muhammad started 28 games, averaging seven points and 2.3 rebounds per game. His value came more as a defensive presence where he ranked second on the team in steals.
Sophomore guard DJ Carton, a former 4-star recruit, also decided to move on from the program. During the middle of last season, Carton stepped away from competition to focus on his mental health. In March, he announced he would be transferring to Marquette.
In 20 appearances last season, Carton ranked third on the team with 10.4 points per game and added 2.8 assists per game. Carton was set to command the future backcourt for the Buckeyes.
The four major departures combined for 213 total games started in their careers. Freshman forward Alonzo Gaffney, who played sparingly, also transferred.
The Buckeyes are, however, returning four of their top eight scorers from last season.
Junior guard Duane Washington shouldered a lot of the scoring last season alongside Wesson. In 28 games, Washington put in 11.5 points per game, while shooting 39 percent on 3-pointers. He tallied 10 games in which he hit three or more shots from long range.
Senior guard CJ Walker will also be coming back. Walker played in his first season with the Buckeyes last year after transferring from Florida State. He averaged 8.7 points, 3.1 rebounds and 1.3 steals per game last season, while handing out a team-high 107 assists. He led the team in assists in 17 contests, while also totaling 14 double-figure scoring games.
Senior forward Kyle Young and sophomore E.J. Liddell will serve as some continuity in the frontcourt from last year's roster. Young started 25 contests and averaged 7.5 points and 5.8 rebounds per game. Liddell, as a freshman, contributed 6.7 points and 3.8 rebounds per game off of the bench.
Liddell was touted on Jon Rothstein's list of 20 breakout players for the upcoming season. Standing 6-feet and 7-inches and weighing 240 pounds, Liddell can bully his way on the interior much like Wesson. He doesn't, however, possess the range that Wesson had. Sophomore Ibrahima Diallo is also back and is Ohio State's tallest player at 6-foot-10. He averaged 1.3 points and 1.9 rebounds per game last season in limited minutes.
Young and Liddell will be accompanied by Seth Towns, one of the top grad transfers from last year. As a sophomore in 2017-18, Towns earned AP All-America honorable mention while playing for Harvard. He averaged 16 points and 5.7 rebounds per game that season and was named as the Ivy League player of the year. He was sidelined due to injuries in the next two seasons before transferring to Ohio State.
Redshirt junior forward Justice Sueing will also see the court for the first time as a Buckeye. Sueing sat out last season after transferring from California. As a sophomore, he dropped 14.3 points and grabbed six rebounds per game in the Pac-12.
Holtmann also added redshirt senior guard Abel Porter, who transferred in from Utah State. In his junior year, Porter averaged over five points and three assists per game. Juniors Justin Ahrens and Musa Jallow will also provide depth on the wing for the Buckeyes.
A duo of 3-star freshmen in shooting guard Eugene Brown III and forward Zed Key round out the newcomers.
Bottom Line: The Buckeyes have a wealth of experience and enough returning talent to have success in the Big Ten, although the loss of Kaleb Wesson will be nearly irreplaceable. It also doesn't help that Holtmann hasn't been able to evade the transfer trend that occurred during the offseason. The production of Towns, who hasn't played in a collegiate game in two years, will play a large factor in how well Ohio State fares this season.
Quotable: "I think we've got a group that is mature, that cares about each other. That's a good place to start. Again, we've got a lot of questions we've got to answer. But I do feel pretty confident in seeing them operate. We know that there are certain things you can do to prevent the risk of getting COVID, but you can't completely prevent the risk. But I do believe after seeing our guys day to day here for the last 10 weeks, I like our maturity." – Holtmann talking about his team in early October.
(Previously: Nebraska, Northwestern, Maryland, Minnesota, Penn State, Purdue, Rutgers)
Filed to: 2020-2021 Big Ten preview, Ohio State Buckeyes