6-Banner Sunday: Preseason practice is underway, Archie Miller and players speak at media day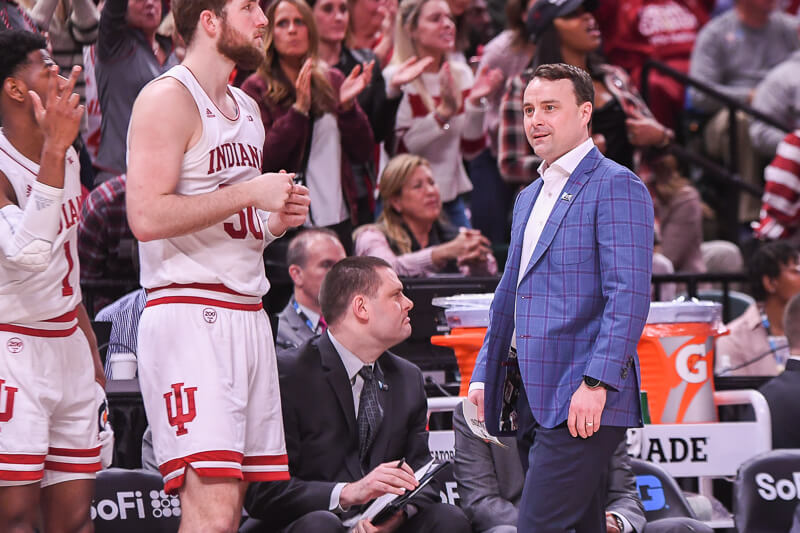 6-Banner Sunday is Inside the Hall's weekly newsletter in partnership with The Assembly Call. More than 7,000 Indiana fans receive the newsletter each week. In addition to appearing each week on the site, you can also opt to receive 6-Banner Sunday by email. A form to subscribe via email is available at the bottom of this week's 6-Banner Sunday.
Welcome to another edition of 6-Banner Sunday, a joint production between The Assembly Call and Inside the Hall where we highlight the five most essential IU basketball stories of the past week, plus take a look at how the other IU sports programs are doing.
Official preseason college basketball practice finally started last week. That means Indiana, along with programs from across the country, are gearing up for the start of the season on Nov. 25. Teams can practice for up to four hours per day and a total of 20 per week. On Wednesday, head coach Archie Miller expressed his excitement on Twitter.
Tuesday was also a busy day for Miller and the Hoosiers. They spoke to reporters and posed for pictures in full uniform as a part of the annual media day festivities. Miller talked about how the Indiana's experienced roster will play a significant role in a season filled with uncertainty. On Thursday, that experience was evident as four Hoosiers were named team captains.
Sophomore Trayce Jackson-Davis has been racking up preseason awards. He was named as a preseason third team All-American by two different publications. Blue Ribbon College Basketball Yearbook also picked Indiana to finish eighth in the Big Ten this season.
While basketball season is on the horizon, the wait for Big Ten football is almost over. Indiana football is set to open the season against Penn State at 3:30 p.m. this coming Saturday at Memorial Stadium.
• Archie Miller and players speak at media day
• Indiana basketball team captains announced
• Winter athletes awarded extra year of eligibility
• Trayce Jackson-Davis garners preseason accolades
• Blue Ribbon releases Big Ten preseason rankings
• Hoosier Sports Roundup
Banner #1
Archie Miller and players speak at media day
This season's basketball media day was, like many things in the current climate, very different. Instead of settling in the media room beneath the seats of Assembly Hall, head coach Archie Miller and the Indiana players fielded questions in front of a computer screen on Zoom.
During Tuesday's press conference, Miller reiterated many of his points from this summer's media availability. He expects this year's team to be more reliant on small ball lineups, especially with the addition of four versatile freshmen. As a result, Miller hopes to play at a faster pace with more floor spacing. He also identified turnovers as a statistic that the Hoosiers need to improve. Last season, Indiana averaged more than 12 turnovers per game, and Miller wants it to be around 10 or 11 this year.
When talking about redshirt sophomore wing Jerome Hunter, Miller uttered a few words that surely bring excitement to Indiana fans: "He's back to being the old Jerome."
Hunter had an inconsistent redshirt freshman season for the Hoosiers after missing his first year due to an undisclosed leg injury. Miller said he saw Hunter's love from the game return. And Hunter said that he feels like Miller has a lot of confidence in his versatility.
This week's Podcast on the Brink and Assembly Call Radio both had in-depth discussions about media day.
Banner #2
Indiana basketball team captains announced
Seniors Al Durham and Joey Brunk, along with juniors Race Thompson and Rob Phinisee were all announced as team captains on Thursday night.
"congrats on being selected by your teammates as Captains for this 2020-2021 Season. 4 Dependable, Team First Guys!" Archie Miller said in a Tweet.
The quartet combine for 160 total games started across their collegiate careers. All four have been playing with each other for two seasons at Indiana, as Brunk transferred from Butler prior to last season. Thompson, who redshirted his freshman year, is entering his fourth year in the program along with Durham. Thompson has emerged as a leader in the offseason. Last season, Durham was a team captain along with Devonte Green.
"It was just a big learning step for me in how I can become a leader on and off the court and how I can gel with guys," Durham said on Tuesday. "So, I feel like it's just a stepping stone for what I can do in my senior year."
Banner #3
Winter athletes awarded extra year of eligibility
Winter sport athletes will be given an extra year of eligibility, the NCAA's Division I Council announced Wednesday. The board previously awarded 2020 spring and fall sport athletes the same option.
"We felt it was important to make this decision now so student-athletes had the peace of mind to go into this season and compete," Council chair Grace Calhoun told ESPN on Wednesday. "They know they can regain that eligibility and have their clock automatically extended, so they're not taking that chance on the front end if they choose to compete."
The ruling means that seniors Joey Brunk and Al Durham could play two more seasons, if they choose to. The extra year of eligibility could also factor into the future NBA decisions of sophomore Trayce Jackson-Davis and five-star freshman point guard Khristian Lander.
It was also decided that college football teams don't need a .500 record to qualify for a bowl game this season. The resolution could benefit Indiana football as the Hoosiers are scheduled to face off against top Big Ten teams in Michigan, Michigan State, Ohio State, Penn State and Wisconsin this season.
Banner #4
Trayce Jackson-Davis garners preseason accolades
Sophomore forward Trayce Jackson-Davis was selected as a third team preseason All-American by Blue Ribbon College Basketball Yearbook and College Hoops Today. Earlier, he was identified as a preseason National Player of the Year candidate by Andy Katz.
Jackson-Davis, who averaged 13.5 points and 8.4 rebounds per game last season, was selected to the Big Ten All-Freshman team.
While deciding whether to test the NBA draft waters or return to Indiana, Jackson-Davis had a conversation with Archie Miller. Jackson-Davis was told by Miller that if he was going to return to school, he needed to play at an All-American level.
"I think he's putting really high expectations on me and it's giving me a lot of confidence to produce," Jackson-Davis said on Tuesday.
Jackson-Davis said he's improved his finishing ability with his right hand and developed a reliable jump shot in the offseason. If he's able to add both to his repertoire, Jackson-Davis could be on his way to All-American status.
Banner #5
Blue Ribbon releases Big Ten preseason rankings
Indiana was picked to finish eighth in the Big Ten in the upcoming season by Blue Ribbon College Basketball Yearbook. The Hoosiers were picked to finish seventh in the conference by Lindy's Sports earlier in the year.
Blue Ribbon's projected top-8 teams in the Big Ten are: Wisconsin, Iowa, Illinois, Michigan State, Ohio State, Rutgers, Minnesota and Indiana. The first five were included in Blue Ribbon's preseason top 25 rankings, with Wisconsin ranking the highest at No. 7.
Iowa's Luka Garza was the publication's selection for both National Player of the Year and Big Ten Player of the Year, while Michigan State's Joey Hauser, who transferred from Marquette, is projected as the league's Newcomer of the Year.
Inside the Hall continued its Big Ten previews for the upcoming season, too. This week featured Ohio State, Rutgers and Purdue. Last week's in-depth roster breakdowns included Nebraska, Northwestern, Maryland, Minnesota and Penn State.
Banner #6
Hoosier Sports Roundup
By Aaron (Ari) Shifron
• Football once again talked to the media on Monday, Tuesday, Wednesday, Thursday and Friday of this week. They also had a player named to a preseason watch list.
• Soccer formally dedicated their new facility this week.
• Women's Basketball started practice this week.
• Volleyball had a former player sign to play professionally overseas.
• Softball completed the Weekend Fall Bat Series.
• Wrestling announced the passing of a former player.
• A current golfer finished tied for fourth at the Purdue Amateur.
• The athletic department as a whole launched a major fundraising campaign.
Thanks for your continued support for The Assembly Call. We'll be back next weekend with a new roundup.
Now go enjoy yourself a 6-banner Sunday.
Filed to: