The powerful emergence of Race Thompson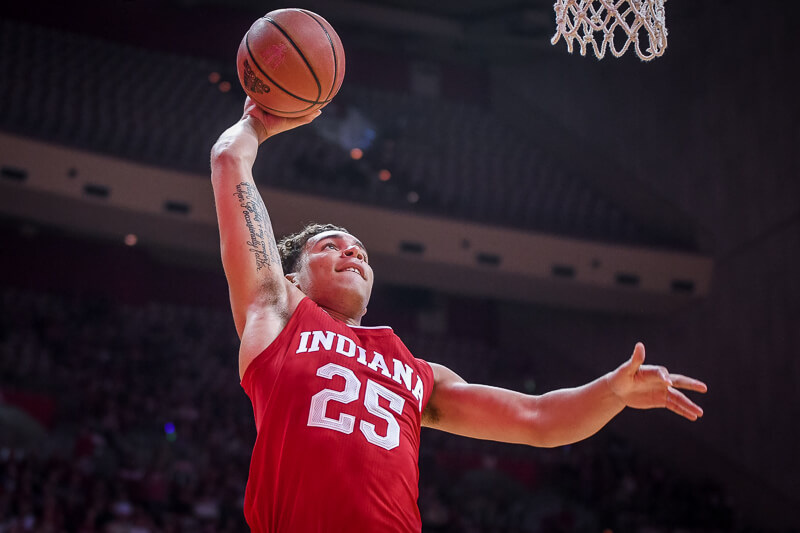 First, there was a horn. Piercing. Blaring. Ringing. It sounded across Interstate 35 in Minneapolis.
On May 31st, it wasn't meant to be there.
Thousands of people gathered on the highway protesting the death of George Floyd. Just days earlier Floyd, an unarmed Black man, was killed by police in Minneapolis.
Race Thompson stood among the crowd.
Alongside Thompson was his older brother True, who plays football for Minnesota, his childhood friend Michael Wexler, who is a guard on the Pepperdine basketball team, and a group of others. They were all on the far right lane of the highway.
That's when they heard it. Then, they saw it.
A semi-truck barreled down the closed road. It rumbled in the left lane, carrying a cylinder tank. A full vehicle can weigh up to 80,000 pounds.
"You wanted to yell 'get out of the way,' but words wouldn't come out of your mouth," Wexler said.
The truck forged an opening through the mass. Around Thompson, people were having panic attacks. There was scattering. Shrieking.
Thompson's group checked to make sure they were all still together. Then, they dashed off the road and into a grass area to call their parents.
A fence bordering the brush became an avenue for escape. Some struggled to climb the fence. Others had to be carried over.
Thompson and his friends stopped to help people make it over the metal barrier. Then, they rushed to their car.
They sat there, not able to believe what happened. They talked, wondering why anyone would want to carry out such an act. Later, they learned that no one was killed.
This is Thompson's home.
Thompson grew up in Plymouth, Minnesota, a suburb 15 miles west of downtown Minneapolis. Armstrong High School, where Thompson spent his prep days, is 30 minutes away from where Floyd was killed. Police officer Derek Chauvin, who is being charged with second degree murder, knelt down on Floyd's neck near Cup Foods, a local restaurant in the city. Thompson had been there.
As shockwaves spread across the nation, Thompson watched from the epicenter.
"I felt obligated to go down there," Thompson said. "I needed to show support for these people because this is home for me, it hit home for me."
Wexler had accompanied Thompson at an earlier protest, too. Hidden behind medical masks, they marched for blocks. People of different colors locked arms. Shouted prayers. Held up signs.
In one of Indiana basketball's weekly Zoom calls, Thompson spoke passionately about his experiences. Less than a week later, the digital team released a video where IU players and head coach Archie Miller voiced support for racial equality. Thompson was in the first clip.
You could see it in Thompson's eyes. They were slightly misty, his brow furrowed and face stoic. You could hear it in his voice. A deep, unwavering tone as he let out a deep breath.
"My feelings about this are hard to explain right now," Thompson said in the video. "I am both saddened and inspired, and I am ready for change."
Thompson reflected on the video, which amassed more than 25,000 views on Facebook, with Wexler. In their conversation, they said they needed to speak up and educate others.
"It could have been one of our family members," Wexler said. "Hopefully they never have to deal with something like that."
***
They called themselves "The Quarantine Club."
In past summers, Thompson, Wexler, True and other friends would coordinate workouts, but it wasn't ever a scheduled meeting.
Once the COVID-19 pandemic spread across the world, much of normal life was shut down and students were sent away from campus. After returning home, through the turmoil that engulfed them, the group consistently scheduled daily workouts in a group chat.
When they started in late March, the temperature was in the 30s and 40s. They bundled in sweatshirts, sweatpants and hats.
Three days a week in the mornings, they focused on explosiveness, sweating through circuits of resistance band lunges and push ups. Thompson regularly contacted Indiana Director of Athletic Performance Clif Marshall to pick his mind for exercise ideas. In turn, Marshall sent an article to Thompson that outlined the benefits of hill runs and mailed Thompson a pair of cleats so he'd have better traction. The group started sprinting up a lengthy hill while toting a weighted vest.
After running, Thompson and Wexler joined a Zoom call to work on their ball handling skills. On the other days, they found courts to fine tune their game.
Wexler noticed something different from Thompson during the summer.
Thompson was always one of the first to reach out and check when they were headed to the hill. On non-running days, Thompson would text Wexler about going to a track to run.
Once the gyms opened up, they'd hit a lifting session. Then, they'd go to the track. Everyday they were training two or three times.
Soon, Wexler began to see the results from Thompson on the court.
One time, after they just finished a workout, Thompson was messing around and throwing lobs to himself. Out of nowhere, he rocked the rim with a thunderous windmill dunk.
"I was like 'whoa what just happened,'" Wexler said. "I've never seen him jump like that and I've known him forever."
Another time, there were three or four guys playing points of one-on-one. While on offense, Wexler recalls Thompson faking his defender with a jab step, then wrapping the ball with an in-and-out move, transitioning into a crossover and finally stepping back into a 3-pointer from NBA range.
Money.
Then, he did it again. And a third time.
I see you Race, Wexler remembers thinking.
They continued their routine through the spring and into the summer as the temperature swelled into the 90s. In July, Thompson made his return to Bloomington.
"He saw an opportunity to get to the best he could be during quarantine," Wexler said.
***
Clif Marshall still remembers Thompson's first workout on the VersaClimber.
Every week the program has cardio sessions on the VersaClimber, a grueling machine that requires sustained upper and lower body strength, and each player is ranked for their performance.
As a redshirt freshman in 2017, Thompson broke down after a workout one of the workouts.
"My legs are cramping," Marshall recalls Thompson saying. "I can't feel my legs."
This summer, three years later, Thompson finished first every week in the VersaClimber challenge. It's one of the reasons why he earned this season's offseason champion award.
When Marshall announced Thompson as the recipient of honor to the team, he emphasized the winding road that Thompson has surmounted.
In his redshirt freshman year, Thompson dealt with tendinitis in his knee, and it hurt him even to jump. Marshall saw Thompson wasn't well-trained in the weight room, so they used the year to bolster his strength.
One year later, when he finally suited up in his freshman season, he still only appeared in nine games. He was sidelined for the season opener with a groin injury. Later, he suffered a concussion. In a late February double-overtime win against Wisconsin, he logged a career-high 22 minutes and grabbed seven rebounds.
"I kept calm because of my teammates," Thompson said after the game. "I knew they had faith in me. They keep telling me I'm good and 'you got this'. This is what we do for a living, so there's no reason for me to be nervous or nothing. This is what I do."
Last season, Thompson again showed flashes of hustle and promise in his game, but was still plagued with another injury midway through the season that forced him to miss three games. Late in the year, he solidified himself as a key rotation player, averaging nearly 20 minutes per game in the final nine contests.
In a win at Minnesota in late February, Thompson dropped nine points while snatching 10 boards. In the regular season finale loss to Wisconsin, he contributed seven points and 11 rebounds off the bench.
"Race is a blue-collar guy," Miller said after the game at Minnesota. "He plays hard and he's our most physical guy in terms of being able to put his body in front of people."
Now, after a summer's worth of quarantine work, Thompson is at his lowest body fat percentage since coming to Indiana. Last summer he weighed in at 238 pounds, and this summer he's around 225. His vertical, which measured at 29 inches in his redshirt freshman year, has increased to 40.
Along with the physical changes, have come mental ones.
When senior Al Durham was asked who was emerging as a leader during the limited on campus summer practices, he answered swiftly: "I feel like Race has stepped up tremendously this year."
Marshall, who has known Thompson to be on the quieter side, has seen Thompson be more vocal on the court, more assertive assisting the freshman and more confident in his game.
"I feel like he has a purpose about him," Marshall said. "It's almost like he flipped a switch, and that's why he was so impressive during this offseason."
In Thompson's upcoming redshirt junior campaign, he figures to be a mainstay in Indiana's frontcourt rotation along with senior Joey Brunk and sophomore Trayce Jackson-Davis. The Hoosiers lost paint contributors De'Ron Davis, who graduated, and Justin Smith, who transferred to Arkansas. Thompson will be relied on as dependable force inside.
Marshall frequently asks his players: "Are you stronger and faster than you were last season?"
For Thompson, the answer is yes. But maybe more importantly for his development, was the perspective he gained over the last few months. His role on the court, much like the state of the country, continues to be reshaped.
But throughout the summer, one thing has become evident.
Thompson's voice has been heard.
Filed to: Clif Marshall, Race Thompson