Indiana moves on from heartbreak of recent past in double overtime win over Wisconsin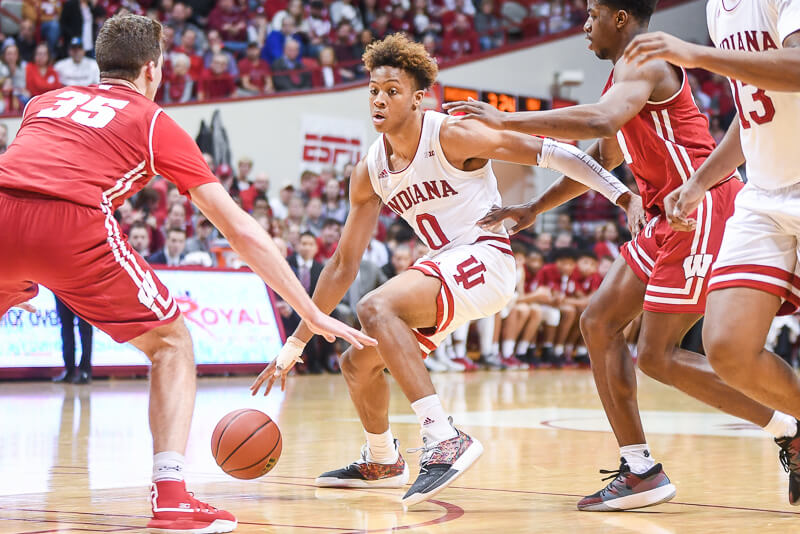 Indiana endured so much heartbreak during its five-game losing streak.
Four of the five losses were close games that came down to a big shot (or multiple big shots) for the opponent at the end of the game. Between Jordan Bohannon's fall-away 3 to ice the game in Bloomington, C.J. Jackson's deep 3 with Rob Phinisee in his face, Andre Wesson fooling Justin Smith on a slip play, Matt Haarms' tip-in over Juwan Morgan off a missed Carsen Edwards jumper and Bohannon's heroics in Iowa City, IU continually found itself on the wrong end of late-game drama.
It seemed the Hoosiers were headed down an all-too-familiar path Tuesday against No. 19 Wisconsin.
Moments after Romeo Langford made a layup to give IU a 68-65 lead with 20 seconds left in overtime, D'Mitrik Trice dribbled around an Ethan Happ screen and drained a cold-blooded 3 to tie the game.
The Simon Skjodt Assembly Hall crowd groaned. Thoughts of "Here we go again" surely crossed their minds. Aside from the red jersey with 'Wisconsin' across the chest, the shot could have been indistinguishable from those that came before it.
But this time was different. Indiana grew from the agony of the recent past.
"We've been in some real tough ones, and we've learned some lessons on some things we can and can't do," Archie Miller said. "We've been there so many times. We've been there. I think, when you get there, you've got to find a way to break through."
And break through, IU did.
When the game rolled on into double overtime, the Hoosiers of the recent past would have panicked, let Trice's shot steal their momentum and poise, and walked back to the locker room licking their wounds.
They nearly lived that fate. After Khalil Iverson missed a layup with 27 seconds to go, Indiana escaped Wisconsin's trap in haphazardly clinical fashion. De'Ron Davis drew a foul — Happ's fifth — on a made layup to put IU up 73-70, but he missed the free throw. Just seconds later, Trice baited Devonte Green into fouling on his 3-point attempt, and he tied the game at the free-throw line.
Indiana was 9.6 seconds from this game becoming Groundhog Day. But Langford refused to accept further anguish. With time winding down and Iverson guarding him, the star freshman drove to the rack and sunk the game-winning layup with just 0.8 seconds remaining.
Arms shot up in joy, as the crowd let out a roar of equal relief and exhilaration. Like Miller said, Langford learned from his past opportunities.
"I know the past two times I had it in my hand at the end of the game, it didn't come out as we planned," Langford said. "I just learned from mistakes in the past two, settling for a jump shot, and I felt like they couldn't stop me getting to the rim. That's exactly what I did, and I made the shot."
Given the way things went during the losing streak, heartbreak seemed an unavoidable outcome. No matter how much energy the Hoosiers played with, how many quality minutes they got off the bench from a guy like Race Thompson, how hard Juwan Morgan played in grabbing a career-high 15 rebounds, how effective Justin Smith was and how well they defended Wisconsin's 3-point shooting, they'd somehow, some way let it fall through their hands.
But not this time. Whereas Indiana played rushed in overtime at Iowa, it remained patient all game on Tuesday. When things went Wisconsin's way, IU never faltered.
When all seemed lost in a season that turned from bad to worse in the blink of an eye, the Hoosiers showed a glimpse of what could have been if they maintained their performance in non-conference play into the Big Ten slate.
"They're using their energy level and their effort to give them confidence, which is what we had at one point in the season," Miller  said. "We weren't always perfect on offense, and we weren't shooting the ball well, but the one thing we had is we had a confidence about us that we can compete and we can play hard and we can defend, and we're doing that again."
Filed to: Wisconsin Badgers