2020-21 ITH Season Preview: Northwestern Wildcats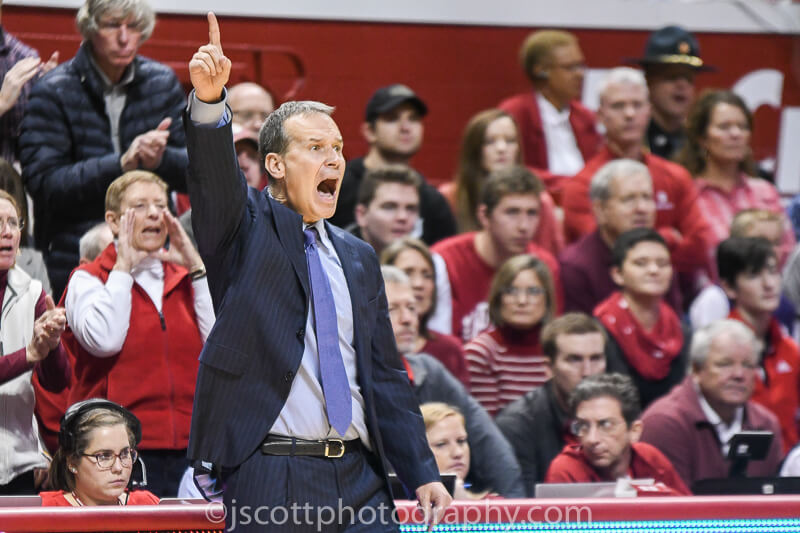 With the start of college basketball season slated for late November, we'll be taking a long look at the conference at large as well as Indiana's roster over the next month. Today, we preview Northwestern.
After taking the program to its first NCAA tournament back in 2017, Chris Collins has returned the program to a familiar home: the league cellar.
The Wildcats haven't registered a winning record since the 2016-17 season and are 36-59 (37.8 winning percentage) over their last three seasons. And unfortunately for Collins, who was once viewed as one of the nation's top young coaches, it could be a long climb back to relevance in the Big Ten.
From a record perspective, last season was rock bottom for Collins in Evanston. The Wildcats finished 8-23 overall and at one point lost 17 of 18 games. In non-conference play, Northwestern lost home contests to Merrimack, Radford and Hartford. League play wasn't any kinder to Northwestern as it won just three games.
Two seniors graduated in the offseason – Pat Spencer and AJ Turner. Spencer, who was playing college basketball for the first time last season after a storied career in lacrosse at Loyola University, was the team's second scorer at 10.4 points per game and its leading assist man at 3.9 per game. Those stats, however, were mostly hollow given the team's putrid performance.
The hope for Collins and Northwestern fans is that the lumps taken the past few seasons by the program's returnees can help begin a climb back to respectability in the nation's toughest conference.
Junior Miller Kopp was a bright spot last season as his 13.1 points were a team-high and he showed the shooting prowess that made him a four-star recruit out of high school. Kopp was ninth in the Big Ten in 3-point shooting percentage (39.8) and first in free throw shooting percentage (88.1). At 6-foot-6, Kopp isn't a great athlete, but his shooting keeps defenses honest and he'll once again start on the wing.
Sophomore point guard Boo Buie, the half brother of former Penn State standout Talor Battle, battled injuries last season but was still one of the league's top newcomers. Buie's 10.3 points per game were third on the team and he had the 11th highest usage rate of any Big Ten player in league play. Given that he was flanked with below average talent, it wasn't particularly surprising that Buie's shooting numbers lacked efficiency. He shot just 44.8 percent on 2s and 28.2 percent on 3s in his debut season. In his second season, he should serve as Northwestern's primary ball handler and playmaker.
Transfer Chase Audige, who sat out last season after arriving from William & Mary, is likely to find himself starting in the backcourt with Buie. A member of the CAA all-rookie team during the 2018-19 season, Audige averaged 9.6 points, 4.1 rebounds and 2.4 assists and shot 37.5 percent on 3s for the Tribe. At 6-foot-4, Audige has good length and should help Northwestern defensively on the perimeter. As a freshman at William & Mary, he had 44 steals.
Freshman Ty Berry, senior Anthony Gaines and junior Ryan Greer should also figure into the backcourt rotation. Berry is the most intriguing of the trio as he picked Northwestern over several other high major offers and ranked in the top 150 of the final 247Composite rankings for 2020. The combo guard is likely to spend time at both guard positions and could play alongside Buie at times if Collins opts to go with some smaller lineups.
Junior Pete Nance and redshirt sophomore Ryan Young are likely to start in the Northwestern frontcourt, but neither player offers much in terms of rim protection or athleticism. The 6-foot-10 Young is a plodding big man who averaged nine points and 6.1 rebounds last season. Nance, a former top 100 recruit, has been a disappointment so far in Evanston. While he did average 8.5 points and six rebounds in 26.2 minutes per game last season, he shot just 40 percent from the field and 29.7 percent on 3s.
Sophomore forward Robbie Beran showed promise last season as a stretch four with size. The 6-foot-9 Beran knocked down 40 percent of his 3s last season. Freshman Matt Nicholson, a 6-foot-10 center, could figure into the rotation as a backup for Young.
Bottom line: Northwestern has some capable pieces on its roster, but lacks the high end talent to really compete in a brutal Big Ten. Most projections slot them at either 13th or 14th in the conference entering the season, which seems fair given their recent track record. Collins has been given a long leash in Evanston because he was the first and only coach to take the program to the NCAA tournament, but his seat could begin to get warm if Northwestern doesn't show significant improvement soon.
Quotable: "I'm really proud of this group. It's not about the wins and losses this year. We wanted to win more. We fought all year long. That's what I'm so proud about. That's what I'm excited about these young guys sitting up here. There was never a day throughout any losing streaks or tough losses or whatever we went through, there was never a day that I came in the gym that they didn't want to get better, they didn't want to get to work, and they didn't want to keep fighting and keep playing. They won some games late, which I think gave us some momentum going into the off-season. We've got work to do. We'll have most of our players back. We'll be adding some guys that were injured sitting out." – Collins after last season's loss to Minnesota in the Big Ten tournament.
(Previously: Nebraska)
Filed to: 2020-2021 Big Ten preview, Northwestern Wildcats