2020-21 ITH Season Preview: Nebraska Cornhuskers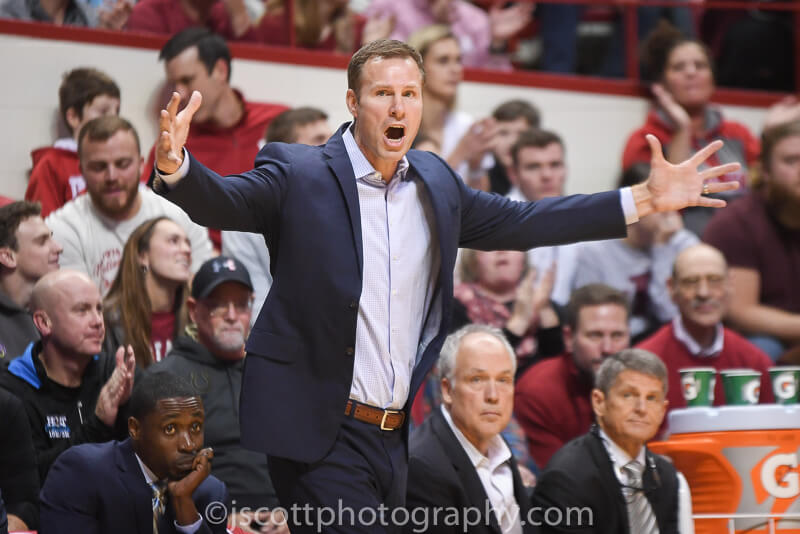 With the start of college basketball season slated for late November, we'll be taking a long look at the conference at large as well as Indiana's roster over the next month. Today, we preview Nebraska.
Year two of the Fred Hoiberg experiment in Lincoln is underway after a tumultuous first season. It appears that Hoiberg's campaign to bring Nebraska into Big Ten and national relevancy will be a slow and exhausting process. The fact that the Huskers were forced to add two football players to the roster for the Big Ten tournament game against Indiana sums up their 2019-20 campaign.
The Huskers posted a 7-25 overall record and 2-18 conference mark last season, finishing the year with 17 consecutive losses. Early in the season, they suffered non-conference losses to George Mason, UC Riverside and Southern Utah.
In the conference opener, Nebraska nearly upset Indiana at Assembly Hall, as the Hoosiers escaped with a 96-90 overtime victory. The Huskers' only two conference wins came against potential tournament teams Purdue and Iowa, contributing to the unpredictable fiasco that was Big Ten basketball last year.
The Huskers ranked 326th in the nation in field goal percentage, shooting just over 40 percent. They averaged 11 free throw attempts per game, finishing 312th in the nation. In conference play, Nebraska attempted the most field goals per game out of any Big Ten team, while shooting at the worst rate.
On the defensive side, Nebraska allowed just over 78 points per game, while scoring under an average of 70 themselves. The one stat that tilts in their favor is steals, which they ranked first in the conference last season with seven per contest.
The team was kept afloat predominantly by the scoring of sophomore guard Cam Mack (12 PPG), junior guard Dachon Burke (12.2 PPG) and senior guard Haanif Cheatham (13.1 PPG). Mack also acted as a facilitator, dishing out 6.4 assists per game and registering the program's first triple-double last season.
The obvious struggles weren't necessarily surprising. Entering last season, they underwent a roster overhaul, only returning two players. The roster transformation, coupled with a new coach and the talented Big Ten league proved to be too much to overcome.
Unfortunately for Hoiberg and Nebraska, this offseason wasn't much different than the last, as their roster carousel continued.
Mack decided to transfer to Prairie View A&M. Burke elected to leave Nebraska and pursue a professional career. The Huskers' fifth leading scorer, Jervay Green (8.2 PPG) opted to head to the University of Pacific. Freshman forward Kevin Cross, who contributed 7.1 points per game, bolted for Tulane. And Cheatham graduated, leaving only one of Nebraska's top six scorers from last year left on the 2020-21 roster.
Through the roster influx, Hoiberg seemingly found a huge piece for the program when he landed Wisconsin transfer Kobe King in January. Five short months later, it was announced that King was moving on from the program for personal reasons before he even suited up for a single game.
During the spring, Hoiberg patched together a new wave of players to fill the lineup's gaping holes. For Hoiberg, it will be another year of reteaching his coaching philosophy and system.
One of Hoiberg's new additions is junior Teddy Allen, a 6-foot 6-inch guard who spent last season at Western Nebraska Community College. He led junior college in scoring with 31.4 points while grabbing 7.4 rebounds and accumulating 3.7 assists per game last season. Allen converted on 51 percent from the field, 37 percent from beyond the 3-point arc and 88.1 percent from the free throw line. The talented guard started his career at West Virginia, helping the Mountaineers reach the Sweet Sixteen back in 2017-18.
Nebraska also added senior guard Kobe Webster to the backcourt rotation. Webster averaged 17.1 points, 3.6 assists and 3.2 rebounds per game as a junior at Western Illinois last season. In all three of his years at WIU, Webster led the team in scoring and assists.
Western Kentucky transfer Dalano Blanton, who sat out last season, is a former top 100 recruit in the 247Composite. As a freshman for the Hilltoppers, he nearly recorded a triple-double (eight points, 13 rebounds, 10 assists) in a win over Wisconsin. At 6-foot-9, Banton could take over Mack's role as Nebraska's primary ball handler.
Hoiberg brought in a key piece in the frontcourt, too. Lat Mayen, a 6-foot 9-inch forward who started his career at TCU before ending up at Chipola College in Florida, has now found his way to Nebraska. Last season, he averaged 11.8 points and 8.4 rebounds per game, while showing off a promising touch from long range.
Maybe the most promising acquisition was Pittsburgh guard transfer Trey McGowens, although it's unknown whether he will be granted a waiver to compete this season. McGowens scored 11.5 points, 3.6 assists and 3.3 rebounds per game for the Panthers last year. When he's granted eligibility, McGowins will be available for two more seasons. Fellow Pitt transfer Shamiel Stevenson averaged 8.5 points and 4.4 rebounds for the Panthers back in the 2017-18 season. Stevenson first transferred to Nevada, where he never suited up, before transferring to Lincoln.
Among the assortment of new players, the key returnee is 6-foot 6-inch guard Thorir Thorbjarnarson. As a senior, Thorbjanarson figures to be one of the few constants for Nebraska. Thorbjarnarson put in 8.8 points and snatched 4.8 rebounds per game last year. Sophomore forward Yvan Ouedraogo, who appeared in 21 minutes per game last year, is coming back, as well.
Bottom Line: It should be another rebuilding year for Nebraska as Hoiberg attempts to create a solid foundation for the future of the program. Hoiberg, again, will have to deal with helping an unique combination of new talent orient themselves with the program after losing key players from an already disappointing team last year. Expect the Huskers to sit near the bottom of the conference, unless McGowens is granted eligibility and the newcomers overperform expectations.
Quotable: "To have this type of effort is, it's very disappointing. It's very discouraging to come out here after I thought we turned the corner a little bit. God, it's gonna be, you know, a painful couple days. There's no doubt about it." – Fred Hoiberg after Nebraska dropped a game to North Dakota 75-74 last December.
Filed to: 2020-2021 Big Ten preview, Nebraska Cornhuskers