2020-21 ITH Season Preview: Penn State Nittany Lions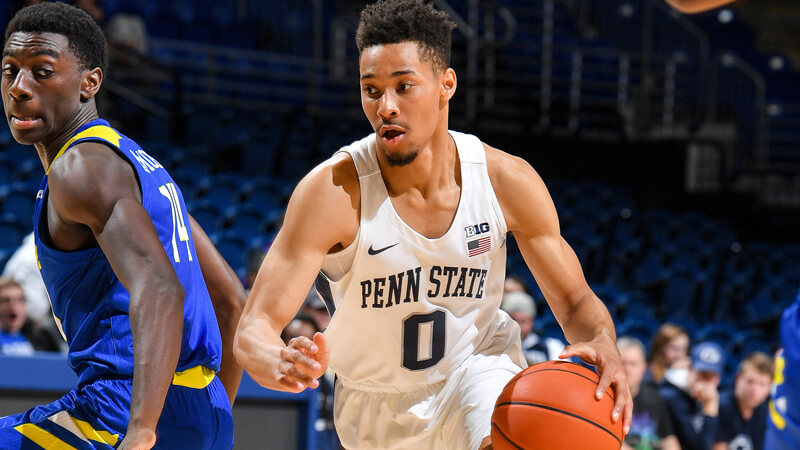 With the start of college basketball season slated for late November, we'll be taking a long look at the conference at large as well as Indiana's roster over the next month. Today, we preview Minnesota.
The 2019-20 Penn State team etched themselves into the Happy Valley record books. Behind the stellar play of all-conference performer Lamar Stevens, the Nittany Lion ranked as high as No. 9 in the AP poll, tying a school record. It was also only the third year that Penn State accumulated at least 10 wins in the Big Ten.
Penn State ended the year with a 21-10 overall record, finishing tied for fifth in the conference with a 11-9 mark. It was a striking improvement from the prior year's 14-18 record.
The Nittany Lions were well on their way to a NCAA tournament berth. It would've their first appearance in the big dance since the 2010-11 campaign when the program was still led by Ed DeChellis. Last season, Penn State took down Georgetown, Syracuse, Wake Forest, Maryland, Iowa, Ohio State, Michigan, Indiana, Michigan State and Rutgers to build their tournament resume.
They did, however, cool off toward the end of the season, dropping five of their last six games. Penn State, who split two games with Indiana in the regular season, was set to play the Hoosiers in the second round of the Big Ten tournament before the season was canceled due to the COVID-19. Penn State was projected on the 4-6 line in March Madness.
The Nittany Lions found success on both the offensive and defensive ends of the floor last season. They ranked 71st in the nation in scoring (75.1 PPG) and 39th in rebounding (38.7 RPG). They ranked 25th in the nation in blocks per game (4.8), with senior center Mike Watkins playing a large part in that statistic.
Penn State's triumphs were mostly thanks to Stevens who, as a senior, averaged 17.6 points and 6.9 rebounds per game. The 6-foot 8-inch forward had the ability to face up in the paint, drive-by defenders and also rise above them with a jump shot. Stevens was an established high-volume scorer, scoring more than 20 points in nine contests last season and only failing to reach double-digits once.
Stevens became the first Nittany Lion to be named to the all-conference first team in consecutive seasons. He graduated last spring and is now pursuing a professional career.
Stevens was complemented by 6-foot 9-inch, 254-pound Watkins, who was able to command the paint. Last season, Watkins averaged 9.7 points, 7.6 rebounds and swatted 2.2 shots per game. He pulled down the second most total rebounds in program history and was named to the 2018 Big Ten all-defensive team.
With Stevens and Watkins graduating, Penn State loses a combined 218 starts between the duo. Curtis Jones Jr., a former Indiana guard who averaged just over six points per game last season, exhausted his eligibility, too.
All of Penn State's backcourt starters, however, are returning.
Junior guard Myreon Jones, who averaged 13.3 points per game only behind Stevens on the team last season, will be crucial to Penn State's success this year. Jones started 24 games last season and shot 40 percent from beyond the 3-point arc. After compiling double-figure points in 17 contests last season, Jones has the ability to fill Stevens' scoring.
Myles Dread, a junior guard who started 23 games last season, will be back this year after averaging 8.6 points, 3.2 rebounds and 2.2 assists. Senior guard Jamari Wheeler, who only contributed 3.8 points per game, was a consistent figure in the lineup, starting all 31 games and will be returning this year.
Junior guard Izaiah Brockington will also be a key cog in the rotation. Brockington averaged 8.1 points and 2.7 rebounds in about 20 minutes per game off of the bench last season.
The trouble for Penn State comes in the paint. Sophomore forward Seth Lundy is the Nittany Lions' most productive returner, averaging 5.3 points, 2.7 rebounds, while shooting 39 percent from three in 14 minutes per game. Lundy made 15 starts last year and will most likely fill Stevens' role at the four spot.
Senior forward John Harrar will be another piece to anchor the frontcourt. The 6-foot 9-inch big man, who made 14 starts last season, will most likely replace Watkins. Last season, Harrar averaged 4.3 points and 4.6 rebounds in 17 minutes per game.
Coach Pat Chambers brings in a class of three, 3-star freshmen to add depth. Shooting guard Dallion Johnson was the 2019-20 Gatorade Massachusetts player of the year. He's accompanied by fellow shooting guard DJ Gordon. Then, there's 6-foot 8-inch center Abduo Tsimbila. Redshirt freshman small forward Patrick Kelly will also look to provide some perimeter scoring in his first year.
The most heralded addition, though, may have to sit out this year. Binghamton guard transfer Sam Sessoms led the America East conference with 19.4 points per game last season and ranked second in assists with 4.8. He became the second underclassmen in the conference's history, along with J.J. Barea, to finish in the top-5 in scoring and assists in both of his first two seasons.
Sessoms registered 20 or more points in 15 contests last season and hit six 3-pointers in a game in December. Even if he isn't granted a waiver this season, Sessoms could easily become a force in the Big Ten over the next couple of years.
Bottom line: Penn State doesn't have the firepower to fully replace Stevens and Watkins and stay atop the Big Ten this season. Most projections have them falling to the middle or bottom of the standings. The Nittany Lions do, however, have a myriad of experience in the backcourt that will steady them. While it might not be another historical season for Penn State, they have some pieces to remain somewhat competitive.
Quotable: "First and foremost, I'm incredibly grateful for that these seniors have accomplished in their careers. It's just amazing. Mike Watkins stayed the course when he easily could've left, knowing how hard it was going to be, but he still stayed, and everyone surrounded him and supported him. Lamar Stevens made a powerful statement last summer to stay." -Head coach Pat Chambers after Penn State's senior night.
(Previously: Nebraska, Northwestern, Maryland, Minnesota)
Filed to: 2020-2021 Big Ten preview, Penn State Nittany Lions