2020-21 ITH Season Preview: Minnesota Golden Gophers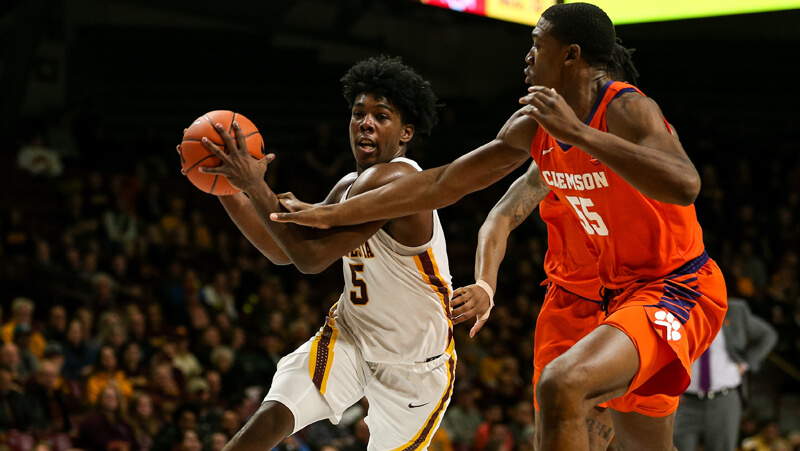 With the start of college basketball season slated for late November, we'll be taking a long look at the conference at large as well as Indiana's roster over the next month. Today, we preview Minnesota.
Now entering his eighth season at the helm in Minneapolis, Richard Pitino is one of the longest-tenured coaches in the Big Ten.
Pitino has taken the Gophers to the NCAA tournament just twice in his seven seasons at the helm, but he's been just good enough to avoid being replaced. In three of his last four seasons at Minnesota, Pitino has finished in the top 46 of the final KenPom ratings. Minnesota fans may quibble as to whether that's good enough, but Pitino has proven himself to be a decent recruiter and in a conference as tough as the Big Ten, it's fair to wonder if this program can expect much more than what Pitino has delivered.
After an up-and-down season that saw the Gophers finish 15-16 but No. 27 overall in KenPom, Minnesota faces another season in which it'll need to replace its best player. Daniel Oturu proved himself capable of stepping in for Jordan Murphy last season, but Oturu is now off to the NBA where he'll likely be a late first or early second round pick. Oturu was arguably one of the top three players in the conference last season and averaged 20.1 points and 11.3 rebounds per game.
Those numbers won't be replaced in the frontcourt, but the Gophers do welcome back arguably the best point guard in the conference in Marcus Carr.
Carr, the subject of much debate when Inside the Hall and UMHoops released its annual list of the top 25 players in the conference, played more minutes than anyone in the Big Ten a season ago and was ultra-productive. Carr's 15.4 points were second on the team and he led the Gophers in assists at 6.7 per game. He was also second on the team in rebounding at 5.3 per game.
The question for Carr is how he'll adjust to the loss of Oturu. Without the talented big man to find for open looks at the rim, can Carr replicate an assist rate (36.1 percent) that ranked 24th nationally? It seems unlikely, but Carr will likely find himself taking more shots and shouldering more of the offensive load. He was the 11th best 3-point shooter in the conference last season, so it's worth monitoring how his efficiency is impacted by taking more shots.
The two key pieces surrounding Carr on the wing are juniors Gabe Kalscheur and Both Gach, who transferred from Utah and is awaiting word on his eligibility. Galscheur shot 41 percent on 3s as a freshman, but regressed to 34.1 percent last season. Gach, meanwhile, averaged 10.7 points last season for the Utes and shot just 25 percent on 3s while taking more than four attempts per game. Carr needs one or both players to improve their shooting this season to avoid being smothered at all times on the perimeter.
Three other backcourt names to know are freshman Jamal Mashburn Jr., sophomore Tre' Williams and freshman David Mutaf. Mashburn Jr., the son of former Kentucky great and NBA standout Jamal Mashburn, was a four-star recruit according to 247Sports, but is just 6-foot and will play backup minutes at the point. Mutaf and Williams are both 6-foot-5 and provide some size in the backcourt rotation. Mutaf, a native of Turkey, is reportedly a strong perimeter shooter.
Oturu's departure will put pressure on Drake transfer Liam Robbins to produce right away. Robbins, who was granted eligibility for this season, averaged 14.1 points and 7.1 rebounds last season in the Missouri Valley Conference. He finished sixth nationally in block percentage last season. Western Michigan transfer Brandon Johnson could also figure into the frontcourt mix, as could often injured forward Eric Curry. The 6-foot-8 Johnson averaged 15.4 points and 8.1 rebounds last season, but like Robbins, will be moving up a level in competition.
Sophomore forward Isaiah Ihnen, a native of Germany, showed himself to be a capable 3-point shooter down the stretch of last season. Over Minnesota's last five games, he made 10 3-pointers. Martice Mitchell, a 6-foot-10 forward from Chicago, is a top 150 recruit who might also figure into the frontcourt plans.
Bottom line: Minnesota is clearly a tier above Northwestern and Nebraska, but the Gophers are likely to find themselves projected to finish in the bottom four or five of the conference. There's enough talent on the roster for this team to be dangerous and if the new pieces integrate well with Carr, it's not far fetched that Minnesota ends up as one of the Big Ten's surprise teams. The flip side, of course, is another sub. 500 record and unreset within the fanbase with Pitino's up and down performance.
Quotable: "There are two types of scoreboards that you are going to be judged by. The public scoreboard, as a coach, it makes sense, wins and losses. But you have to have a coaches scoreboard and say are we playing the right way. Is it a missed free throw here, is it an unlikely break there? Are we far off? Where are we at? I still to this day believe that if we won two more games in the conference tournament, we would have gone to our third NCAA tournament in four years — which hasn't happened here. We played a very, very challenging schedule with a young team. The Big Ten was one of the hardest conferences in the history of the sport this year. Just a couple of close losses." – Pitino over the summer to TwinCities.com.
(Previously: Nebraska, Northwestern, Maryland)
(Photo credit: Minnesota Athletics)
Filed to: 2020-2021 Big Ten preview, Minnesota Golden Gophers