2020-21 ITH Season Preview: Purdue Boilermakers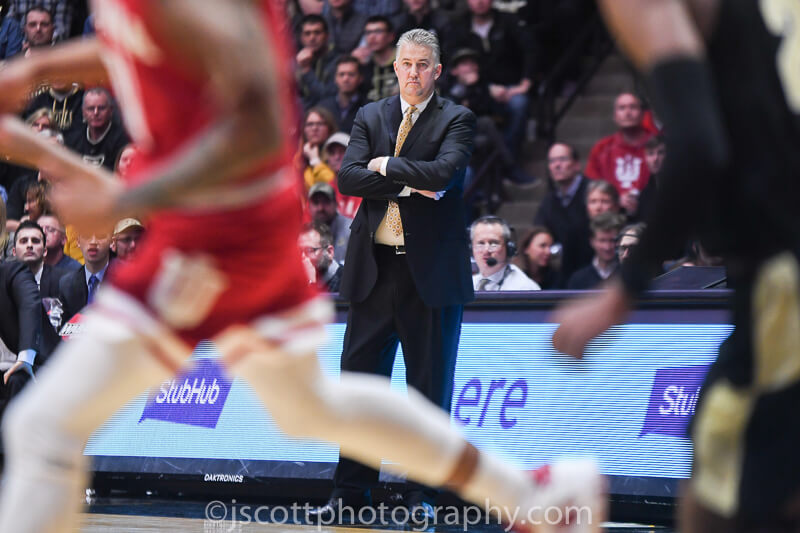 With the start of college basketball season slated for late November, we'll be taking a long look at the conference at large as well as Indiana's roster over the next month. Today, we preview Purdue.
Purdue's five-season run as a top tier Big Ten finisher ended last winter as the Boilermakers managed just a 16-15 mark overall and a 9-11 record in league play.
The Boilermakers still finished in the top 25 of the final KenPom ratings, but it was clearly an up-and-down, frustrating season in West Lafayette.
Some dropoff was expected following the departure of Carsen Edwards to the NBA, but Nojel Eastern's disappointing junior campaign and a lack of playmakers on the perimeter was a major problem for Matt Painter. Eastern and frontcourt stalwart Matt Haarms both left the program in the offseason, which could actually end up being a net positive for Purdue.
Eastern was so limited in what he could do offensively that it often overshadowed his all-league defense. Eastern was a non-shooter who was turnover-prone and a poor finisher. Haarms, for all of his defensive abilities and enthusiasm, had to platoon with Trevion Williams, who was the far more effective player of that duo. Beyond that, it was clear Painter was frustrated with both players after they chose to leave Purdue last spring.
"I don't mean to hurt anybody's feelings, because I like the guys who have left my program," Painter said in May on the Dan Dakich Show. "I like both of them. But transfers don't get drafted pretty much. It's a very, very small percentage… What I look at more than anything is embrace problems and embrace adversity and fight it. Don't run from it. When you run from it and your work ethic isn't at a high, high level like a Carsen Edwards or a Caleb Swanigan … that's the one thing that's not gonna change. You might've got your degree from Purdue, but you're not a Boilermaker if you walk out the door at the end and say, 'Hey, I want to make the league.'"
With the departure of Eastern and Haarms, Williams and Eric Hunter are the top returnees for Painter and both have all-Big Ten potential as juniors. Williams led Purdue in both points (11.5) and rebounds per game (7.6) as a sophomore. He was arguably the best rebounder in the conference, as he ranked first in offensive rebounding percentage and fifth in defensive rebounding percentage. He only played 21.5 minutes per game last season, which is a number that needs to go up considerably this season to maximize his production.
Hunter, an Indianapolis Tindley product, averaged 10.6 points last season and is wired to score. After a dismal 3-point shooting year as a freshman (21.7 percent), Hunter made 35.5 percent of his 3s as a sophomore. Hunter still needs to get stronger as his wiry frame leaves his susceptible to being bullied by bigger guards, but the Boilermakers should be in better shape with the ball in hands more often this winter.
Redshirt junior Sasha Stefanovic is also back for Purdue and is one of the better shooters in the Big Ten. Stefanovic made 64 3-pointers last season in 30 games and shot 38.3 percent from distance. He's limited in what he can do with the ball in his hands off the dribble, but is among one of the best pure shooters anywhere with his feet set.
The rest of the backcourt rotation figures to include sophomore point guard Isaiah Thompson, redshirt freshman Brandon Newman and freshman guards Jaden Ivey and Ethan Morton.
Thompson made 36 percent of his 3s as a freshman and Newman sat out last season after arriving on campus as a top 150 recruit from Valparaiso. Newman has excellent size (6-foot-4) and should provide another shooter for Painter to use on the wing. Ivey and Morton are both top 100 recruits who should contribute immediately. Ivey is a good shooter and scorer who can play both guard spots while Morton is a wing who can really pass and create for others.
Outside of Williams, the rest of the Purdue frontcourt rotation is largely unsettled. Junior Aaron Wheeler was a major disappointment last season after some solid games as a freshman in the 2019 NCAA tournament. He shot a forgetful 21.6 percent on 3s last season and largely looked incapable of morphing into the player who many pegged as a breakout candidate entering the season.
The backups for Williams are sophomore Emmanuel Dowouna and freshman Zach Edey, who is 7-foot-3. Dowouna only played spot minutes a season ago and Edey is the latest massive center to suit up for the Boilermakers. He was not ranked among the top 200 prospects in the country by 247Sports and may need time to develop. Redshirt freshman Mason Gillis, who battled injuries in his final high school season at New Castle, could provide some minutes at the four as a backup to Wheeler.
Bottom line: Purdue took a step back last season and it was expected following the loss of Edwards and Ryan Cline. The Boilermakers should be in line for a bounceback this season and on paper, this group looks like an NCAA tournament team. The frontcourt has a lot of uncertainty beyond Williams, but the backcourt depth is solid and should provide Painter with plenty of opportunity for three-guard lineups.
Quotable: "I like our ability. We just have to make some strides here in September and October and November. Like, this is going to be really, really important not just for our team but for all teams. We went through a lot of things, but we're really young. We have no seniors, and we really need those guys that are juniors to lead and to help us through that." – Painter to HeraldBulletin.com.
(Previously: Nebraska, Northwestern, Maryland, Minnesota, Penn State)
Filed to: 2020-2021 Big Ten preview, Purdue Boilermakers