2020-21 ITH Season Preview: Michigan State Spartans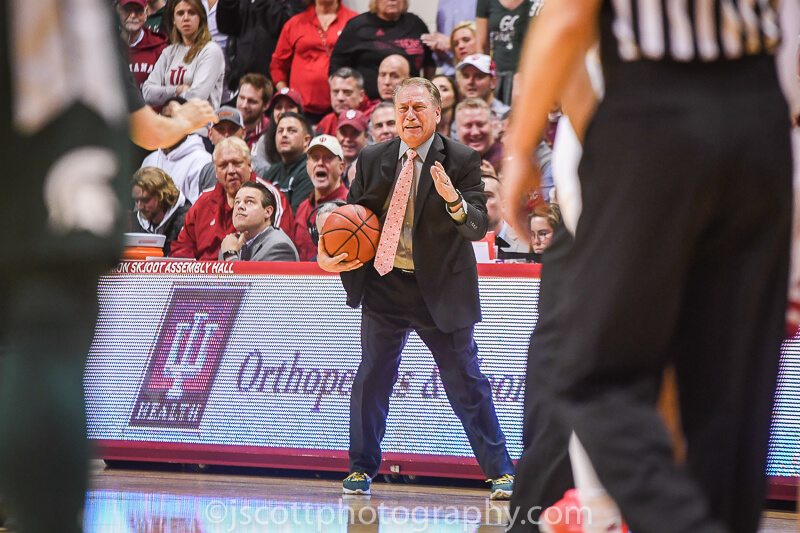 With the start of college basketball season slated for late November, we'll be taking a long look at the conference at large as well as Indiana's roster over the next month. Today, we preview Michigan State.
A new era of Michigan State basketball will be ushered in this winter.
The Spartans graduated one of the Big Ten's best point guards of the last decade in Cassius Winston and lost big man Xavier Tillman to the NBA draft. Most programs would be expected to take a giant step backward with such departures, but in East Lansing, the expectation remains to compete for a Big Ten championship.
That standard has been built by Hall of Fame coach Tom Izzo over the last 25 seasons at Michigan State. During his time leading the Spartans, Izzo has a national championship, eight Final Fours, ten regular season Big Ten championships and six Big Ten tournament titles. He is by far the most tenured coach in the conference and is second all-time in Big Ten wins behind Bob Knight.
Without Winston and Tillman, Izzo will now rely more heavily on returnees Aaron Henry and Rocket Watts along with Marquette transfer Joey Hauser, who sat out last season. Henry, along with Foster Loyer and Joshua Langford, was recently named a team captain.
Hauser will be the centerpiece in the Michigan State frontcourt after moving over to the Big Ten from the Big East. The 6-foot-9 forward averaged 9.7 points, 5.4 rebounds and 2.4 assists for the Golden Eagles as a freshman during the 2018-19 season. He can stretch the floor (42.5 percent on 3s) and pass out of the post, which should immediately make him one of the league's most versatile players.
Watts, a sophomore guard, averaged 17.8 points over Michigan State's final four games last season. His shot selection is often erratic, but he's a plus defender who has all the makings of a breakout player entering his second season. Given that Langford is back from injuries and Michigan State's only other point guard option is Loyer, it wouldn't be a surprise to see Watts with the ball in his hands when the season tips off late next month.
Henry was a recruiting win for Izzo out of Ben Davis in the 2018 class who made an immediate impact for the Spartans. He was a big part of the team's 2019 Final Four run and averaged 10 points, 4.6 rebounds and 2.9 assists last season. There's no disputing Henry's talent, but he must become more assertive offensively this season for Michigan State to reach its potential.
Foot injuries have plagued Langford's career, but he is expected to be ready to go in the Spartan backcourt. He hasn't played a full season since the 2017-18 campaign, when he averaged 11.7 points on 40.4 percent shooting from distance. If he can stay healthy, Langford should mix well in the backcourt with Watts and Henry.
Loyer, a 6-foot junior, shot 45 percent on 3s last season and could be in line for a bigger role with Winston's graduation. A.J. Hoggard, a 6-foot-3 freshman from Pennsylvania, was a top 75 recruit nationally and gives Izzo depth in an already talented Spartan backcourt.
Hauser's help in the frontcourt will come primarily from juniors Gabe Brown and Marcus Bingham Jr., sophomore Malik Hall and freshman Mady Sissoko. The 6-foot-11 Bingham Jr. started 16 games last season and his 7-foot-4 wingspan makes him a shot blocking threat.
Brown averaged 6.8 points and 3.6 rebounds last season while Hall averaged 4.6 rebounds and 3.7 rebounds. Both are likely to come off the bench, but already have significant experience in the Big Ten and only add to what could be scary depth in the Spartan frontcourt. Sissoko, a native of Mali, is a top 40 recruit nationally who should challenge Bingham Jr. for minutes at the five. Sophomore Julius Marble and junior Thomas Kithier are also back, but may find it difficult to carve out roles in the rotation.
Bottom Line: The losses of Winston and Tillman are significant, but Michigan State has a lot of depth and talent returning this winter. Henry and Watts both have star potential in the Big Ten and Hauser was one of the nation's most coveted transfers due to his versatility and ability to shoot from the perimeter. That's a talented trio for Izzo to start building this season's roster. The Spartan frontcourt has plenty of size, length and depth, but guard play could ultimately determine this group's ceiling. Can Watts be serviceable at point guard? Can Langford stay healthy and give Michigan State another wing scoring option? And will Henry transform from a complementary piece to a featured, asserted scorer?
Quotable: "To say we're excited would an understatement. It's been an incredible seven months for all us and not just for our team, but for you and our country in general. There's been a lot that has gone on, but when you start the season, it's an excellent chance to start moving forward. Our players worked very hard, we had an incredible July and August. I thought we made a lot of progress as a team, even if it was in a different way, more in the weight room and individual work. We weren't allowed to be together as much in the summer, pods of maybe three or four. But I thought it worked out pretty well and we got a lot out of it." – Izzo on Michigan State's offseason.
(Previously: Nebraska, Northwestern, Maryland, Minnesota, Penn State, Purdue, Rutgers, Ohio State, Michigan, Illinois)
Filed to: 2020-2021 Big Ten preview, Michigan State Spartans