2020-21 ITH Season Preview: Iowa Hawkeyes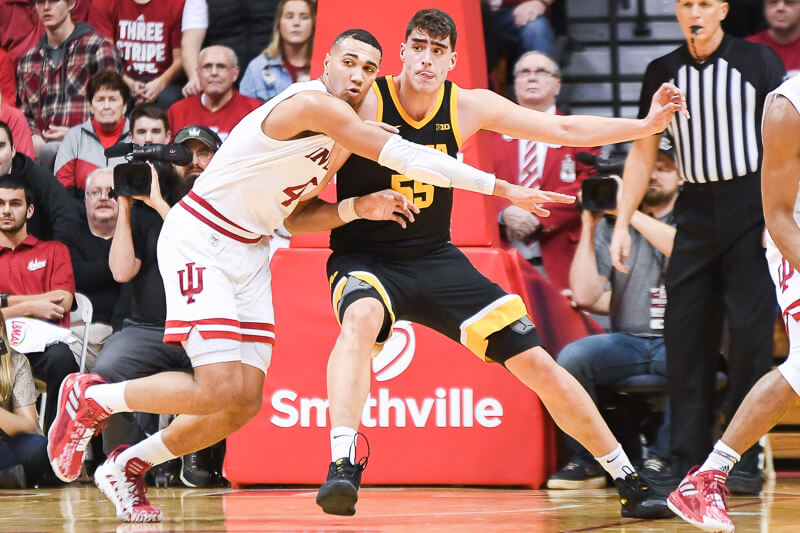 With the start of college basketball season slated for late November, we'll be taking a long look at the conference at large as well as Indiana's roster over the next month. Today, we preview Iowa.
Throughout a Big Ten offseason that saw a multitude of roster turnover, from NBA departures to transfers, the most significant decision may have come out of Iowa City. Reigning conference player of the year Luka Garza elected to return to Iowa for his senior season.
Garza led the Hawkeyes' 2019-20 high-powered offense, scoring 23.9 points per game, while grabbing 9.8 rebounds. Garza converted on nearly 36 percent of his attempts from long range and posted 25 games where he scored 20 or more points. He tallied 12 games in which he knocked down multiple 3-pointers.
Garza collected a variety of awards by the end of the season. He was a unanimous consensus first-team All-American, runner-up for the AP national player of the year and the Kareem Abdul-Jabbar center of the year award winner.
As a team, the Hawkeyes finished with a 20-11 overall record and 11-9 conference mark. They seized wins against Maryland, Michigan, Rutgers, Wisconsin, Illinois, Ohio State and Penn State. In early February, Iowa ascended to their highest AP ranking of the season at No. 17 and were set to make the NCAA tournament.
Behind Garza, the Hawkeyes' offense was their strength the entire year. As a team, they were fifth in the nation in assists with more than 17 per game and 30th in scoring with over 77 points per game. In the Big Ten, the Hawkeyes were first in total scoring with 76.2 points per game and second in field goal percentage at better than 44 percent.
While Iowa's offense was a well-oiled machine, a defensive presence often lacked. The Hawkeyes allowed an average of more than 72 points per game, including nine contests where they conceded 80 or more.
The good news for Iowa entering this season is that they are returning six of their eight top scorers. Their only key losses are senior forward Ryan Kriener and senior guard Bakari Evelyn, both of whom came off of the bench last season. Kriener averaged 7.7 points and 4.1 rebounds per game and Evelyn averaged 3.7 points and two assists per game.
Joe Wieskamp, who was Iowa's second leading scorer and rebounder behind Garza, is returning for his junior year. The Hawkeye guard netted 14 points and 6.1 rebounds per game last season. He shot 34 percent on 3-pointers and 85 percent from the stripe on his way to being named an all-Big Ten third team honoree.
Next to Wieskamp in the backcourt will be veteran guard Jordan Bohannon who has endured a tumultuous career, including two major hip surgeries. Bohannon took a medical redshirt last season after playing the first 10 games of the season. The senior is a lethal scorer from the perimeter and currently holds the school record for most 3-pointers made in a career. In his junior year, he averaged 11.6 points and 3.4 assists per game, while shooting 38 percent from three. Bohannon also converted on over 40 percent of his 3-pointers in both of his first two seasons.
The rest of the backcourt is strong behind Wieskamp and Bohannon. Sophomore guard CJ Fredrick made 25 starts as a redshirt freshman, averaging 10.2 points and 2.8 assists per game and earning a spot on the Big Ten all-freshman team. His 46 percent from 3-point land was the highest in a single-season by an Iowa freshman.
Junior guard Connor McCaffery, the son of coach Fran McCaffery, will add to the guard rotation. He started 31 games last season, averaging 6.2 points, four rebounds and four assists per game. McCaffery acts as a swiss-army knife, leading the NCAA in assist-to-turnover ratio last season, while also averaging 1.1 steals per game.
Castle product Jack Nunge, who started the first five games last season before tearing his ACL, has been fully cleared for basketball activities. The 6-foot-11 forward has averaged 5.6 points and 2.9 rebounds over 39 career games.
Sophomore guard Joe Toussaint is a solid primary ball-handling option for the Hawkeyes. In just under 18 minutes per game last season, Toussaint averaged 6.5 points, two rebounds and 2.9 assists per game. He struggled with ball security in his first season, averaging two turnovers per contest. While he's not a threat from the three, he should continue to mature and curb his turnover woes.
Fran McCaffery brings in a five man freshman class to add more depth. The top rated prospect of the group is three-star point guard Ahron Ulis, the younger brother of former Kentucky Wildcat Tyler Ulis. At 6-feet 2-inches tall, Ahron has more size than his brother. As a senior, he averaged 20.3 points and 4.1 rebounds per game.
Tony Perkins, a three-star shooting guard from Lawrence North High School in Indianapolis, is another newcomer. Perkins averaged 18.6 points per game on his way to being named to the 2020 Indiana All-Star Team.
McCaffery also landed commitments from identical twins Keegan and Kris Murray. The two versatile small forwards will follow in their father's footsteps, who used to play basketball for Iowa.
Lastly, 6-foot 10-inch three-star center Josh Ogundele rounds out the incoming class.
Bottom Line: While Garza isn't the most athletically gifted forward, he can score in all facets of the game and is one of the best returning players in the nation. It's uncertain whether Bohannon will return to his sharpshooting form. Either way, the Hawkeyes' experienced backcourt has catapulted them near the top of the national preseason rankings. Whether or not they'll be able to capture a Big Ten title will be decided by the improvement of their defense.
Quotable: "I still think the players are aware of expectation. I don't think that will change. I think when you look at expectations from the outside, I look at it more like, 'OK, what does our team expect of themselves? What do they expect from themselves individually and collectively?' That won't change, regardless of what the media would say or a particular magazine would say or a sports commentator might say." – Fran McCaffery in a recent press conference.
(Previously: Nebraska, Northwestern, Maryland, Minnesota, Penn State, Purdue, Rutgers, Ohio State, Michigan, Illinois, Michigan State)
Filed to: 2020-2021 Big Ten preview, Iowa Hawkeyes