2020-2021 Player Profile: Trey Galloway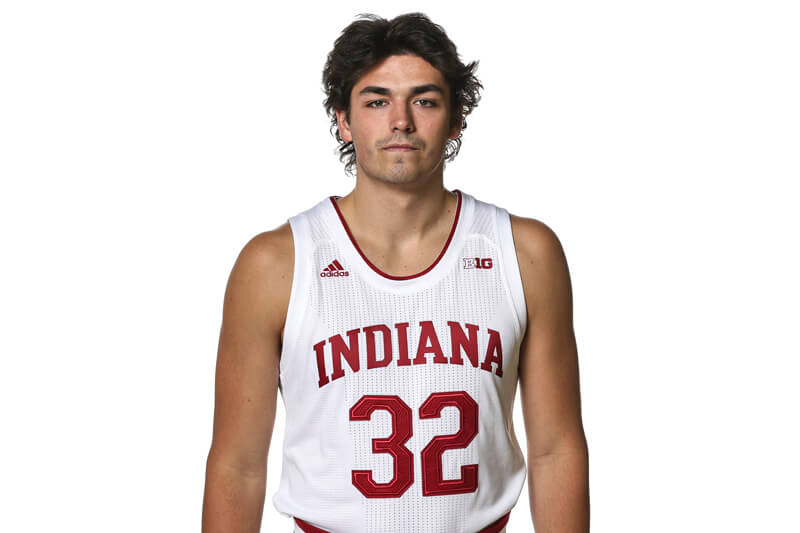 With the start of college basketball season scheduled for later this month, we've transitioned from our look at other Big Ten programs to our player-by-player previews of the 2020-21 Indiana roster. Today, our player profiles continue with a look at freshman Trey Galloway.
Among the Indiana freshmen, with the season quickly approaching, Trey Galloway's name has often been overlooked.
Back in July of 2019, Galloway was the first piece in Indiana's four man freshman class to fall into place. Two months later, Jordan Geronimo announced his commitment to the Hoosiers, followed by Anthony Leal in the winter. The final addition was point guard Khristian Lander, who reclassified this spring to round out the group.
"They wanted me to be the first guy to commit in the class so that I can help get other guys to commit because I feel like I can," Galloway told Inside the Hall in July of 2019. "It just means a lot knowing that it's off my chest, and I can go into my senior year just focused in on my senior season."
Galloway was the lowest rated recruit out of the quartet, ranking as the No. 145 player in the nation and No. 6 prospect in Indiana. Lander, who was once touted at the No. 1 point guard in the class of 2021, was the highest ranked newcomer. As media day has come and gone, the other three freshmen have garnered more attention than Galloway.
There has been a buzz surrounding the two man game of Lander and sophomore Trayce Jackson-Davis. Leal, the hometown kid from Bloomington, is a sharpshooter from distance. And Geronimo, who has impressive physical gifts and was a late-bloomer in the recruiting process, has been earned press as a hidden gem in the class.
But for Galloway, there are still many unanswered questions about how he may fit into this year's squad.  One of Galloway's main attributes is versatility, which seems to be synonymous in this year's freshman class.
At Culver Academies, Galloway displayed his offensive impact in a variety of ways. As a sophomore, he averaged 14.9 points, 5.2 rebounds, and 2.2 assists along with 1.1 steals per game. Galloway helped lead Culver to a Class 3A state championship that season. In his freshman and sophomore years, Galloway shot a combined 36 percent from three-point range.
Over the next couple of seasons, Galloways' scoring steadily improved. He netted 16.2 points per game in his junior year and 20.9 in his senior year, where he was a finalist for Indiana Mr. Basketball. Galloway's assists numbers, at 5.2 per game, were at the highest of his career last season as a senior. He also racked up 2.3 steals per game, although his three-point efficiency took a significant hit to 23 percent. Galloway did, however, battle an injured wrist throughout his prep career that may have hindered his shot.
Much of Galloway's potential, however, isn't reliant on the stat sheet. It's been well-documented that he brings top-tier hustle and energy.
"The ultimate competitor," head coach Archie Miller said about Galloway last November. "He's that guy you want to be in an alley with if something goes down. He's ready to go at all times. I think he brings a big, physical guard to the table that's ready to play and compete in the Big Ten early in his career."
Those intangibles could be imperative for Indiana. There were times last year where the Hoosiers came out flat, like in near home losses to Nebraska and Northwestern, or their blowout loss on the road to Wisconsin. Galloway could provide a spark off of the bench and ignite the team. That energy could also prove to be invaluable in a season where teams most likely won't be able to feed off of the crowd.
Galloway also has great size for a guard, especially as a freshman. He's listed at 6-feet 4-inches and 210 pounds, allowing him to absorb the physicality that he'll face in the Big Ten. Being an able-bodied guard also fits into Miller's plan to go with a three-guard lineup, with Galloway possessing the ability to guard the one through three positions.
"Trey is an all-around kind of guy," sophomore Armaan Franklin said on media day. "He can shoot the three, he can drive, he can create, he's really athletic."
It's still uncertain how much Galloway will see the court this season. The roles of senior guard Al Durham and junior guard Rob Phinisee are fairly stable. So, Galloway will be jockeying with Leal, Geronimo and sophomores Jerome Hunter and Armaan Franklin for time on the hardwood.
If Galloway is able to find a consistent shot from the perimeter, it could be the difference for his season outlook. He said at media day that his wrist is fully healed, which could help him return to his 36 percent form.
Bottom Line: While Galloway's impact may not be displayed on a consistent basis this season, he should prove to be a valuable asset in the future. Similar to how his scoring numbers increased throughout his high school career, it wouldn't be surprising to see Galloway develop into a dynamic player by the time he leaves Bloomington. This season, his most beneficial attributes will be providing energy and a solid defensive presence off of the bench.
Quotable: "I'm trusting the coaches. Me and coach (Archie) Miller, I feel like we are similar in some ways. I think I can for sure step in and try to help. I'll just keep trying to get wins because obviously what coach Miller wants to do is win, so I think it's a step in the right direction getting Trayce and Armaan with the in-state guys, and then obviously getting me. I think we can get some more guys in my class to come in and help." – Galloway to Inside the Hall in the summer of 2019.
Previously: Jordan Geronimo, Khristian Lander, Anthony Leal
Filed to: 2020-2021 season preview, Trey Galloway