'This house will be different': Stories about the Assembly Hall crowd and how everything could change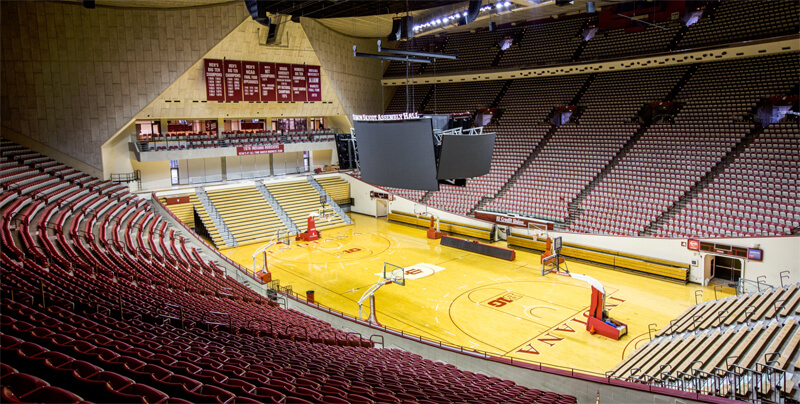 Chuck Crabb pauses mid-sentence, just for a second, to carefully choose his words. After 43 years as the Indiana basketball public address announcer, he's seen a lot. But never an Assembly Hall anomaly quite like this. No one has. What does the so-called Carnegie Hall of college basketball look like… without any fans?
"This house will be different," Crabb says.
Crabb leans back in a chair in his new Assembly Hall office. There are cardboard boxes and pictures of the cheerleading team, which Crabb has been working with since 1979, still littered on the floor from his move over the summer. Behind Crabb, there's a Bicentennial Medal that he was given by President Michael McRobbie. There are a variety of sea-floor dwelling gizmos, a crab holding a sign that says "Don't worry, be Crabby" and another reading "An old crab lives here."
Over the years, Crabb has developed a unique relationship with the Assembly Hall fans. People frequently go out of their way to stop by his courtside seat. Crabb meets a new generation of Hoosiers when former cheerleaders visit him and introduce him to their children. Some of his family members visit "Cousin Chuck," before tipoff.
Usually, about two hours before game time, Crabb takes a final walk around the concourse. He turns on the televisions. He ensures that the doors are ready to open for the eager fans.
Now, it's all in jeopardy.
In the spring, the COVID-19 pandemic brought sports to a standstill. Slowly, they have returned, but in a different fashion. And now, as college basketball approaches, one of the most daunting college basketball environments will most likely have a reduced crowd, if any at all.
Indiana has accrued a 606-126 all-time record at Assembly Hall, including nine undefeated seasons at home. The permanent seats were built at a steep angle over the court, "you feel like a mountain climber," Crabb says. The deafening cheers from more than 17,000 fans all cascade directly onto the hardwood. The sound system vibrates the foundation. The IU basketball love is channeled into one building.
"It's one big musical instrument on a game night," Crabb said. "…I feel the air move."
And in the middle of that electric atmosphere is Crabb, who tries to articulate names and keep track of fouls, while listening to production groups in his earpiece. He's learned to focus on his phrasing and not listen to himself.
"You can't really dial out the sound of Indiana's support," Crabb said.
The fans though, Crabb points out, can work in both ways. The atmosphere can act as a motivator for rival teams to silence the cacophony. Crabb has seen the detrimental effects of the crowd over the years.
In early 2008, in Kelvin Sampson's second season as head coach, Indiana hosted UConn in a non-conference clash. The Hoosiers were ranked No. 7 at the time, only having dropped one contest and holding an unblemished home record. On the other hand, UConn was unranked, entering the day with a 13-5 mark.
One of the mainstays in the Husky's lineup was guard A.J. Price. A few years earlier, Price had been arrested on felony larceny charges in connection to the theft of laptops. The Indiana student section wasn't going to let him forget that.
Crabb heard a murmur. Then, it started to gain momentum.
"On the third try, there were 7,000 voices in unison saying 'F— you,'" Crabb said.
Soon after, there was a bark from the bench. "Hey Chuck, stop that," Crabb recalls. So, Crabb proceeded to sound over the loudspeaker and remind fans of the Big Ten's sportsmanship rules.
Price responded by dropping 14 points, along with eight rebounds and six assists. UConn ended up upsetting Indiana 68-63.
Crabb's intricate rapport with Hoosier faithful started back when he was a student at Indiana University from 1969-73. Crabb was there when Assembly Hall opened, working the games as a student assistant with the sports information department. He transcribed the play-by-play announcers' conversations on a ditto sheet and would then have to put it in a duplicator before sending it off. Crabb estimates that the crowds averaged around 9,000 during that period.
Crabb sat with the assistant sports information director, where the visiting radio announcers are located now. During the games, the duo would get rowdy. Crabb would stand up and scream at the refs. He complained about the lack of fouls and traveling calls.
When he became the PA announcer in the fall of 1977, he was forced to control his fandom. At the time that Crabb started his new job, the frequent sellouts from the 1974-76 seasons had become the norm.
And, of course, after being in Assembly Hall for so long, Crabb had the opportunity to watch Bob Knight's interactions with fans.
There were games when Indiana was playing less than average opponents and the crowd would get uninterested. Crabb recalls two or three occasions where Knight took the microphone in an attempt to ignite the building.
"Get off your dead asses," Knight would say to the crowd.
One time, Knight's first wife Nancy followed him on the mic, ranting about how much time the coaches and players put into the program. She was promptly boo'd off the floor.
Sometimes, Knight's strategy would work. Crabb watched fans out of their seat and cheer, shake their fists and clap.
There were also times when the students in the North bleachers would wave their arms in an attempt to distract the opposing team's player while shooting free throws. It enraged Knight. He'd go up to the crowd and tell them to "stop that shit."
Then, when Knight was fired in 2000, "the family was split," Crabb said about the fanbase.
Even without Knight, Crabb's stories with the crowd continued. In 2001, Assembly Hall was packed for Indiana's matchup with No.1 Michigan State. It was warm inside the arena, so the sound technician kept bringing Crabb cold water from the Gatorade cooler behind the bench. Crabb never needed to "heed the call of nature," as he calls it. But in a time out in the second half, he let out a burp.
"It wasn't on the scale of Booger in the Revenge of the Nerds, but it was a pretty good rip," Crabb said.
Laughter rained down from the seats as Crabb excused himself. Now, he doesn't eat before games. Maybe a sip of water. He pops in Halls Mentho-Lyptus sugar free cough drops during the games to keep his voice intact. Carbonated drinks are out of the question.
So now, perched behind a silver microphone on his desk, Crabb considers what a fanless Assembly Hall could be like.
Crabb thinks back to a winter game in the Knight-era against Illinois during heavy snow. Knight had local radio personalities promote the game, telling listeners they could attend for free. Crabb estimates around 5,000-8,000 showed up. In more recent times, there was the NIT tournament in 2018. In Indiana's opening game to Saint Francis, there were less than 5,500 in attendance.
"It kind of throws a wet blanket over everything," Crabb said.
None of that would compare to an empty, silent Assembly Hall.
There has been no official ruling on fans from the Big Ten or NCAA as of yet. The conference isn't allowing any fans in football games this season, meaning basketball will most likely follow. It's already been determined by IU that the bleachers behind the benches will be vacant.
If it becomes a reality, that means there won't be a Bucceto's space race on the jumbotron. There won't be T-shirts launched into the seats. There won't be Chick Fil-A gift cards dropped in mini-parachutes. There won't be baby racing at halftime.
Crabb hasn't thought much about this new reality. He figures there'll be plexiglass around him. He's watched reporters on the news try to articulate through a mask.
"I hate the thought of a muffled sound," Crabb said. "We'll see."
He'll miss the talks with former cheerleaders. He'll miss seeing the fans that he's built a relationship with over the years.
This season, when he takes his final walkthrough on the concourse, there might not be anyone waiting outside.
Filed to: Chuck Crabb