Q & A: Trey Galloway talks IU commitment, his future and more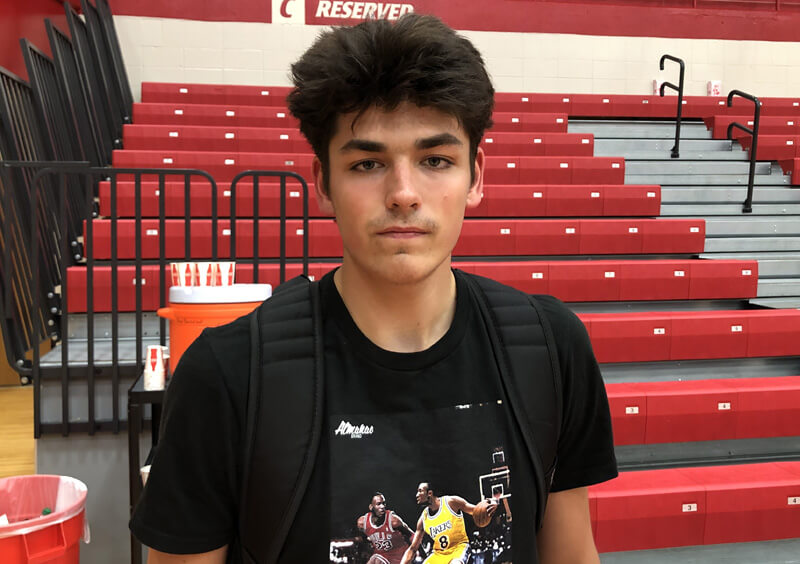 Culver Academies guard Trey Galloway became the first class of 2020 commit for Indiana after announcing his decision via his Instagram last Friday.
Inside the Hall spoke with Galloway about what went into his decision, the direction he thinks the program is going and how he'll be a recruiter for Indiana basketball going forward.
Our full Q & A is below:
What went into your decision and ultimately led you to choose Indiana to play basketball?
"It felt like home to me. Just having that relationship with all the coaches was really good. I've had a really good relationship for the past three years and it just kept building and building, and I just felt like it was the right time to make the decision. I feel like what they're trying to do there is something I want to be a part of."
Did Indiana do anything differently than the other schools recruiting you to try and pull you in?
"They didn't really do anything different, but I just felt, like I said, I've been building their relationship the longest. Out of all the schools that recruited me, they've recruited me the longest, so I'd say that played a little factor into it."
Did your experience with the Indiana Junior All-Stars — playing against guys like Trayce (Jackson-Davis)  and Armaan (Franklin) — help influence your decision?
"Yeah, me and Trayce and Armaan have all had a pretty good relationship before I was being recruited by Indiana. It was good just seeing both those guys, and even when I went on my visit, I got to hang out with those guys. I think we all get along pretty well."
Do you enjoy Trayce's constant recruitment on Twitter?
"I haven't seen much of it because I don't have a Twitter, but I've had some friends tell me the stuff he says. It's pretty funny. He's a great guy."
Anthony Leal just put out his top two, Indiana and Stanford, are you going to try and recruit him to come play with you like you guys did with the Indiana Junior All-Stars?
"Yeah, for sure. He's one of my good friends, and I'll definitely talk to him about it. But at the end of the day, it's his decision and whatever he decides to make will be the right decision, but I'll definitely kind of urge him to come to Indiana because I think we benefit each other well, and I thought we played really well together."
What are your goals for you senior season at Culver?
"Just focus in on helping the younger kids get better and just being a leader. One of things I'm looking forward to this senior year is being a leader and just trying to help my team win. Ultimately, getting better overall."
What are some of the things you're looking to improve on with your game?
"I'd say just getting stronger in the weight room and just building more of a knock-down shot. Just keep getting that consistency up with the shooting."
What do you think are your biggest strengths on the floor?
"I'd say versatility on both ends, defense and offense. I feel like I can guard multiple positions, and for offense, I feel like I can do a bunch of different things, whether that be running the point, being a scorer or being a facilitator. I feel like I got a lot of stuff that I can do to help the team win."
You mentioned you liked the direction Indiana is heading. Obviously, last season was such an up-and-down season, what's keeping you hopeful for the program's future?
"I'm trusting the coaches. Me and coach (Archie) Miller, I feel like we are similar in some ways. I think I can for sure step in and try to help. I'll just keep trying to get wins because obviously what coach Miller wants to do is win, so I think it's a step in the right direction getting Trayce and Armaan with the in-state guys, and then obviously getting me. I think we can get some more guys in my class to come in and help."
What are you looking forward to most about playing inside Assembly Hall?
"Just the atmosphere. I know how crazy those games get. I want to be a part of that, and I know all the history that has gone into Indiana basketball and it's just blessing to be able to represent by putting that jersey on and going out there in Assembly and be able to play."
What does it mean to be the first commit of the 2020 class, and do you plan to use your status to try and recruit other guys?
"Yeah, that's what they said to me. They wanted me to be the first guy to commit in the class so that I can help get other guys to commit because I feel like I can. It just means a lot knowing that it's off my chest, and I can go into my senior year just focused in on my senior season. But, like I said, with me committed, I feel like I can definitely help get some guys in there, for sure. Just pushing toward getting other guys with me."
Filed to: Trey Galloway