Q & A: Class of 2022 power forward Tarris Reed talks Indiana offer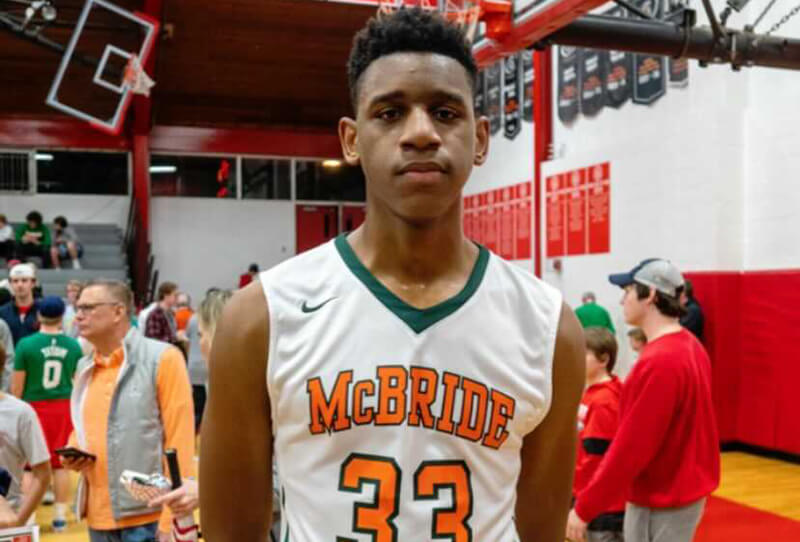 Indiana extended a scholarship offer to four-star power forward Tarris Reed Jr., the 2022 prospect announced via Twitter on Monday night. Reed is ranked as the No. 90 overall recruit in the nation and No. 17 power forward, according to the 247Composite.
Reed, a St. Louis, Missouri native, attends Chaminade High School, the alma mater of current NBA players Jayson Tatum and Bradley Beal. Reed has worked out with Chaminade alum and former Iowa Hawkeye, Tyler Cook.
The 6-foot 10-inch, 230 pound Reed holds offers from Creighton, Florida, Iowa, Kansas State, Michigan State, Missouri, Ohio State, Nebraska, Saint Louis and Xavier.
As a sophomore at Chaminade, Reed averaged 14.5 points and 8.5 rebounds per game while shooting 60 percent from the field, 47 percent from 3-point range and 75 percent from the free throw stripe. Reed was also named to the Class 5 All-State team.
Currently, IU doesn't have any commitments in the 2022 class. The Hoosiers are in need of more talent in the paint as senior Joey Brunk and junior Race Thompson will be have graduated by the time Reed starts college. There's also a good chance that sophomore Trayce Jackson-Davis will have departed for the NBA, too. As of right now, Indiana's only frontcourt addition is 2021 center Logan Duncomb.
Inside the Hall spoke with Reed about his recruitment and recent offer from Indiana:
When did Indiana first reach out to you?
"Last week I received a call from coach (Mike) Roberts. And coach Roberts hit me up and said that they were interested in me and keep on recruiting me. A week later, coach (Archie) Miller, he hit up my father. My father told me that he wanted to call later at night and coach Miller ended up calling and offering."
What was their pitch to you?
"Their pitch was to be that 4-5 man that has space on the court. I watched some film on their bigs and saw that they screen them. Me, being able to create on the outside, would be able to take advantage of that on inside the post, midrange and outside on the perimeter."
What did you like from the film?
"(Trayce) is very explosive down low. I saw a lot of lobs and getting penetrated dishes to him. Able to finish above the rim frequently. And that's what I really like about his game."
What aspects are important to you when choosing a school to attend?
"I want a school with great academics, which coach Miller said they have. I want a school that is comfortable for me and my family. A coach that's really pushing me to the next level. I want to go to the NBA and I want a coach that's going to keep pushing me constantly, to push me to that next level."
Was there anything that stood out to you in the meetings with Indiana?
"They said that they have a very strong academic school and, of course, that's one of the things that I'm looking for in a college. So them saying that really opened my eyes and, of course, made me more interested in learning about the school."
Do you have an idea of what you want to study in college?
"Yeah, business and the marketing aspect."
What other schools have you been in contact with recently?
"Florida, Butler, Purdue, Iowa. Really all of the schools that have offered me. K-State, Ohio State, Nebraska."
How would you describe your game to someone that has never seen you play?
"I would say I'm a clear hybrid. I'm a 4-5 man that can take advantage of the defense. I like to play an inside-out game, start down low and get some points off of easy jump hooks and if the defense adjusts, I'll adjust, of course. Being able to step out to that mid-post, behind the three, playing that stretch-four position. I'm comfortable with the 3, 4, 5 being able to attack off of the dribble and facilitate and create on the offensive side."
Do you have a relationship with Jayson Tatum?
"No, not really. But I've been with one of our alums Tyler Cook. Actually, worked out with him multiple times last summer. Looking forward to working out with him this summer. We talked a little bit about, because a lot of people compared our games and say that we play alike, a little bit. So, I've been talking to him a little bit about this recruiting process and my game. Of course, he's in the NBA so he knows more than me. Me being a young player, just picking their brain and asking questions. And Brad Beal, as well. He actually came to the school last summer, that's when he talked to us when we were in a tough situation. We just came off of two losses in a row. Brad Beal came up and motivated us. He told us the hard truth that we needed to know. He was one other person that I was able to get in contact with after. And, of course, asking him some questions, knowing he's at that next level, too. And that's the level I'm going to get to one day."
Are there any aspects of your game that you're improving right now?
"Definitely my shooting. Being able to have that ability to, of course I can shoot threes, but I'm working on that college and NBA threes because that shot is next level."
What's your favorite St. Louis pizza spot/restaurant?
"I gotta go with Imo's."
Filed to: Tarris Reed