Q & A: Logan Duncomb talks IU commitment, what Archie Miller likes about his game and more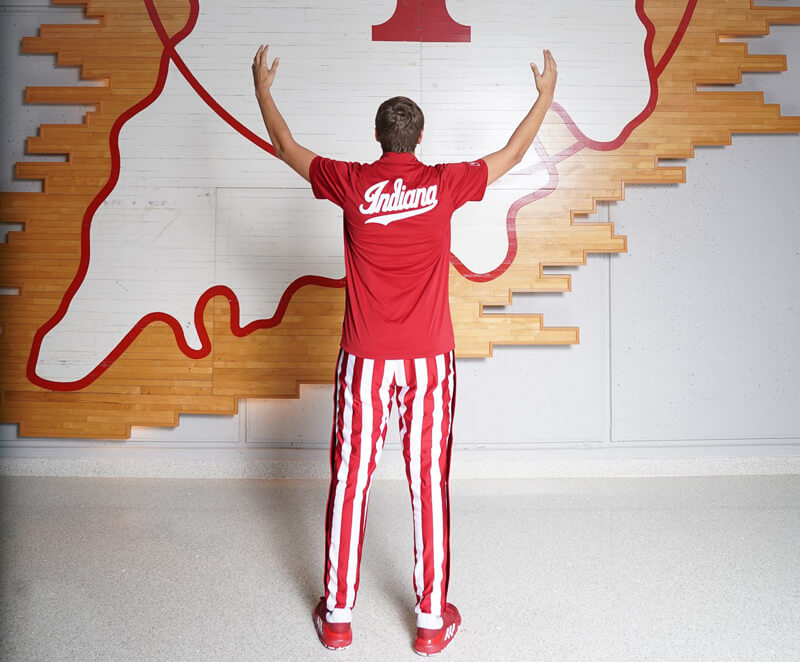 Archbishop Moeller (Cincinnati, Ohio) center Logan Duncomb became the first big man in the class of 2021 to commit to the Hoosiers, announcing his decision to commit to Indiana via Twitter on Tuesday morning.
A 6-foot-9, 225 pound center, Duncomb is the No. 106 ranked prospect nationally in his class, according to the 247Composite and selected Indiana over offers from Ohio State, local school Xavier, Wisconsin and Stanford, among others.
Inside the Hall spoke with Duncomb to learn more about what went into his decision, what Indiana's coaches like about his on-court game and what he specifically plans to improve on during his final high school season.
Our full Q & A is below:
What made you comfortable enough to commit to Indiana right now?
"Well, there's four schools that recruited me hard, and I just felt like I went on all the visits I needed to go on and I had all the information I could get. And I just felt that Indiana was the right fit for me and I felt ready to make a decision."
What allowed you to be comfortable with Indiana? What about their recruiting pitch worked?
"I like the players they have coming in, in the class ahead of me and my class. I feel like I'll get along well with them, all the players on the roster. I like the campus a lot. I like what the school has to offer athletically and academically. Just stuff like that."
Your high school coach has spoken about the way you could fit in with Indiana's 'inside-out' philosophy, how do you see yourself fitting into that?
"I think I fit well into the system. They actually run a real similar system to what Moeller runs. So it's the ability to go in the block and bang, or spread the floor and be able to shoot 3s."
Does this take pressure off of you entering your senior high school season and allow you to develop as a player without any added pressure?
"I mean, not really pressure. It is something that I am glad I have done, it's a fun process, but I wouldn't say it's pressure. I think I'll get just as much better as I would have if I still hadn't committed."
Entering your final high school season, what are the main points of your game you're looking to improve on?
"Just the ability to shoot the 3 still, going to improve that, and just to be able to play on the perimeter and play inside-out."
Is that something that has been an emphasis from the Indiana coaching staff, and generally what have they told you about the way they plan to utilize you in college?
"Yeah, so they like how I play a lot, they like my hustle and stuff. I mean I'm pretty good posting up, but that's something I can get better at. The one thing they said was that in college the biggest thing for me is being able to shoot the 3, and be just that dual-threat player. Be able to score from inside and out."
Looking at some of the players you may be playing with, obviously Khristian Lander may reclassify to 2020, but what excites you looking at some of the players you'll likely be sharing the court with in Bloomington?
"I just think I fit with them well. I've seen most of the 2020 players play, I've seen Khristian Lander play… I just think they're unselfish basketball players who just want to work."
Your time with Indiana Elite, how has that helped you grow as a player and what can you take from your time playing with some familiar faces that you'll also see at college?
"I think that helps, knowing the players that you're going to play with in college, that helped my decision. I think Indiana Elite's helped me kind of diversify my game a lot. It allowed me to start playing on the outside a bit more than I was playing with my high school coach during my first year on varsity."
You won't be the only Moeller alum on the IU team since your former high school teammate Michael Shipp walked onto the IU team as a freshman last season. Did you guys have any conversations about Indiana and did he help you with the process of learning more about the school and program?
"Yeah, I've reached out to Michael when I've had questions about school I asked him about how he liked his time at Indiana – it was all good things, he's just told me how he's loved it and (how) he loves being on the team and everything that comes with it."
It's still a year or so away, but what excites you the most looking to the future of getting to come and play at Indiana?
"I mean, just everything that comes with being a Hoosier, really. Just the background that comes with playing basketball at Indiana and the ability to just play at that level."
Filed to: Logan Duncomb, Michael Shipp