Logan Duncomb could become latest connection between Archbishop Moeller and Archie Miller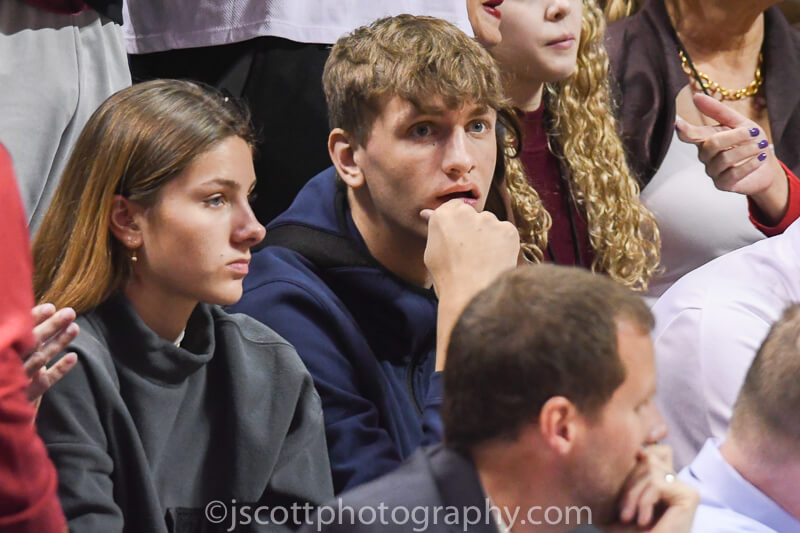 Carl Kremer knows what Archie Miller values in a basketball player.
He also knows what Miller values in a team manager.
Kremer is the varsity boys' basketball coach, as well as the principal, at Archbishop Moeller High School, a private all-boys institution in Cincinnati.
Located about 45 minutes from Dayton, Ohio, Kremer often made the short trip north in recent years to take in University of Dayton men's basketball practices.
His son Joe was a team manager for four years, Archie Miller was the head coach and Kremer gained an understanding of how Miller liked to set up his teams and the kind of player and person that fit within Miller's program.
Fast-forward nearly three years after Joe's graduation from Dayton and Kremer once again has connections to an Archie Miller-led program.
Indiana freshman guard Michael Shipp walked-on to the team last fall after playing for three seasons under Kremer, including as a starter at the two guard on last year's Archbishop Moeller team that went 29-0 and captured the state's Division I title (Shipp was also a part of the school's 2018 title-winning team).
Kremer, and Shipp himself, weren't sure if a future as a college walk-on was in store for Shipp when he passed over Division II interest to go to Indiana. But Kremer said the allure of the history and tradition-rich program in Bloomington helped Shipp make the decision to walk-on.
"He's also going to bring a little bit of life and energy," Kremer said of Shipp. "On the court he's going to compete, he's not gonna back down."
And now on Indiana's radar is another integral part of Archbishop Moeller's undefeated team from a season ago, class of 2021 center Logan Duncomb.
He started all 29 games for the Crusaders last season as a sophomore, and has been the focal point at both ends for this year's Archbishop Moeller team that currently sits at 18-1.
Miller was in to watch Duncomb play on Jan. 19, and the 6-9 high school junior has held an Indiana offer since last summer and he took a visit last September. Duncomb, who is being recruited by assistant coach Tom Ostrom, was in Assembly Hall for Indiana's loss to Maryland last week.
But with Division I offers from the likes of Ohio State, Stanford and Wisconsin, as well as local schools Cincinnati and Xavier, also on the table, Kremer is able to note the intangibles that have made Duncomb a popular target.
"Logan's got an unbelievable motor, he just plays at an all-out capacity every day he's on the floor," Kremer explained. "If you grade him out, he runs the floor, from offense to defense (and) from defense to offense, hard every single time."
"He goes for every single offensive rebound. He just doesn't take time off during the game."
Even within these plaudits that would please any coach, there are specific elements to Duncomb's game that peak Miller's interest.
"He's got good feet," Kremer said. "He can switch out on ball screens, he can hedge out on ball screens. He's just a kid that's got a lot of abilities that way."
Indiana's frontcourt-reliant lineup this season has featured plenty of hedging, and often criticism of it, as players like Joey Brunk and De'Ron Davis struggle to recover back to their men in the paint due to a lack of speed.
Having quick feet would go a long way in allowing Duncomb to have defensive success as a big man in Miller's 'Pack Line' defense, but Duncomb's offensive stats this season are equally impressive.
He averages 13.7 points per contest and has made 104 of his 152 field goal attempts (68.4 percent). Averaging 3.5 offensive rebounds (8.5 total rebounds) and slightly more than four free-throw attempts per game (Duncomb is a 64.1 percent foul shooter) also seems to mesh well with the inside-out philosophy Miller is trying to establish.
Furthermore, all of those stats represent marked improvements from Duncomb's sophomore season.
"He's a dominant high school player. He makes people have to account for him," Kremer said. "Everyone has to double-team him in some form or fashion, so he's just a really effective player."
The next step comes in getting Duncomb comfortable with taking his game outside the paint.
It's a perilous task for any basketball coach to try and convince a player so effective in the post and around the rim to shoot from further away, especially a young player like Duncomb, who won't turn 17 until the end of his junior season and will play his entire freshman year of college at 18 years old.
But the seeds of a perimeter game are there with Duncomb, who's made three of his seven 3-point attempts this season.
"We give him the green light," Kremer said of Duncomb's ability to shoot from distance. "I wouldn't have given him the green light to shoot the 3 (last year), but this year he has it and I think as he develops he's actually going to become a very good shooter."
On an almost week-to-week basis, Kremer said he's noticed Duncomb filling out his frame, with Duncomb currently listed at 240 pounds.
"By the time that kid's 20 years old and he's got a man's body, with the motor that he has, he's going to be a really good big," Kremer said.
This comes alongside Duncomb's academic performance, as Kremer said Duncomb currently ranks fourth in his class of 220 students at Archbishop Moeller.
But all of this exists independent of what Kremer knows from his time around the Dayton program, from those trips back and forth from Crusader practices to Flyer games.
Kremer has seen Archie Miller's system up close and believes Duncomb can be an asset to it.
"I've seen Indiana play a lot this year, he fits in perfect with how they run their offense, how they run their break…Logan's really made for that," Kremer said.
"Logan's really made for that because he runs great. Of course (Miller) likes big guys who can get out and run, putting pressure on the defense and he's really good at that."
Filed to: Archie Miller, Logan Duncomb, Michael Shipp