2020-2021 Player Profile: Jerome Hunter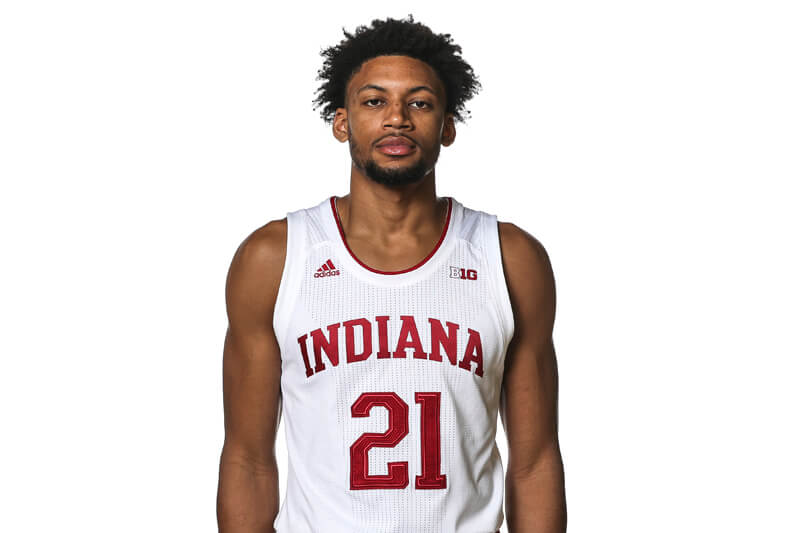 With the start of college basketball season scheduled for later this month, we've transitioned from our look at other Big Ten programs to our player-by-player previews of the 2020-21 Indiana roster. Today, our player profiles continue with a look at redshirt sophomore Jerome Hunter.
Jerome Hunter arrived in Bloomington in the summer of 2018 with no shortage of promise.
Romeo Langford was the highest-ranked and most talented player in Indiana's 2018 recruiting class, but Hunter's national profile had him as a top 50 player with clear NBA potential.
And early on in the fall of 2018 as the Hoosiers began practice, Hunter flashed that promise by capturing the gold practice jersey during the fourth week of practice.
That positive momentum for Hunter was short-lived as a leg injury that would later require surgery and force him to be shut down for his entire freshman season. The injury was described as a lower leg condition which developed early in the semester.
Hunter, however, overcame that injury obstacle last season and showed some of the promise that made him a major recruiting win for Archie Miller and the Indiana coaching staff in the summer of 2018.
Clearly rusty and often unsure of his role, Hunter appeared in 30 games last season for Indiana and averaged 3.8 points, 2.1 rebounds in 14.4 minutes per game. His shooting stroke, a strength of his game during his high school career at Pickerington North, was never consistent in his debut season. Hunter took 63 3-pointers and made just 19 (30.2 percent) in his first season.
Despite the shooting struggles, there were signs of Hunter's talent and ability to make Indiana a more versatile and well-rounded team when he was on the floor and playing well. Hunter's length allowed him to be disruptive on defense and his ball skills are better than those of Justin Smith, who occupied many of the minutes on the depth chart over the 6-foot-7 Hunter.
"I thought right around January we were at a crossroads in trying to figure out what we could get out of Jerome," Miller said last month at media day. "I think that the Ohio State game at home was an opportunity for him to grab ahold of more minutes. Once he did that, he showed that he was not afraid, he was tough and that if he could stay with it over the course of the next so many months, he could help our team."
With Smith's transfer to Arkansas, the path to more minutes and a more significant role is there for Hunter as a redshirt sophomore.
Miller has already expressed his desire to play more three-guard lineups this season, but there's a case for Hunter to play at either the three or the four. His natural position is the four and might hold his most value if he can regain his shooting stroke, which would allow more space on the floor for Trayce Jackson-Davis to operate. Hunter also says he feels comfortable as a big guard playing on the wing.
"I was always the biggest one for my position," Hunter said last month. "If there was a mismatch, it was always good for me. And I think that Archie is trying to utilize me to the best of my potential and just really see what he can get out of me. I just got to show him what I can do."
Bottom Line: Hunter's health will always be in the back of everybody's mind due to him missing his freshman season, but that issue appears to be behind him. After appearing in 30 games and lacking confidence for much of it, Hunter now appears to have a better understanding of his role entering his third year of college. Smith's presence on the roster is no longer a factor in his playing time and it was clear that Miller gained more trust in Hunter as last season went on. If he can regain the shooting stroke that made him a coveted recruit for most of the Big Ten and also use his size to create mismatches, Hunter could quickly develop into one of Indiana's best players this season.
Quotable: "He is going to play a big role on this team. He has to play a big role. He has to grow up as a second-year player and has to be much more of a consistent shooter and a more consistent defender for us. Without question, I think he will be able to give us the versatility to play small or big and be better at it than he was a year ago. I think he has the confidence, he is out there every day, that he feels like a good basketball player again, not a player that is learning to be a good basketball player again." – Miller at media day on Hunter.
Previously: Jordan Geronimo, Khristian Lander, Anthony Leal, Trey Galloway, Armaan Franklin, Trayce Jackson-Davis
Filed to: 2020-2021 season preview, Jerome Hunter