2020-2021 Player Profile: Trayce Jackson-Davis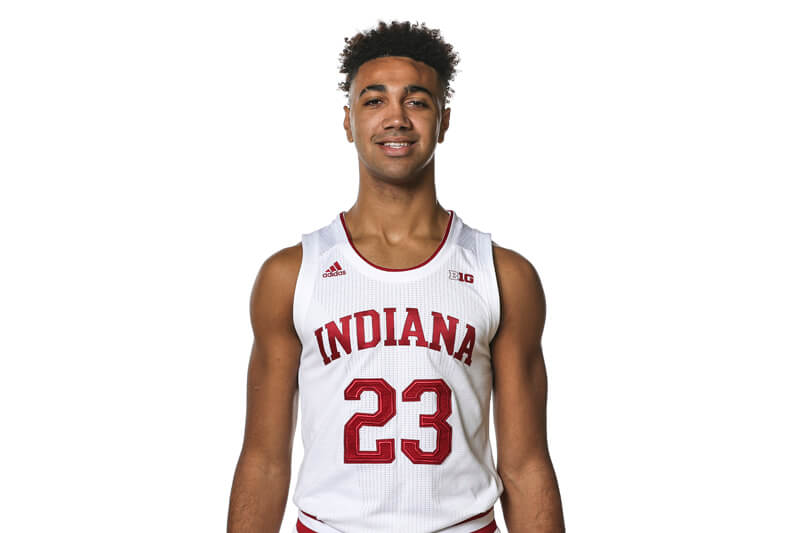 With the start of college basketball season scheduled for later this month, we've transitioned from our look at other Big Ten programs to our player-by-player previews of the 2020-21 Indiana roster. Today, our player profiles continue with a look at sophomore Trayce Jackson-Davis.
Romeo Langford's act as Indiana Mr. Basketball wasn't necessarily an easy one to follow. As a freshman at Indiana, Jackson-Davis didn't have the same hype or Indiana high school basketball legend status that Langford carried into Bloomington. But in his first season with the Hoosiers, Trayce Jackson-Davis didn't disappoint.
After Langford landed on the all-Big Ten freshman team and departed for the NBA draft lottery, Jackson-Davis came along. In his senior year at Center Grove, he averaged 21.6 points, 9.3 rebounds and 2.9 blocks per game. Jackson-Davis was a four-star recruit, ranked No. 30 in the 2019 class, according to the 247SportsComposite. Similar to Langford, Jackson-Davis made the McDonald's All-American game.
But entering his freshman year at IU, the expectations for Jackson-Davis were nowhere near the lofty ones for Langford. It was known that Jackson-Davis was a blue chip recruit oozing with talent, but there wasn't as much certainty about how quickly he'd be able to impact the Hoosiers entering the season.
It didn't take long, though, for Jackson-Davis to assert himself at the collegiate level. He earned a starting spot in the paint alongside Butler transfer Joey Brunk, and posted four double-doubles in his first seven games. Jackson-Davis scored double-figures in seven of his first eight games, too. It quickly became apparent that, while he wasn't the same type of player as Langford, Jackson-Davis would be a star for the Hoosiers.
Jackson-Davis emerged as the heartbeat of Indiana's team throughout the season. He led the Hoosiers in scoring (13.5 PPG), rebounding (8.4 RPG), and blocks (1.9 BPG). Jackson-Davis also finished second in the league in field goal percentage at 56.6 percent.
Jackson-Davis kept churning out double-doubles in conference play. He put up double-doubles in six of the last nine contests of the season, including a 27-point, 16 rebound outing at Minnesota in mid-February against Daniel Oturu.
"He's been a bright spot for us all season," head coach Archie Miller said after the win against Minnesota. "I think he's the freshman of the year in the league. He's my guy."
As the season concluded, the accolades piled up for the 6-foot 9-inch, 245-pound Jackson-Davis. He was named to the all-Big Ten third team, all-Big Ten freshman team and was runner-up for Big Ten freshman of the year.
Heading into the offseason, there were questions about whether or not Jackson-Davis would be returning for his sophomore season. In the end, Jackson-Davis made the decision to come back.
The preseason has been filled with high expectations and more awards for Jackson-Davis. He was touted as a preseason second team all-American by both CBS Sports and Stadium and a preseason third team all-American by Blue Ribbon College Yearbook.
"Trayce has to continue to evolve from a freshman to that natural progression as a sophomore where not everything's new to him anymore," Archie Miller said over the summer. "Now he's leading the way more along the lines than learning on the run. Very few players in America are as impressive or as productive as him and I think he just has to up the production."
The main flaws in Jackson-Davis' game was his lack of jumpshot and an inability to finish with his right hand. He said that he's been working on both of those aspects of his game in the offseason.
Five-star freshman point guard Khristian Lander brings a new dynamic to Jackson-Davis' potential this season. Lander, who boasts a stealthy speed, has talked about running pick and rolls with Jackson-Davis, which could lead to a premium of lobs and easy buckets at the rim.
With the addition of Lander and fellow freshmen Anthony Leal and Trey Galloway, plus returnees Rob Phinisee, Al Durham, Jerome Hunter and Armaan Franklin, Indiana's roster is more guard heavy than in prior years. Miller has spoken about playing a three-guard lineup, something that didn't happen often last season.
What this means for Jackson-Davis is that he should have an increase of room to maneuver in the paint, as the floor will have better spacing. If a double-team comes, he can easily kick it out to a shooter on the perimeter. It will also allow the Hoosiers to play faster, opening more opportunities for Jackson-Davis to run the floor in transition.
Jackson-Davis is familiar with both of his fellow frontcourt teammates in senior Joey Brunk and junior Race Thompson. Each adds a different aspect to the game, although none of them have exhibited a consistent jumpshot.
"I think that we play really well together at the four and the five because we're very versatile players, we're like interchangeable, we can both play at the five or the four," Jackson-Davis said about Thompson at Indiana's media day.
Bottom Line: For Indiana to be successful this season, Jackson-Davis will need to have a monster year. With all of the preseason attention, opposing teams will have specific game plans for Jackson-Davis. He'll also surely be facing his share of double-teams in the post. If he's able to add a jump shot and a strong right-handed finish to his game, he'll be extremely difficult to contain. If Jackson-Davis has the season that many are expecting, this could be his final year in Bloomington.
Quotable: "Unquestionably, he is the guy everyone is going to look at and we're going to put a lot of pressure on him but we put a lot of pressure on him last year, too. He had a lot of pressure on him as a freshman. I thought he delivered pretty good. He's just got to take it up that one more gear and the expectation at least for him to help us contend for the Big Ten. Inevitably, he should be a guy that's being considered for one of the best players in all of college basketball." – Archie Miller over the summer on Jackson-Davis.
Previously: Jordan Geronimo, Khristian Lander, Anthony Leal, Trey Galloway, Armaan Franklin
Filed to: 2020-2021 season preview, Trayce Jackson-Davis