'His confidence is really high': Jerome Hunter impresses in summer workout ahead of second IU season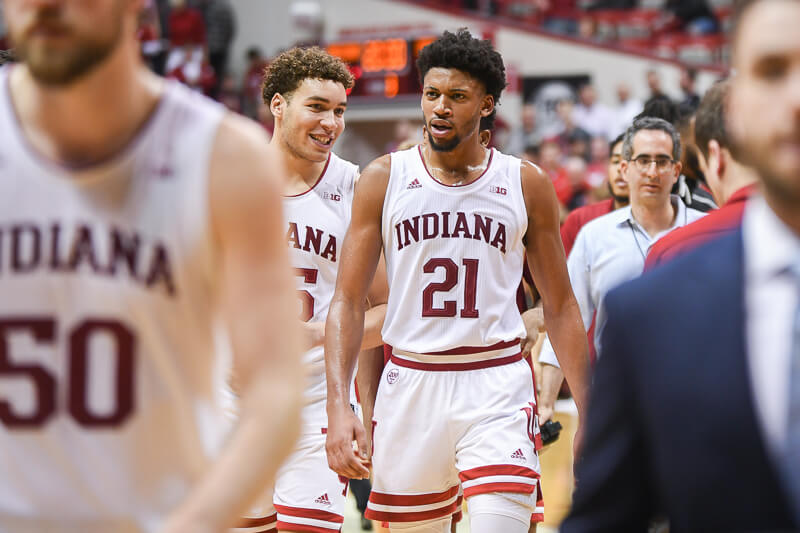 When Zach Fleer, co-owner of 270Hoops that covers Central Ohio high school basketball, arrived at a high school all-star game in 2014, there was an eighth-grade all-star game taking place on the floor prior to the contest.
He watched as this 6-foot-6 eighth grader drove into the middle of the lane and threw down a powerful one-handed slam.
"I was like OK, who is this kid? I need to find out," Fleer recalls.
He went to the scorers table, asked who the kid was, and they told him his name was Jerome, but they didn't have a last name. Fleer kept digging, curious to find out more about the eighth-grade sensation that just stole the show. He finally found out that his last name was Hunter.
Jerome Hunter was the first basketball player Fleer wrote about in Central Ohio.
"He had a skinny, lengthy build, and he just had natural athleticism that was impressive," Fleer said. "I could tell that he had some upside and potential."
Six years later, Fleer still follows the career of Hunter, who is now entering his third season — second season playing — at Indiana.
Some IU players have returned to campus to partake in limited workouts, but earlier this month, Fleer attended a workout and scrimmage at Grace Fellowship Church in Pickerington, where he watched Hunter and other former and current Central Ohio players compete.
The workout was put on by Andreas James, who has been Hunter's trainer since he was in middle school. Fleer, who is also the director of 270 Hoops Fall League, sometimes puts on events with James, so he was invited to attend this one.
As Fleer sat back and watched these athletes compete against one another, he pulled out his camera and started filming some of the highlights Hunter was pulling off — a plethora of 3-pointers, turnaround jumpers and off-the-bounce drives to the hoop.
It prompted Fleer to tweet out that a breakout season is on the horizon for Hunter.
"The biggest difference I've seen him compared to last year is his confidence is really high," Fleer said. "That was something he struggled with last year, trying to fit in and trying to do what Archie needed him to do. It seems like he's turning the corner in terms of confidence level."
It's no secret that Hunter had to redshirt his freshman season due to a leg injury that required surgery. Last season, as IU coach Archie Miller alluded to many times, was really Hunter's "true" freshman season despite it being his second year on the team.
There were many ups and downs during Hunter's first campaign, but there were also moments he showed spurts of the player he can be. Especially toward the end of the season, Hunter started to connect more consistently on his jump shot.
In Hunter's final 14 games, he made 43 percent of his 3-point field goals. But for the season as a whole, he shot just 30 percent, including a stretch earlier in the season where he missed at least one 3-pointer in 10-straight games.
Fleer said the inconsistencies had Hunter "rattled" a bit after the season concluded. So, James showed Hunter old videos of him from high school and said, "This is you. This is what you can do."
"That's meant a lot for Jerome's confidence," Fleer said. "Missing that first year of college definitely hurt him bad. You know, he was a top 50 guy coming out of high school. He's starting to look like the old Jerome that I knew in high school that was so dominant."
Hunter's jump shooting has always been a strength of his, but something Fleer thought really stood out during the scrimmage in early June was Hunter's handles.
Fleer said Hunter always played off the ball in the high school, and that's how he fits into Miller's system as well, but if opposing teams try to take away his outside shot, Hunter's ability to put the ball on the floor will be key.
"He's handling the ball, making good reads, making good decisions passing the ball," Fleer said. "I like the way he attacks off the dribble and creates his own shot."
This upcoming season, like most Indiana fans already know, is all about confidence for Hunter. Especially with Damezi Anderson and Justin Smith both transferring, the minutes and role for Hunter are expected to increase.
Fleer believes the coach-player relationship will be huge for Hunter, and that's where Miller and Hunter's history comes into play. When Miller was at Dayton, he was the first coach to offer Hunter a scholarship at that level. Fleer believes if Miller would have stayed at Dayton, Hunter would have gone there instead.
"They've had a long relationship and if Archie trusts him a little more this year, I think he can really, really blossom," Fleer said.
Part of Fleer's job that he enjoys so much is following the careers of players he has covered through their prep years. Hunter's will always be one Fleer has an interest in.
In that first article Fleer wrote in 2014, this is his paragraph analysis describing the eighth-grade Hunter.
"Stealing the show in the middle school All-Star game, Hunter brought down the house with a posterizing one-handed slam on a defender late in his team's 69-62 victory. At 6'6, Hunter has a great deal of upside as his elite combo of length and athleticism are uncommon for a player his age. However, Hunter can do much more than just dunk. With a nice feel for the game, and serviceable handle, Hunter also showed an ability to step out and shoot from the perimeter. His greatest strength, however, is Hunter's ability to run the floor like a guard. Starring at Columbus' Monroe Middle School, traditionally a feeder school into Northland High School, keep an eye out on Hunter for years to come."
Out of all the players mentioned in that article, Hunter was the only one that went on to play Division I. And still six years later, Fleer still believes people should keep an eye out for Hunter.
"I went from watching him as a kid and now he's on TV playing for one of the most storied basketball programs in the country," Fleer said.
Filed to: Jerome Hunter