Q & A: Former walk-on Kory Barnett discusses IU career and being an assistant coach for Steve Alford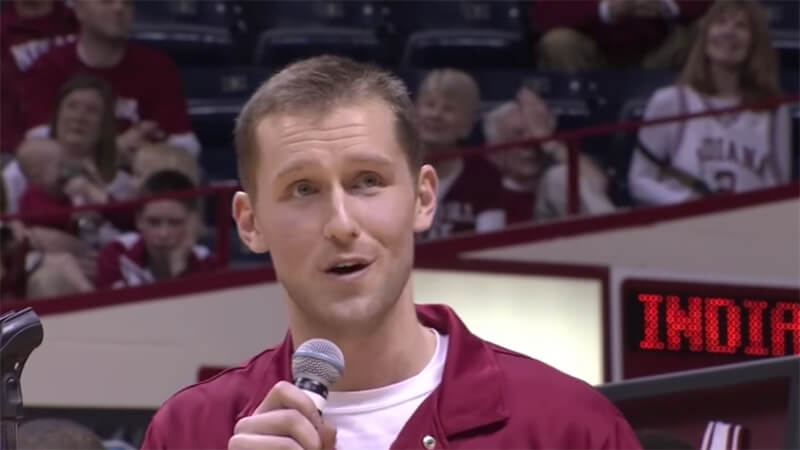 Kory Barnett's plan was always to walk-on at a high major program and use that opportunity to jumpstart his coaching career. Barnett's decision to enact this plan in Bloomington helped shape the career path he's on today.
After a four-year playing career at Indiana from 2008-12, Barnett spent the 2012-13 season as a graduate assistant with the Hoosiers before beginning a six-season spell at UCLA as part of Steve Alford's coaching staff.
Barnett served as the director of operations and video coordinator for the Bruins before spending part of the 2018-19 season as an assistant coach for UCLA after Alford was fired.
Currently on Alford's staff as an assistant coach at Nevada, Barnett spoke at-length with Inside the Hall about his time at Indiana and how it has affected his coaching career to date.
Here is our full Q & A with Barnett:
Inside the Hall: For those who may not have kept up with you once your playing days at IU were over, what have you been up to over the past eight years?
Barnett: Obviously I was a GA (graduate assistant) at IU for one year, the following year after my senior season, and then got an opportunity to go with Coach Alford as a video coordinator at UCLA and was there for his whole run at UCLA for six years, which was an awesome blessing.
I went from video coordinator to director of player development and director of operations, then I was an interim assistant before we left. I've been an assistant coach with him at Nevada for one season. I love Reno, my wife and I, we're blessed to have had six years in L.A., that was a blast. We had our son (Brooks) in Santa Monica, California, that's where he was born. He's now two-and-a-half and loves Reno and it was a fun first season.
Being at Indiana was a huge deal and I had the opportunity to play elsewhere. With my talent, I could have maybe been at an NAIA (school) and played… I could have had a fun career and had fun playing basketball, but I knew when I got the opportunity to put on the candy stripes for four years that was incredible. Knowing I wanted to be a coach, I knew the experience would be paramount for me, so that definitely changed my life and was a massive blessing.
ITH: It seems like you knew you wanted to be a coach from a young age. Was there a reason for that and how did that affect the decisions you made in your life to follow on that path?
Barnett: My dad (Mike Barnett, founder of the AAU program Indiana Elite) had me always around, and to be honest with you I actually took a year off in between middle school and high school and essentially re-did eighth grade, but mainly just travelled with him for a year. He had a lot of good friends from his time when he was with Nike and Champion before he moved to Indiana, to where he built relationships with a lot of college coaches – coach (Tom) Izzo at Michigan State, coach Buzz Peterson who was at Tennessee, coach (Steve) Alford who at the time was at Iowa.
So I really just travelled around and watched college basketball. I really fell in love with the coaching aspect of it. When I was given the opportunity to put on the candy stripes I knew just being there for four years and having that clarity from being around coaching and knowing that might be something I wanted to do. I knew the journey would be incredible to be with all my teammates and be part of that, but also being able to see a high major program like Indiana, a blueblood, and just be around it for four years, and it ended up being five with the one GA year.
That was awesome and something that really changed my life in terms of how I see the game and put me a little bit ahead of where guys are because I knew my path and that's the hardest thing. When young coaches call me, guys who are graduated from college or have been out for a couple years and ask how they can get into coaching, it's hard. There's a lot of different avenues, a lot of different ways to get into it, but being able to know your path is half the battle and going to Indiana gave me a good feeling that it would give me a head start.
It put me in an awesome position where I've been able to be around a lot of kids and help them grow into young men. That's kind of our goal. Being here with Coach Alford, not only is he one of the greatest players to ever play at Indiana, but he's just an awesome human being. It's been a blessing for my wife and I, being in it for eight or nine years now of coaching, I just saw how important the family aspect was, of understanding the time with family and putting them first above everything else.
When it comes down to it, this is a job and Coach Alford understands that and that's been incredible, so again it's been a massive blessing for me.
ITH: I read that you turned down a walk-on offer from Kansas to walk-on at IU. Is that true, and if so, how much did being born and growing up a bit in Indiana play into you wanting to go to the state's flagship university?
Barnett: Yes, I had an opportunity to go to Kansas. Coach (Bill) Self was actually the first person to offer me anything like that, because I didn't know that was even a thing. I didn't know preferred walk-ons existed. I went to an elite camp there and coach Self pulled me aside and offered me a spot to be able to try and come and do the whole basketball thing, and Kansas obviously is awesome. It's a great university and campus and basketball program and experience.
That was where I was going. Then, coach (Kelvin) Sampson at the time heard that was the route I was going to go and he gave me a call and offered me an opportunity. Like you said, growing up in Indiana, my dad grew up in Indiana, and even though I bounced around and lived in seven or eight states I was in middle school and high school in Indiana and was around my dad and his whole family was there.
Just knowing the history of putting on the candy stripes and being around it, it made it a no-brainer for me. When coach Sampson offered it, there wasn't any other choice.
So that was huge, it changed the trajectory of everything for me. It was great to be at Indiana and I had so many great teammates and they're friendships… multiple guys I played with at Indiana were in my wedding and are still guys I talk to today. I wouldn't trade it for the world.
ITH: I guess you were in a different spot when the coaching transition from Sampson to Crean occurred because you didn't really have a scholarship or a ton of other interest from schools to fall back on. So how did you navigate that period of uncertainty and what was it like to be a walk-on during that first Crean season when there was a bit of craziness?
Barnett: When coach Sampson left it was about midway through my senior year (at Rochester Community High School in Rochester, Indiana) and there was that little bit of uncertainty. I didn't know what I was going to do so I made some calls and had some other options. Coming to Indiana was still my first priority, but it was 'Who was going to be hired? Would they honor that?' Because it's not a scholarship, it's a different deal like you said.
Day one from coach Crean taking the job, we had a good conversation and he reached out and said he would love for me to continue to come there and have the same kind of position. A big part of it was staying on as a grad assistant. I knew that would be huge for coaching and he (Crean) loved that. He loved being able to have a player be with him for four years (and) stay on as a grad assistant.
The first year… it was fun, obviously it was really really hard. Winning six games at such a historic university… you get there and you have a bunch of guys, you have Jordan Crawford, Eli (Holman), a ton of guys who were still there who still could come back and give you a pretty decent core of a team. Then they started dropping like flies, whether it was from coach Crean asking them to leave or them transferring, there were a lot of different situations.
He just wanted to restart the program. Kudos to him because a lot of coaches will go into that situation with different players of talent and just say 'We'll figure it all out.' But he (Crean) kind of knew 'Here's my why. Here's my culture. Here's what I want.' And if you want to fit, great, and if not then there's better opportunities for you.
Nothing against any of the guys who left. They just didn't fit and match where coach Crean wanted to go with it and obviously he built it up there. Each year we got a little better and better. I think my junior year was probably the biggest disappointment. I thought we could have had a better season that year, but from freshman year to sophomore year we didn't have the talent to play, but we fought like crazy.
Then senior year we kind of took that jump once Cody (Zeller) hopped on and came to Indiana. That was a huge breaking point.
That first year was tough, but like I tell our guys (at Nevada) all the time, it's in the hard times that you become closer. The teammates that I went through those years with, I have a bond with and we'll still tell stories and we'll make calls and shoot texts. It's just something that never leaves you. Although you never want to go through it, once you do go through it and as you're going through it, you just pull in and have a different relationship and a different bond with them that you just don't have any other way.
ITH: The fact that you had three years of chipping away, trying to get better as a program before the breakthrough that came in your senior year, how did that affect the way you're able to coach kids and relate to players now since you've gone through plenty of tough seasons?
Barnett: The whole experience, but especially those three years, taught me a ton. It's hard to explain, but there's a book called "The Culture Code" written by Daniel Coyle. He went and saw the San Antonio Spurs and Zappos and all these companies that have an incredible culture and he kind of dove into the why, and it really resonated with me because I saw a lot in those three years of what leads to winning and what doesn't.
You get a feel for it just being around, there's no other way to experience it without going through it. Going through those losing seasons obviously talent was a huge piece, but you see every day and every week what can lead to winning and what can lead to losing. That was a huge experience for me.
Now I have a better pulse on when guys start having a certain kind of mindset or a certain kind of mood that day. I can go and help them reset in a lot quicker way because I went through it, and I went through it on a daily basis. I went through the pain, the sweat, the blood, all of that. I've been there and I've gone through that, so to be able to talk to them on that level was just an incredible experience and it changed the way I see it and it changed why I do it (coaching).
Getting into coaching, the winning and losing is incredibly important, it's how you keep your job. But when it just becomes about that… when your world becomes everything, it really isn't healthy. Being in it that much and losing the way that we did and understanding the expectations, obviously we were letting people down, it was very easy just to focus on 'We were the entire world.'
As you can see right now, there's so many things that are more important, whether it's fighting injustices in the world or things that are going on or building guys who are going to be great fathers and great husbands someday, those are the important things.
You wrap that into winning because winning is important, but those three years really helped me learn that and helped me realize how to constantly connect our guys to the bigger world of 'I know this seems like it's the end-all, be-all and this is just the worst thing that could ever happen to you. But I promise you this isn't close to the adversity you're going to face in life.'
Those three years really helped teach me that.
ITH: Being a walk-on, you were part of the "Bench Mob" during your time at IU. What's the experience like of knowing that one of your main contributions to the team, especially on gamedays, is trying to keep everyone's morale up and get guys hype from your spot on the bench?
Barnett: It obviously was tough. You're going through a lot of practices, and coach Crean was famous for long practices, so your body's getting beat up and you're going through long practices, so it's hard to be able to constantly keep the vision of 'Okay, this is my role. This is what I'm supposed to do.'
You get to a point where, the guys who are playing, they get the opportunity to go into a game and have those minutes in which you see what you put in come to fruition. You don't really get that as a walk-on, so that's why it's helped me again as a coach, be able to really lean on those guys and help them constantly connect back to why they're doing it and how important it is.
Coach Crean did a good job. He would huddle with us and we took a lot of ownership in learning the opponents' gameplan and what their offense was and what their defense was. That way when we were scout team, we could give (our players) the best look that we could.
For any program we had a really good core (of scout team players). You had Jonny Marlin just to give you an example, who ended up leaving and transferring to Indiana Wesleyan which is a really good NAIA school and he gets Player of the Year in the NAIA and they win a national championship. You had those kind of guys every year whether it was Daniel Moore or Broderick Lewis, you had guys who could have had scholarships elsewhere who really wanted to come and got the opportunity to really push our guys.
Especially in practice, that was our motivation was to help continuously push them. And the Bench Mob part of it was just fun. It was a way to keep us all engaged and have energy and have fun and it kind of had a life of its own from our fans. We had such great funs who really loved that part of it, which is awesome and that helped us. It helped bring the energy and it helped separate us in that way.
ITH: Something I have to ask you about is your Senior Night speech in 2012. After beating Purdue, you went up there and recited a poem that you wrote about your time at IU for your Senior Night speech. What was the inspiration for doing that and why did you go about your Senior Night speech that way?
Barnett: Adam Ahlfeld (former IU walk-on guard) was a senior at IU during my senior year of high school, and we had a conversation and he made a little joke to me that actually stuck with me.
He said 'Your only shot to be remembered (as a walk-on) is your senior speech.' And I laughed at that, but as I was building my senior speech, I was trying to find a way to sum up how grateful I was for everything and how much the university had meant to me.
Words can just become white noise at times. Especially because we had five seniors, and we had all gone through so much, so just saying thank you and coming out and explaining what a great experience it's been, everybody's heard that.
So I really wanted to express a way of how much my time there meant to me, how special it was to put those candy stripes on. I wanted to put words to how it changed my life and how it would forever.
The ending of that, I don't remember any of the other parts, but the ending of it: "Whether I become a coach or writer, or maybe a producer, no matter where I go, no matter what I do, I'll always be a Hoosier."
That is what I wanted to convey. Wherever I am, I'm constantly going to be an Indiana Hoosier and that's always a massive part of me. My teammates are my brothers. They're people I constantly talk to, and it's not only about that team it's about what being a Hoosier means in my life and now with my family. So I wanted to make sure I found a way to convey that and make it stick, not just be kind of shallow, white noise.
ITH: What was it like for your formal introduction to coaching to be as a graduate assistant on the 2012-13 IU team?
Barnett: Incredible. I thought something that our team struggled with that year was, it just became too big. It was funny, when I was on a reunion call recently, Cody (Zeller) made some comment that they (the players) saw it in a different way. Because they were players they saw it as fun. I think as a coaching staff it's another thing to deal with.
When the hype starts to build, being No. 1 going into that season and being No. 1 for a lot of that season, you just feel a weight. There's this burden, like this different expectation and you're constantly fighting for that. It taught me to not allow that to take your joy, to not allow it to make your small world 'the world.'
I remember losing to Butler on that last-second shot by (Alex) Barlow and it just seemed like the world was ending. It's just such a feeling of dread, and I think coaching can become that.
So that really helped me and taught me a lot and helped me have a different perspective, so that was a massive blessing. But there were so many fun games. With that team the thing I'll never forget is we were Ohio State's only home loss, Michigan State's only home loss and Michigan's only home loss. Those are three top-10 teams, one that went and played in the National Championship later that year.
To be able to do that just speaks to how good we were. I have no questions, we were the best team in the country and it's sad that… the NCAA tournament, that's part of it. We hit Syracuse on a night where they were better than we were and they win, then Michigan who we beat twice goes to the National Championship and loses to Louisville.
That's another part that really helped me in coaching, you've got to have perspective that it's not always your night. Even when it's not you've got to control what you can control and trust the process and it really taught me a lot. I saw that we were the best team in the country, I was a part of, in my opinion, a team that was better than anybody else, and we didn't win the National Championship, Louisville did.
It's one of those things that, yes it eats away at you looking back at it, but to me it's a great learning tool. It's something that I can look at to say, you can't let your perspective get shifted, you have to stay with the process and trust it and find joy in it every day that you can.
ITH: For anyone who may not quite understand what you do on a day-to-day basis or the value someone in your position provides, what's the importance of what an assistant coach or graduate assistant provides each day to a high major college basketball program?
Barnett: I don't want to make anything too big of it. At the end of it I get to wear golf shorts and sweats to work, and I'm coming to coach basketball. It's an incredible blessing and it's been awesome. Yes, it's a ton of hard work and there's so many things that people don't realize from marketing to helping build a program to making sure of all the outside stuff and helping our guys grow.
The term I can always come back to is 'changing future family trees.' Just helping guys, regardless of what their past is, regardless of where they come from, regardless of the background, helping them understand it's about becoming an elite man and not just becoming a better basketball player. It's about becoming a better professional, a better husband or future father and that's constantly your why. There's a lot that goes into that, a lot of time.
You're trying to invest as much time as you can in those 13 guys. It's amazing that we have that many. To be able to have that core of a team, you can really help surround those guys and push them every day just through texts and conversations… being able to do that is a massive blessing.
Is it tough and draining at times? For sure. But if you can kind of keep your work, your work, and then your family, your family. I don't mind when those two things mesh, especially with our guys… guys who come from a million different backgrounds and we can help mold them and shape them and help them become who they want to become.
As long as they have that mindset of knowing where they want to get, it's about constantly, every day, trying to help them get there.
Filed to: Kory Barnett, Steve Alford