Four-star class of 2021 forward Trey Kaufman commits to Purdue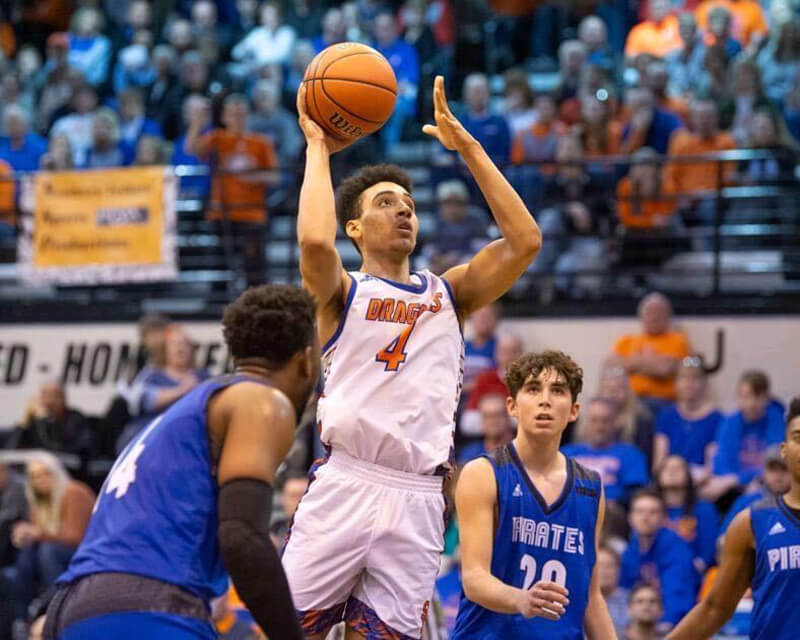 Indiana whiffed on four-star power forward Trey Kaufman as he announced his commitment to Purdue Friday night.
Kaufman made the announcement on 98.5 WJHI with his childhood friend Wyatt Williams.
"I think first off just the their system and the way they like to play," Kaufman said Friday evening. "I think that this suits me and the way I like to play. Just having the ability to not only score but facilitate for others and just having that experience with coach (Micah) Shrewsberry and just their ability to develop guys. And hopefully I can go there and get to the next level and just develop as a player and try to maximize my potential."
A major factor in Kaufman's decision was Purdue's plan for him to play at the small forward position, rather than strictly in the post. After working with his trainer, Kaufman said his body is trending toward the hybrid-forward position on wing.
Indiana had been considered a favorite for a majority of Kaufman's recruitment. The 6-foot 8-inch, 210 pound Kaufman has been one of Indiana's top priorities in the 2021 class. He visited Bloomington multiple times after Indiana offered him two summers ago. Kaufman's teammate on Indiana Elite, center Logan Duncomb, committed to the Hoosiers in April.
Kaufman is ranked as the No. 41 overall prospect in the nation and No. 2 recruit in Indiana, according to the 247Composite. As a junior last season, Kaufman averaged 25.8 points, 9.6 rebounds and 1.6 blocks per game for Silver Creek High School and helped lead the team to a 25-2 record before the season was canceled due to the COVID-19 pandemic. He's an early front runner for this year's Indiana Mr. Basketball.
In early September, Kaufman released a top five list of Indiana, Purdue, Virginia, North Carolina and Indiana State. North Carolina and Virginia both emerged as contenders this past spring, spurring Kaufman two take self-guided tours to Chapel Hill and Charlottesville in the Fall.
"You wake up everyday and you have a different team that you could see yourself, and see the pros of this team," Kaufman told Inside the Hall last month. "There's not one team that's in the lead, but I think these five teams, every other day I'll switch and say 'oh, maybe I want to go to this team, or maybe I want to go to that team.'"
Two weeks ago, Kaufman vacationed in Hilton Head, South Carolina thinking that Purdue was the right fit. When they returned to Indiana, Kaufman's mother asked him if anything changed.
"When I came back it was the same," Kaufman said. "It was Purdue."
Kaufman's decision represents a slight shift in recruiting power in the state of Indiana. Starting with Romeo Langford in 2018, Archie Miller has swayed the last three Indiana Mr. Basketball winners to come to Indiana. It's a part of Miller's "inside out" recruiting approach, convincing top in-state talent to attend IU. For the most part, it has worked.
Kaufman has been viewed as a priority for Indiana, especially with the uncertain future surround Indiana's backcourt. Senior forward Joey Brunk will have exhausted his last year of eligibility, barring his decision to utilize the extra year granted by the NCAA. There's also a chance that sophomore forward Trayce Jackson-Davis will have departed for the NBA if he performs at the preseason All-American level that many expect him to.
That would leave redshirt junior Race Thompson as the only established big man left on Indiana's roster. Duncomb, who's a four-star center, will be added to the mix as a freshman.
Now, a larger emphasis is placed on the recruitment of 2021 four-star forward Mason Miller. The recruitment of Miller has been fairly silent lately, but the commitment of Kaufman to Purdue could strengthen Indiana's pursuit. Miller, who's the son of former NBA player Mike Miller, is ranked as the No. 66 player in the nation, according to the 247Composite.
Indiana is still targeting 2021 five-star small forward Aminu Mohammed, as well. Mohammed is an all-around star that could have an immediate impact at Indiana, although it wouldn't add to the program's post depth. The Hoosiers are considered to be in solid position for Mohammed, who's planning to make a decision this winter.
After missing out on Kaufman, Miller and Mohammed's recruitment will become even more important as Indiana looks to piece together its 2021 class.
Filed to: Trey Kaufman