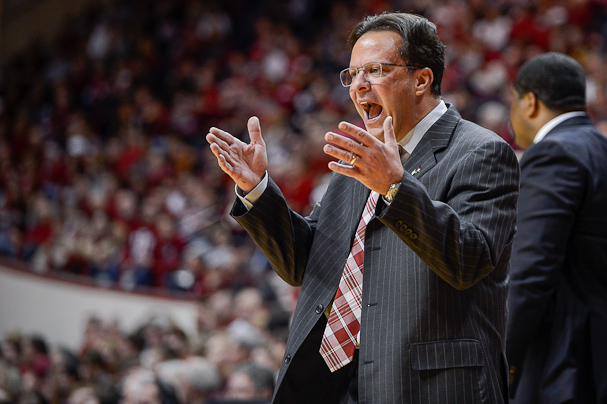 The Big Ten held its first weekly coaches teleconference on Monday morning to review the non-conference season to-date. Here are some notes and quotes from Tom Crean's appearance:
· For the third time this season, Noah Vonleh was named the Big Ten freshman of the week. In games last week against Syracuse and North Florida, Vonleh averaged 15 points and 8.5 rebounds. Ohio State's LaQuinton Ross was named the Big Ten player of the week.
· Crean began by congratulating Ohio State and Michigan State football for "such a great championship game." Crean also congratulated Curt Miller and the IU women's team for their 9-0 start.
· Crean was asked to evaluate the impact that Vonleh has had on the Hoosiers this season:
"He really wants to be not only a great player, but a great winner and great teammate. He's got a unique work ethic in the sense that it's been commonplace for him to be in here, inside this building, not only when he needed to, obviously, but the other times and off times, mornings, nights. He's just constantly, whether he's trying to work on his shot, his post-up game, his free throws, spending more and more time absorbing film on his own, those are the type of things that just lead you to believe that he's going to have a fantastic career."
· Crean said that Luke Fischer is beginning to get healthier as he continues to recover from a torn labrum that forced him to miss a significant part of the preseason.