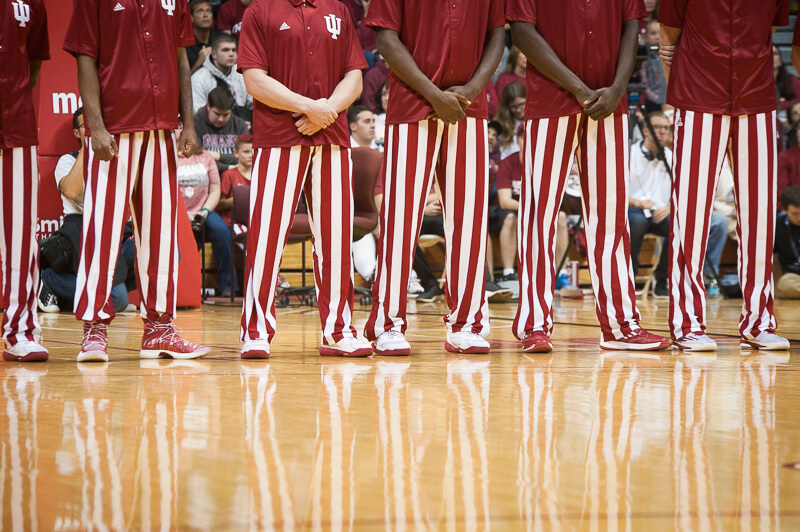 The players have been selected, the teams have been formed and the voting can now commence in round one of the 2010s Assembly Call / Inside The Hall IU players round-robin tournament.
Earlier this week, the results of the 2010s Assembly Call / Inside The Hall IU players draft were revealed to the public. This came in both audio and visual form with a post breaking down the draft on Inside The Hall as well as with the release of this week's episode of Podcast on the Brink.
Now, the fate of the teams drafted by Alex Bozich, Cameron Drummond, Jerod Morris and Dylan Wallace are in the hands of you, the IU basketball fan.
Using the eight-player teams drafted, a round-robin tournament will commence with all teams playing each other once. At the end of all three rounds, we'll take a look at the tournament table and see whose team is victorious, and if any tie-breaking measures like an extra matchup are necessary.
*NOTE* Players were drafted as the "ideal IU version" of that player. So De'Ron Davis is De'Ron prior to his Achilles injury. Maurice Creek is Maurice prior to his injuries, etc.
Tournament results are determined by a fan vote on Inside The Hall's Twitter page, in similar fashion to The Greatest IU Basketball Player of All-Time Bracket.
Because there's a bit more to chew on here in terms of hypothetical matchups between players (Ex: How Trayce Jackson-Davis would fare defensively against Cody Zeller), the voting window for each matchup will be two days, or 48 hours long.
Each post announcing the next round of the tournament will include information about how teams fared in the last round, along with an updated look at the standings.
Here are the matchups and polls to vote in for the opening round:
Alex Bozich vs. Cam Drummond
Starters
Team Alex: (PG) Rob Phinisee, (SG) Victor Oladipo, (SF) Will Sheehey, (PF) Christian Watford, (C) Thomas Bryant
Team Cam: (PG) Jordan Hulls, (SG) James Blackmon Jr., (SF) OG Anunoby, (PF) Justin Smith, (C) Trayce Jackson-Davis
Bench
Team Alex: (PG) Verdell Jones III, (SG) Remy Abell, (PF) Emmitt Holt
Team Cam: (SG) Matt Roth, (PF) Max Bielfeldt, (PF) Race Thompson
Assembly Call-Inside the Hall Round Robin Tournament Matchup:

— Inside the Hall (@insidethehall) May 15, 2020
Jerod Morris vs. Dylan Wallace
Starters
Team Jerod: (SG) Robert Johnson, (SG) Romeo Langford, (SF) Collin Hartman, (PF) Noah Vonleh, (C) Cody Zeller
Team Dylan: (PG) Yogi Ferell, (SG) Nick Zeisloft, (SF) Troy Williams, (PF) Juwan Morgan, (C) De'Ron Davis
Bench
Team Jerod: (SG) Maurice Creek, (SG) Al Durham, (PF) Derek Elston
Team Dylan: (SG) Devonte Green, (SF) Jerome Hunter, (PF) Tom Pritchard
Assembly Call-Inside the Hall Round Robin Tournament Matchup:

— Inside the Hall (@insidethehall) May 15, 2020
Standings: N/A
Filed to: Al Durham, Christian Watford, Cody Zeller, Collin Hartman, Derek Elston, Deron Davis, Devonte Green, Emmitt Holt, James Blackmon Jr., Jerome Hunter, Jordan Hulls, Justin Smith, Juwan Morgan, Matt Roth, Maurice Creek, Max Bielfeldt, Nick Zeisloft, Noah Vonleh, OG Anunoby, Race Thompson, Remy Abell, Robert Johnson, Robert Phinisee, Romeo Langford, Thomas Bryant, Tom Pritchard, Trayce Jackson-Davis, Troy Williams, Verdell Jones, Victor Oladipo, Will Sheehey, Yogi Ferrell