Hoosiers in the NBA: A look at all six former IU players through the season's first month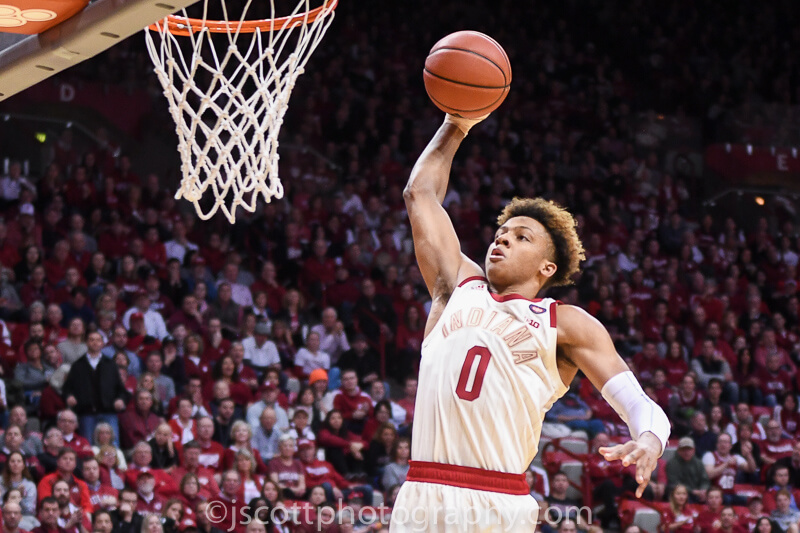 We'll check in periodically on former IU players in the NBA throughout the 2022-23 season in our "Hoosiers in the NBA" series.
With the NBA season entering its fifth week, it's time for our first update.
Eric Gordon – Houston
2022-23 stats (11 games): 12.9 points, 3.4 assists, two rebounds in 30.6 minutes per game.
Gordon has scored in double figures in 10 of the 11 games he's played this season. His season-high of 19 points came in a 134-127 win at Orlando on Nov. 7. Gordon made five of his eight 3-point attempts in the win.
For the season, the North Central product is shooting 36.7 percent on 3s and 42.8 percent overall from the field. Gordon is in the third season of a four-year contract in Houston, but next season is not guaranteed. With the Rockets at 2-11 overall and headed toward the NBA draft lottery, Gordon could be a potential trade chip as the season progresses.
Noah Vonleh – Boston
2022-23 stats (11 games): 2.1 points, 3.3 rebounds in 11.5 minutes per game
Vonleh found his way back into the NBA with a strong training camp and preseason that landed him on the Celtics roster. With Robert Williams sidelined, Vonleh is logging just under 12 minutes per game through the first four weeks of the season.
While he's yet to score in double figures this season – he hasn't attempted more than four shots in a game – Vonleh has played double-figure minutes in six games. He's been excellent with setting screens and playing his role for first year coach Joe Mazzulla. In Boston's most recent game, a 117-108 win at Detroit on Saturday, Vonleh finished with two points, seven rebounds and two assists in 20 minutes off the bench.
O.G. Anunoby – Toronto
2022-23 stats (14 games): 17.2 points, 6.1 rebounds, 1.8 assists in 35.4 minutes per game
The best former Hoosier in the NBA, Anunoby continues to improve each season. While Scottie Barnes has struggled and Pascal Siakam is currently sidelined with an injury, Anunoby's production has been consistent. He's scored in double figures in 13 of the team's 14 games.
Anunoby is shooting 47 percent from the field and 37.7 percent from beyond the 3-point line. He's also averaging a career-high 6.1 rebounds through the first month of the season.
Romeo Langford – San Antonio
2022-23 stats (7 games): 4.3 points, two rebounds in 16.3 minutes per game
The Spurs are a surprising 6-7 through 13 games, but Langford has seen a wide variation in his minutes from game to game. Some nights he's a DNP and other nights he logs double-figure minutes. While injuries haven't been an issue this season, Langford is now out due to health and safety protocols.
Offensively, Langford's game continues to lag behind his defense. He's shooting only 14.3 percent from 3-point range this season. His best offensive output of the season was seven points in a 107-98 win against Minnesota on October 30.
Victor Oladipo – Miami
2022-23 stats: Has not played due to knee injury
Oladipo inked a one-year deal to return to Miami over the summer but has not appeared in a game due to a knee injury. A clear timetable for Oladipo's return has not been announced. When he can play again, he's expected to be a key piece off the bench for the Heat. Last season, he played in each of Miami's final 15 playoff games.
Thomas Bryant – Los Angeles Lakers
2022-23 stats: Has not played due to thumb injury
Bryant has also missed the first month of the season with an injury. The latest update is that Bryant will be reevaluated on Thursday, Nov. 17. When he returns to the floor, he's expected to be in the rotation as a backup at the five for the struggling Lakers.
Filed to: Eric Gordon, Noah Vonleh, O.G. Anunoby, Romeo Langford, Thomas Bryant, Victor Oladipo