Hoosiers in the NBA: Eight former IU players to compete at Walt Disney World Resort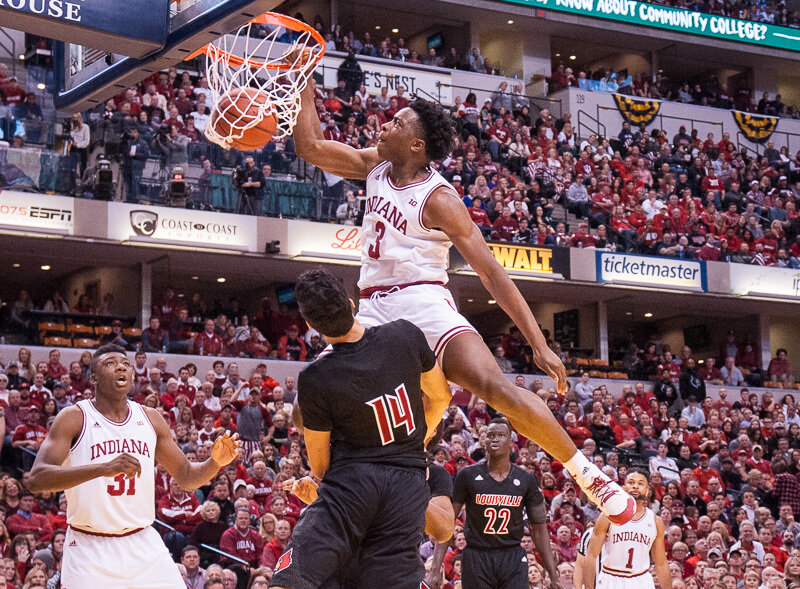 The NBA will resume its regular season late next month at the Walt Disney World Resort's Wide World of Sports in Bay Lake, Florida.
Twenty-two teams are scheduled to compete for 16 playoff spots and eight different Indiana players are expected to compete. Cody Zeller is the only former Hoosier in the NBA who will not play as Charlotte is out of playoff contention.
Here are a few details on how things will be set up:
The season, which was interrupted by the pandemic, will resume in July with team practices and games played at ESPN Wide World of Sports Complex in the Arena, HP Field House and Visa Athletic Center.

Game play will resume on July 30 with 22 teams (the eight teams in each conference with the highest current winning percentages and the six teams currently within six games of the eighth seed in either conference) competing to determine seeding for the NBA Playoffs. The playoffs will feature 16 teams and the NBA Finals will end no later than October 13 at ESPN Wide World of Sports Complex.
Here's a player-by-player guide of how you can watch each former Hoosier when the NBA resumes in late July.
Romeo Langford, Boston Celtics: 2.6 ppg, 1.2 rpg, 37.5% FG, 69.6% FT in 11 minutes per game
Boston Celtics (43-21, third in East)
• vs. Milwaukee Bucks on Friday, July 31 (6:30 p.m. ET, ESPN)
• vs. Portland Trail Blazers on Sunday, August 2 (3:30 p.m. ET, ABC)
• vs. Miami Heat on Tuesday, August 4 (6:30 p.m. ET, TNT)
• vs. Brooklyn Nets on Wednesday, August 5 (9:00 p.m. ET, ESPN)
• vs. Toronto Raptors on Friday, August 7 (9:00 p.m. ET, TNT)
• vs. Orlando Magic on Sunday, August 9 (5:00 p.m. ET)
• vs. Memphis Grizzlies on Tuesday, August 11 (6:30 p.m. ET, TNT)
• vs. Washington Wizards on Thursday, August 13 (TBD, TBD)
Noah Vonleh, Denver Nuggets: 3.8 ppg, 3.7 rpg, 56.2% FG in 11 minutes per game
Denver Nuggets (43-22, third in West)
• vs. Miami Heat on Saturday, August 1 (1:00 p.m. ET, ESPN)
• vs. Oklahoma City Thunder on Monday, August 3 (4:00 p.m. ET, NBA TV)
• vs. San Antonio Spurs on Wednesday, August 5 (4:00 p.m. ET)
• vs. Portland Trail Blazers on Thursday, August 6 (8:00 p.m. ET)
• vs. Utah Jazz on Saturday, August 8 (3:30 p.m. ET, TNT)
• vs. Los Angeles Lakers on Monday, August 10 (9:00 p.m. ET, TNT)
• vs. LA Clippers on Wednesday, August 12 (9:00 p.m. ET, ESPN)
• vs. Toronto Raptors on Friday, August 14 (TBD, TBD)
Eric Gordon, Houston Rockets: 14.5 ppg, 1.9 rpg, 0.6 steals per game, 1.5 assists per game, 37% FG, 31.9% 3PFG in 28.6 minutes per game
Houston Rockets (40-24, tied for fifth in West)
• vs. Dallas Mavericks on Friday, July 31 (9:00 p.m. ET, ESPN)
• vs. Milwaukee Bucks on Sunday, August 2 (8:30 p.m. ET, ABC)
• vs. Portland Trail Blazers on Tuesday, August 4 (9:00 p.m. ET, TNT)
• vs. Los Angeles Lakers on Thursday, August 6 (9:00 p.m. ET, TNT)
• vs. Sacramento Kings on Sunday, August 9 (8:00 p.m. ET)
• vs. San Antonio Spurs on Tuesday, August 11 (2:00 p.m. ET, NBA TV)
• vs. Indiana Pacers on Wednesday, August 12 (4:00 p.m. ET, NBA TV)
• vs. Philadelphia 76ers on Friday, August 14 (TBD, TBD)
Victor Oladipo, Indiana Pacers: 13.8 ppg, 3.2 rpg, 3.0 assists per game, 39.1% FG, 30.4 3FG%, 78.0% FT in 25.9 minutes per game
Indiana Pacers (39-26, tied for fifth in East)
• vs. Philadelphia 76ers on Saturday, August 1 (7:00 p.m. ET)
• vs. Washington Wizards on Monday, August 3 (4:00 p.m. ET)
• vs. Orlando Magic on Tuesday, August 4 (6:00 p.m. ET)
• vs. Phoenix Suns on Thursday, August 6 (4:00 p.m. ET)
• vs. Los Angeles Lakers on Saturday, August 8 (6:00 p.m. ET, TNT)
• vs. Miami Heat on Monday, August 10 (8:00 p.m. ET)
• vs. Houston Rockets on Wednesday, August 12 (4:00 p.m. ET, NBA TV)
• vs. Miami Heat on Friday, August 14 (TBD, TBD)
Yogi Ferrell, Sacramento Kings: 4.2 ppg, 1.1 rpg, 1.3 apg, 39.6% FG, 27.5% 3FG in 11 minutes per game
Sacramento Kings (28-36, 11th in West)
• vs. San Antonio Spurs on Friday, July 31 (8:00 p.m. ET)
• vs. Orlando Magic on Sunday, August 2 (6:00 p.m. ET)
• vs. Dallas Mavericks on Tuesday, August 4 (2:30 p.m. ET)
• vs. New Orleans Pelicans on Thursday, August 6 (1:30 p.m. ET, NBA TV)
• vs. Brooklyn Nets on Friday, August 7 (5:00 p.m. ET)
• vs. Houston Rockets on Sunday, August 9 (8:00 p.m. ET)
• vs. New Orleans Pelicans on Tuesday, August 11 (9:00 p.m. ET, TNT)
• vs. Los Angeles Lakers on Thursday, August 13 (TBD, TBD)
OG Anunoby, Toronto Raptors: 10.7 ppg, 5.4 rpg, 1.6 apg, 1.4 steals per game, 50.7% FG, 38.1% 3PFG in 30.1 minutes per game
Toronto Raptors (46-18, second in East)
• vs. Los Angeles Lakers on Saturday, August 1 (8:30 p.m. ET, ESPN)
• vs. Miami Heat on Monday, August 3 (1:30 p.m. ET, NBA TV)
• vs. Orlando Magic on Wednesday, August 5 (8:00 p.m. ET)
• vs. Boston Celtics on Friday, August 7 (9:00 p.m. ET, TNT)
• vs. Memphis Grizzlies on Sunday, August 9 (2:00 p.m. ET)
• vs. Milwaukee Bucks on Monday, August 10 (6:30 p.m. ET, ESPN)
• vs. Philadelphia 76ers on Wednesday, August 12 (6:30 p.m. ET, ESPN)
• vs. Denver Nuggets on Friday, August 14 (TBD, TBD)
Juwan Morgan, Utah Jazz: 1.2 ppg, 1.2 rpg, 52.9% FG in 4.6 minutes per game
Utah Jazz (41-23, fourth in West)
• vs. New Orleans Pelicans on Thursday, July 30 (6:30 ET, TNT)
• vs. Oklahoma City Thunder on Saturday, August 1 (3:30 ET, ESPN)
• vs. Los Angeles Lakers on Monday, August 3 (9:00 p.m. ET, ESPN)
• vs. Memphis Grizzlies on Wednesday, August 5 (2:30 p.m. ET)
• vs. San Antonio Spurs on Friday, August 7 (1:00 p.m. ET)
• vs. Denver Nuggets on Saturday, August 8 (3:30 p.m. ET, TNT)
• vs. Dallas Mavericks on Monday, August 10 (3:00 p.m. ET, NBA TV)
• vs. San Antonio Spurs on Thursday, August 13 (TBD, TBD)
Thomas Bryant, Washington Wizards: 12.1 ppg, 6.8 rpg, 1.9 apg, 0.9 blocks per game, 59.9% FG, 40.7% 3PFG in 23.7 minutes per game
Washington Wizards (24-40, ninth in East)
• vs. Phoenix Suns on Friday, July 31 (4:00 p.m. ET)
• vs. Brooklyn Nets on Sunday, August 2 (2:00 p.m. ET)
• vs. Indiana Pacers on Monday, August 3 (4:00 p.m. ET)
• vs. Philadelphia 76ers on Wednesday, August 5 (4:00 p.m. ET, NBA TV)
• vs. New Orleans Pelicans on Friday, August 7 (8:00 p.m. ET)
• vs. Oklahoma City Thunder on Sunday, August 9 (12:30 p.m. ET)
• vs. Milwaukee Bucks on Tuesday, August 11 (9:00 p.m. ET)
• vs. Boston Celtics on Thursday, August 13 (TBD, TBD)
Filed to: Eric Gordon, Juwan Morgan, Noah Vonleh, OG Anunoby, Romeo Langford, Thomas Bryant, Victor Oladipo, Yogi Ferrell