Hoosiers in the NBA: OG Anunoby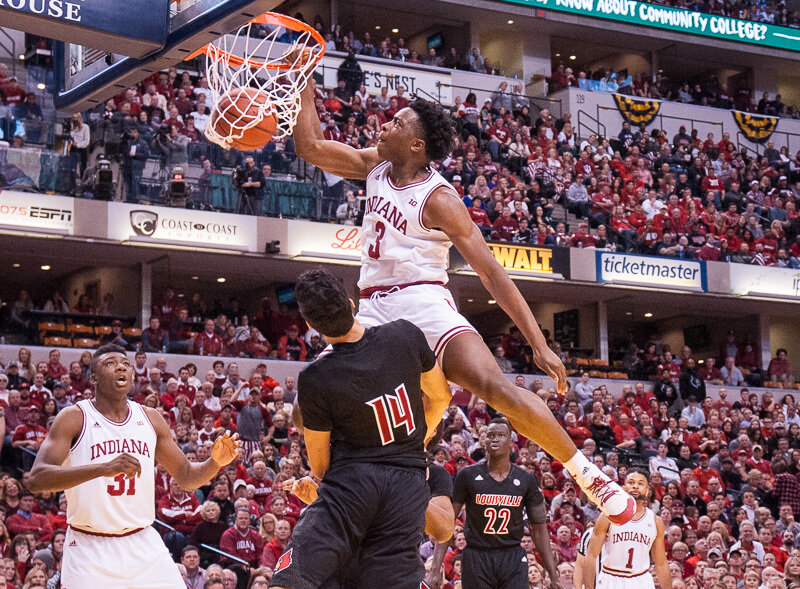 Welcome to "Hoosiers in the NBA," a player-by-player look at how IU basketball alums have fared during the 2019-20 NBA season. Today, the nine-part series continues with OG Anunoby. Previously: Eric Gordon, Cody Zeller, Victor Oladipo, Juwan Morgan, Noah Vonleh, Yogi Ferrell, Thomas Bryant.
Anunoby (63 games): 10.7 ppg, 5.4 rpg, 1.6 apg, 1.4 steals per game, 50.7% FG, 38.1% 3PFG in 30.1 minutes per game
OG Anunoby was having a career year before the NBA season was postponed due to the COVID-19 pandemic.
Anunoby, a third-year starter on the Toronto Raptors, was averaging 10.7 points, 5.4 rebounds, 1.6 assists and 1.4 steals across 63 games this season.
He is second on the team in field goal percentage, shooting 50.7 percent from the field, only behind Serge Ibaka at 51.8 percent. Anunoby is also second in effective field goal percentage at 58.4 percent, behind Norman Powell, who has only played 44 games, at 59.3 percent. In terms of two-point field goal percentage, Anunoby leads the team at 59.3.
It's been promising to see Anunoby thrive this season, especially after having an emergency appendectomy in April last year, forcing him to miss most of the Raptors' playoff run in which they won the NBA championship for the first time in franchise history.
Although he did not appear in a finals game, Anunoby was averaging seven points and three rebounds throughout the regular season last year and was a key part of the Raptors' rotation.
After Toronto defeated the Golden State Warriors in six games last June, Anunoby became the seventh IU player to be a part of an NBA team that won the NBA championship. He joined the list of Herm Schaefer (1949-50), Dick Farley (1954-55), Jon McGlockin (1970-71), Steve Downing (1973-74), Quinn Buckner (1983-84) and Isiah Thomas (1988-89, 1989-90).
Anunoby's Indiana career was filled with promise, and as good as his freshman season was with the Hoosiers, it was the coming years that had fans most excited. Unfortunately, he suffered a season-ending leg injury early on during his sophomore season.
He then chose to forego his two years of eligibility remaining and entered the NBA draft, where the Raptors took him 23rd overall in 2017.
Since then, Anunoby's talents have translated well to the NBA, and he has been what Indiana fans know him to be — an above average defender with great athleticism at the rim and a reliable 3-point shot.
After Kawhi Leonard left this past summer to join the Los Angeles Clippers, Anunoby has filled that fifth spot in the Raptors' starting lineup this season. The pairing of him and rising star Pascal Siakam at the wings gives Toronto an extremely versatile duo on both ends of the floor.
Before the season came to a halt, Anunoby and the Raptors had the second-best record in the Eastern Conference at 46-18, three games in front of the third place Boston Celtics and six and a half games back from the first place Milwaukee Bucks.
Many speculated this would be a down year for the Raptors since Leonard departed for LA, but the continuity of the group has remained strong, and Anunoby has played a big role in that, especially on the defensive end.
Anunoby's defensive rating — an estimate of points allowed per 100 possessions — is 104.5, which ranks 14th best in the league. His defensive win shares — an estimate of the number of wins contributed by a player due to his defense — is 3.3, which ranks 10th in the NBA.
Bottom line: Each year Anunoby has been in the league, he has gotten better. It was unfortunate he wasn't able to be fully healthy and appear in the NBA Finals last year, but with how the Raptors are playing and Anunoby's increased role on the team, there may be another opportunity for that in the near future. Anunoby's enigmatic personality has also turned him into a fun character on social media, being short with the media in a humorous way or wearing big scarves pregame and sparking an argument with teammate Serge Ibaka on whose scarf is better. Only 22 years old, Anunoby is only going to continue to grow both on and off the floor and be a pleasant presence within the NBA.
Quotable: "OG's been great this year, overall, defensively, offensively. Tonight was a case of him hitting 3s and getting buckets and getting in transition. Everything is encouraging with OG, and as long as he continues to grow and keep getting better, we'll get better." — Kyle Lowry after a loss to the Nuggets on March 1.
Filed to: OG Anunoby