Hoosiers in the NBA: Juwan Morgan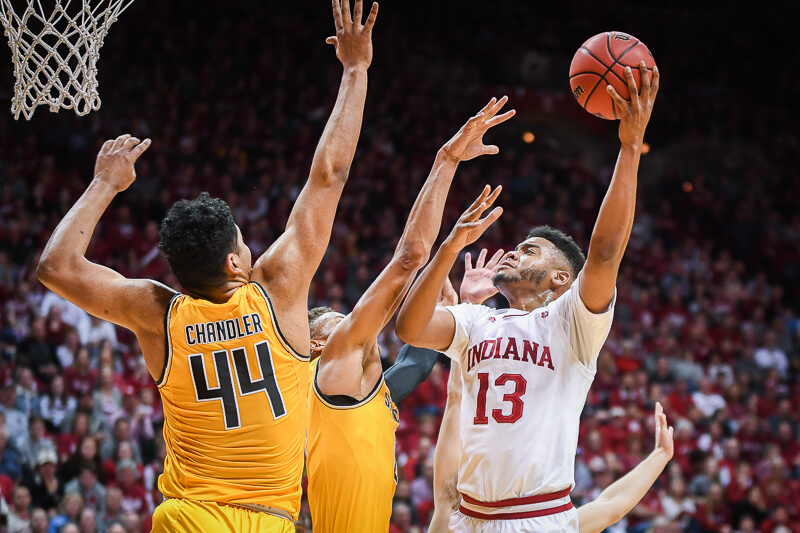 Welcome to "Hoosiers in the NBA," a player-by-player look at how IU basketball alums have fared during the 2019-20 NBA season. Today, the nine-part series continues with Juwan Morgan. Previously: Eric Gordon, Cody Zeller, Victor Oladipo.
Morgan (16 games): 1.2 ppg, 1.2 rpg, 52.9% FG in 4.6 minutes per game
Juwan Morgan's determination and versatility, two values created during his four seasons at Indiana, allowed for the Hoosiers' 2018-19 roster to produce two NBA players instead of just one.
Romeo Langford was the lone member of that team to be taken in the NBA draft, selected 14th overall by the Boston Celtics. While that in and of itself doesn't assure NBA success, it represents a far more desirable position for a player entering the league to be in compared to where Morgan found himself.
But after signing an undrafted free agent deal with the Utah Jazz, Morgan had the NBA Summer League to prove his value.
This led to Morgan signing an Exhibit-10 contract with the Jazz and earning regular playing time with the franchise's G-League affiliate, the Salt Lake City Stars, before Morgan signed a new contract with Utah in late November. In the following months, Morgan became a regular bench member for the Jazz.
Morgan's ability to adapt to different styles of play at Indiana endeared him to the Hoosier fanbase, even though postseason success during his time in Bloomington was scarce. Deployed in different roles by Tom Crean and Archie Miller, Morgan gained experience playing around the basket as a traditional center as well as in smaller lineups in the three and four spot.
He finished his Hoosier career with 1,374 points, 757 rebounds and 138 blocked shots, metrics that rank him in the top-30 in all three categories in IU history.
Those final two stats in particular will likely serve Morgan well as he looks to use hustle plays to carve out a larger role for himself moving forward in Utah. The Jazz had another stellar regular season in the works (including a 41-23 record) at the time of the NBA's postponement.
Bottom Line: Morgan's NBA career is still very much in its infant stages.
He's yet to make a sizable impact when competing at the professional level, but he also hasn't been given much of an opportunity to do so thus far. Few mock drafts leading up to the 2019 NBA draft had Morgan being selected, so the first hurdle for his NBA aspirations has already been cleared by earning a roster spot with a successful team.
The next step will be to continue to do enough during practice and the game time he's afforded, in addition to gaining a bit of luck, in order to take the next step.
Quotable: "I would say the scouting report (on myself) is just someone who's going to get in there and pretty much do the same thing every night. Get offensive rebounds, get extra possessions, do little things on defense, talk. The team already has great scorers, they don't need that.
And they just need people (who) will go out there and give 100 percent each day, and I'm excited for it all. Every bit of this, I'm just excited for," Morgan during Utah Jazz media day last September.
Filed to: Juwan Morgan