Hoosiers in the NBA: Eric Gordon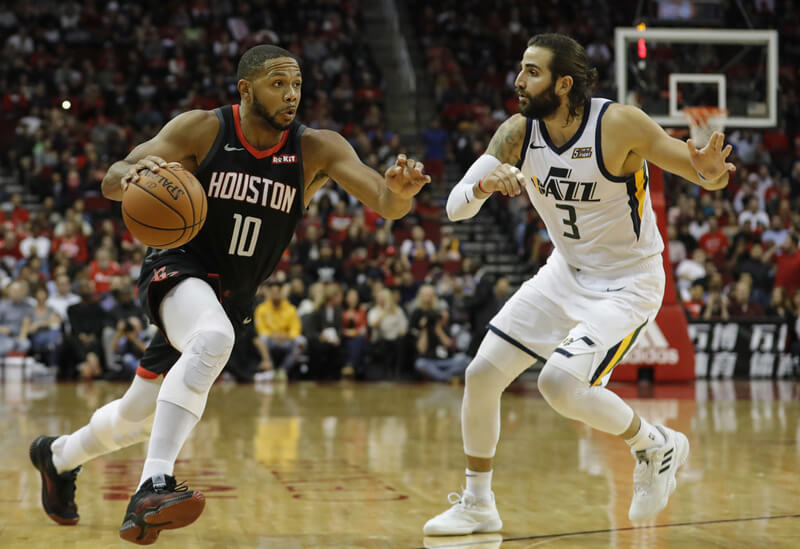 Welcome to "Hoosiers in the NBA," a player-by-player look at how IU basketball alums have fared during the 2019-20 NBA season. Today, the nine-part series begins with Eric Gordon.
Gordon (34 games): 14.5 ppg, 1.9 rpg, 0.6 steals per game, 1.5 assists per game, 37% FG, 31.9% 3PFG in 28.6 minutes per game
Former first-round draft pick and NBA sixth man of the year Eric Gordon had recovered nicely from an injury-riddled start to the 2019-20 season with the Houston Rockets by the time the NBA ground to a halt in March.
Just three weeks into the season, Gordon had to undergo arthroscopic surgery on his right knee and was subsequently out of action until the end of December.
But it didn't take Gordon long to regain his scoring form. While Gordon shot 37 percent from the floor over the course of the abbreviated season, a 5.5-percent decrease from his career average, there were several high-scoring performances to note during his 34 games on the court (13 of which were starts).
Gordon scored 15 or more points for Houston on 17 occasions, including a career-best 50 points on 14 of 22 field goal shooting (6-11 shooting on 3s) during a January road win at the Utah Jazz.
This showing put Gordon into elite company among his Houston teammates, as he became the third Houston Rocket during the 2019-20 season to score 40 or more points in a game, joining a pair of prolific backcourt scorers in James Harden and Russell Westbrook.
Gordon also became the first Houston player other than Harden to score 50 or more points for the franchise in the last 24 years.
It was a timely reminder of just how good Gordon's scoring ability has translated to the professional ranks.
During his lone season at Indiana (2007-08), Gordon averaged 20.9 points for the Hoosiers and set IU freshman records for points (669), field goals attempted (425) and free throws made (231) en route to earning Big Ten freshman of the year honors.
While knee and wrist injuries were common for Gordon at the start of his NBA journey with the Los Angeles Clippers (who drafted Gordon seventh overall in the 2008 NBA Draft) and the New Orleans Hornets / Pelicans, he had truly come into his own in Houston.
In the three seasons prior to the 2019-20 campaign, Gordon played in 212 of a possible 246 regular-season games for the Rockets, making 98 starts as he adapted well to a new role coming off the bench.
Plenty of winning followed, as the Rockets reached a pair of Western Conference semifinals and one Western Conference finals in 2018.
At the time the NBA suspended play this season, Houston was 40-24 overall (21-13 in games Gordon played) and led the Southwest Division by 1.5 games over the Dallas Mavericks.
Bottom Line: Compared to past seasons it's undeniable Gordon had a down year in 2019-20.
The recurrence of his injury woes led to his lowest effective field goal percentage (47.5%) since 2013 and the worst field goal shooting percentage of his entire NBA career.
But Gordon appeared to be rounding into form at the right time for the Rockets, one of the main contenders in the Western Conference who were attempting to achieve postseason success with a dramatically small starting lineup (6-foot 5-inch P.J. Tucker was often deployed as Houston's center).
Gordon will turn 32 years old in December, but thanks to the specialist role he's flourished in during the past four seasons in Houston, it seems likely he has plenty of meaningful games left to play after signing a four-year contract extension last September to stay with the Rockets.
Quotable: "It really feels great, man. All the stuff I've been through over the years. All the injuries. For me to get a chance to get 50, it definitely means a lot. And I'm headed in the right direction," Gordon after his 50-point game against Utah in January.
(Photo credit: Getty Images North America)
Filed to: Eric Gordon