Hoosiers in the NBA: Cody Zeller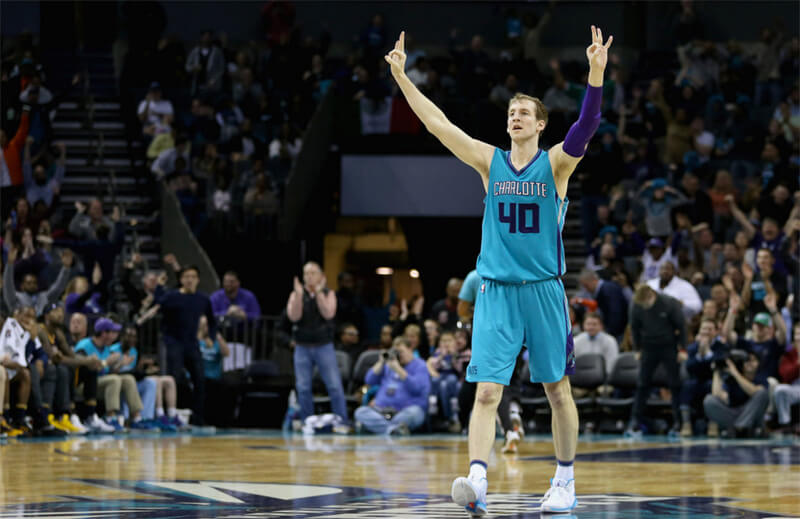 Welcome to "Hoosiers in the NBA," a player-by-player look at how IU basketball alums have fared during the 2019-20 NBA season. Today, the nine-part series continues with Cody Zeller. Previously: Eric Gordon.
Zeller (58 games): 11.1 ppg, 7.1 rpg, 1.5 assists per game, 52.4% FG, 68.2% FT in 23.1 minutes per game
Cody Zeller was enjoying one of his best individual seasons as a professional when the NBA suspended play on March 11.
The 7-footer, who has spent his entire career in Charlotte after being selected fourth overall in the 2013 NBA draft, was still playing a significant role on a team that had otherwise decided to emphasize its young players.
After All-Star Kemba Walker departed for Boston last summer, the Hornets had little hope of competing for a playoff spot this season. And in a league that offers little reward for trying to stay in the middle of pack versus tanking for a lottery pick, Charlotte's 23-42 record will land the franchise in the lottery when the season eventually ends.
For Zeller, who is in his seventh NBA season, the fall back to near the bottom of the Eastern Conference standings has taken its toll at times.
"It's been one of the toughest year for me mentally more than anything else because we are in kind of a transition period where we have a couple of veteran contracts," Zeller told Inside the Hall in April. "45 million dollars come off the books after this year. So the front office has kind of invested in the younger guys."
Despite all of the losing in Charlotte, Zeller's play had been a bright spot in 58 games for the Hornets. He was averaging career-bests in both points and rebounds per game and despite the youth movement on the roster, Zeller was in the starting lineup 39 times.
As an active frontcourt player who can play above the rim and runs the floor well, it's not uncommon to see a Zeller finish (like the one below) end up on a highlight reel.
One change in Zeller's game this season was the attempt to expand his game to the perimeter. Entering the season, he had taken only 38 3-point attempts in his career. This season, Zeller has already attempted 75, but with limited success (24.8 percent).
"I've tried to use it as a little bit of a development year from me as well," he said. "I've tried to expand my game into other areas and work on some things that maybe I wouldn't necessarily do if we were trying to win every night or were in close games every night."
Bottom line: At 27, the Washington native is in the third year of a four-year contract that will pay him a total of $56 million.
Injuries have derailed his career at times in Charlotte, but Zeller had only missed seven of the team's 65 games when play was suspended in March.
While Zeller may have not reached the superstardom that is sometimes expected out of a top four pick in the draft, he's been a reliable contributor throughout his career who has steadily improved. He's well liked by the fans and his teammates in Charlotte and his veteran presence holds plenty of value on a roster with several young players trying to find their way in the league.
Quotable: "The core group of guys that I've spent most of my career with, a lot of those guys are gone. Kemba (Walker), Marvin Williams, Frank Kaminsky, Jeremy Lamb, Michael Kidd-Gilchrist. Those are the guys I was close with. It's a whole new group and it is younger guys that are trying to figure it out. I've been fortunate because I am one of the veteran guys that has gotten a good amount of playing time this year. I've been thankful for that." – Zeller on this season's transition in Charlotte.
Filed to: Cody Zeller