Hoosiers in the NBA: Victor Oladipo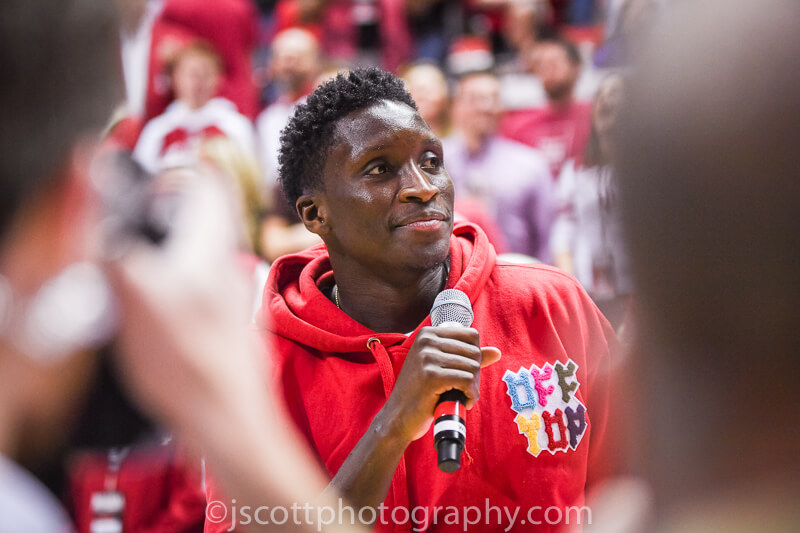 Welcome to "Hoosiers in the NBA," a player-by-player look at how IU basketball alums have fared during the 2019-20 NBA season. Today, the nine-part series continues with Victor Oladipo. Previously: Eric Gordon, Cody Zeller.
Oladipo (13 games): 13.8 ppg, 3.2 rpg, 3.0 assists per game, 39.1% FG, 30.4 3FG%, 78.0% FT in 25.9 minutes per game
Victor Oladipo was finally starting to get his rhythm back right before Adam Silver announced the NBA was suspending its season due to COVID-19.
The day before the NBA went on hold, the Pacers hosted the Celtics in Bankers Life Fieldhouse. Though Boston prevailed 114-111, Oladipo had one of his best games of the season, mounting a late comeback in which he scored 10-straight points in the fourth quarter to tie the game with three minutes to go.
He was starting to look like the player he was before the injury, which was a ruptured quad tendon in his right knee in January of 2019. The injury took him out for the remainder of last season, where he was averaging 18.8 points, 5.6 rebounds and 5.2 assists per game, and the Pacers were primed for the postseason.
It was a long road to recovery for Oladipo, who finally returned to action on the court on Jan. 29 this year, over a year after the injury took place.
Oladipo checked in with 4:12 left in the first quarter to a standing ovation from the Pacers crowd, who were all holding up signs that said, "Ready 4 Action," in honor of Oladipo's jersey number.
It was quiet night for Oladipo on the court, but with the team down three, he rose up and hit a 3-pointer with nine seconds left to force overtime, eventually leading to a Pacers victory over the Chicago Bulls.
"Words can't describe it," Oladipo said after his return. "It's been a hard, hard year. Tough times don't last but tough people do."
It was an emotional postgame interview, where Oladipo thanked his family, teammates and fans for their support. He also dedicated his game-tying shot to Kobe and Gianna Bryant, along with the seven other people tragically killed in a helicopter crash in January, calling his shot "Mamba Mentality."
The ensuing games following Oladipo's return were a bit of a struggle. The Pacers lost six in a row after the victory over the Bulls, trying to integrate Oladipo into the rotation and build chemistry with the new additions such as Malcom Brogdon.
The more they played together the better they got, winning 8 of 10 games spanning from Feb. 12 to March 8.
The minutes restriction placed on Oladipo when he returned were starting to be lifted, and it came into full effect in that three-point loss to the Celtics on March 10, where he scored 27 points in 29 minutes. Unfortunately, that was the last time Oladipo saw the floor.
In his 13 games played so far this season, he was averaging 13.8 points, 2.6 rebounds and three assists. If the NBA does resume its season, the Pacers will be in the playoffs as they are currently the fifth seed in the Eastern Conference with a record of 39-26.
Oladipo has been entertaining his fans on his Instagram during quarantine lately, hosting live concerts and recently getting ready to co-host a virtual #TacoTuesday event put on Cholula, which will raise money for independent restaurants. For each view the hosts receive, Cholula will pledge $1. Oladipo has 1.4 million followers on Instagram.
Bottom line: Ever since Oladipo was traded to the Pacers in 2017 from the Oklahoma City Thunder, he has become the face of the franchise. His All-Star season in 2017-18 won him the NBA's most improved player award. It didn't take long for the state to embrace him as Oladipo played for three years at IU, putting the Hoosiers back on the map. Now, he's doing the same with the Pacers. Even though injury has kept him out for a majority of this season, having Oladipo back and healthy for a potential playoff run will be huge for the Pacers in a wide-open Eastern Conference. If the NBA doesn't resume this season, Oladipo is only 28 years old, so the dynamic two-way guard has plenty of his prime left for the Pacers.
Quotable: "I had two decisions to make. I could either look at it in a positive or negative way. Me being who I am, I had to look at it in a positive way. I'm just using this time to continue to grow. I'm using this time to continue to build the strength in my knee and (quadricep) tendon so that I can come back better than I was when I was healthy. That's what I've been focused on every day since the quarantine started. It's a tough and weird time but everything happens for a reason. It's up to us to choose what we do with the time that's given to us. Seeing as how we're locked down, we have to be creative and figure out ways to get better." — Oladipo in a recent interview with Forbes.
Filed to: Victor Oladipo