Hoosiers in the NBA: Thomas Bryant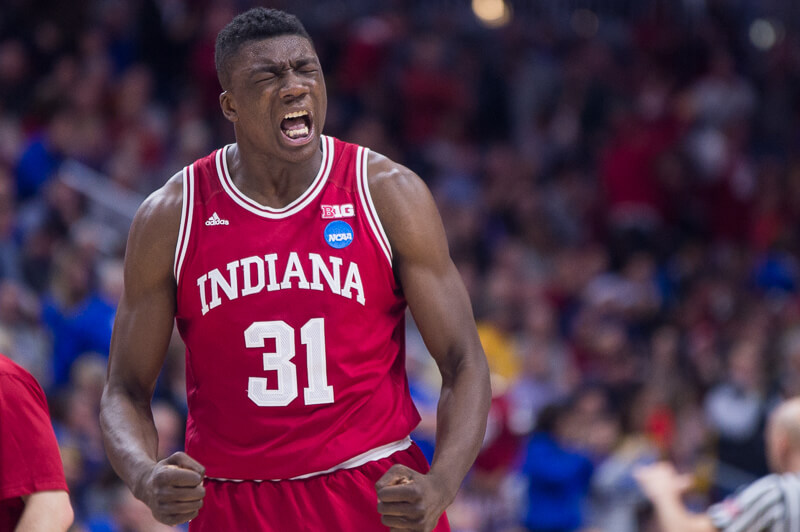 Welcome to "Hoosiers in the NBA," a player-by-player look at how IU basketball alums have fared during the 2019-20 NBA season. Today, the nine-part series continues with Thomas Bryant. Previously: Eric Gordon, Cody Zeller, Victor Oladipo, Juwan Morgan, Noah Vonleh, Yogi Ferrell.
Bryant (38 games): 12.1 ppg, 6.8 rpg, 1.9 apg, 0.9 blocks per game, 59.9% FG, 40.7% 3PFG in 23.7 minutes per game
Thomas Bryant's most productive NBA season was halted by the suspension of the league due to COVID-19.
Bryant, a one-time member of the Los Angeles Lakers, signed a three-year, $25 million deal last summer to return to the Washington Wizards, with whom he burst onto the NBA scene during the 2018-19 season.
Bryant has been a bright spot for an otherwise awful Washington team over the past two seasons. After making 15 appearances, and averaging less than five minutes per game with Los Angeles during the 2017-18 season, Bryant became a regular starter for the Wizards in 2018-19.
He played in 72 games and made 53 starts that season, making more than 61 percent of his field goals and averaging more than 10 points and six rebounds per game.
This included a memorable December 2018 game against Phoenix in which Bryant scored a career-high 31 points on 14-of-14 shooting. It was only the seventh game in NBA history featuring a player who made at least 14 field goals without a miss.
Thanks to this blast of production and the energetic style with which Bryant plays at both ends of the court, he was handsomely rewarded last offseason with the aforementioned contract.
So far at least, it seems a good bit of business for the Wizards, who despite having a 24-40 record at the time the NBA season was halted were still just one spot out of the playoffs in the NBA's Eastern Conference.
Bryant led Washington in rebounds per game and was second on the team in field goal percentage this season, forming a youthful frontcourt tandem with rookie Rui Hachimura from Gonzaga. Bryant and fellow big man Ian Mahinmi combined to average more than two blocks per game for the Wizards.
Bryant's individual NBA success so far harkens back to memories of his playing days at Indiana, where he played a pair of seasons under Tom Crean and averaged 12.2 points, 6.2 rebounds and more than a block per game over 69 career games and starts.
Bottom Line: While his next-level development seems to be progressing smoothly, Bryant will likely want to find more team success in the NBA before too long.
He's set to have two years remaining on his current contract, but it will take longer for the Wizards to return to even mediocrity in the Eastern Conference. A recent example of a former IU big man who has had a solid individual NBA career, but without any meaningful team success, has been Cody Zeller, who has spent his entire seven-season career in Charlotte and has never made it out of the first round of the playoffs.
Bryant will turn only 23 this summer though, and so long as his solid play continues on the court, he should have a lengthy list of suitors once his contract is up.
Quotable: "He's a vocal guy. He's one of our leaders, and he always helps our team defensively and offensively," Hachimura said of Bryant in February.
Filed to: Thomas Bryant