Hoosiers in the NBA: Noah Vonleh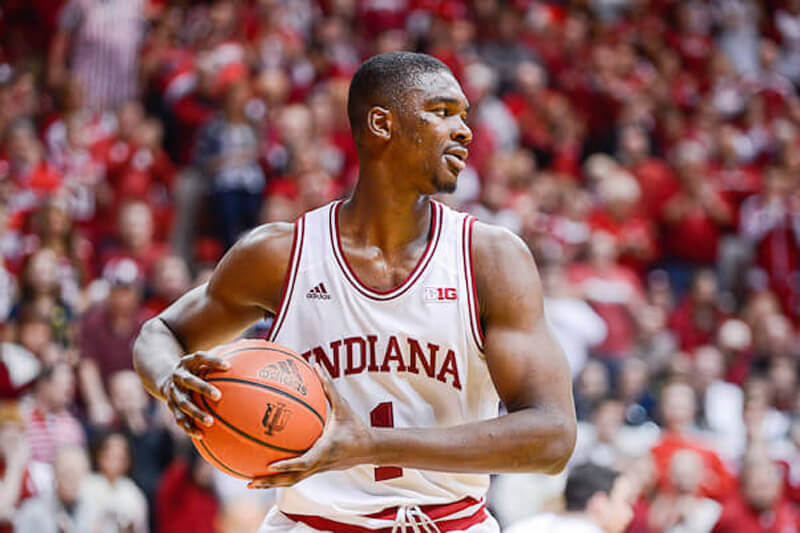 Welcome to "Hoosiers in the NBA," a player-by-player look at how IU basketball alums have fared during the 2019-20 NBA season. Today, the nine-part series continues with Noah Vonleh. Previously: Eric Gordon, Cody Zeller, Victor Oladipo, Juwan Morgan.
Vonleh (33 games): 3.8 ppg, 3.7 rpg, 56.2% FG in 11 minutes per game
At only 24 years old, Noah Vonleh is already an NBA journeyman.
Selected No. 9 overall in the 2014 draft by the Charlotte Hornets after just one season in Bloomington, Vonleh has played for seven teams in six NBA seasons. He was the first and only player to go the one-and-done route during Tom Crean's tenure in Bloomington.
Vonleh has been traded three times and once his rookie contract expired following the 2017-18 season, the Massachusetts native has been playing on one-year deals.
After producing his best NBA season to date in 2018-19 with the New York Knicks, Vonleh began this season in Minnesota after signing a deal worth $2 million with the Timberwolves. Arguably his best game as a professional came in January of 2019 with the Knicks when he finished with 22 points and 13 rebounds in a loss to the Nets.
This season in Minnesota, however, the 6-foot-10 forward played in just 29 games and made only one start before he was traded to Denver in early February in a deal involving four teams. Vonleh appeared in four games for the Nuggets before the NBA season was suspended due to the COVID-19 pandemic.
Despite showing a capability to step out on the perimeter both in high school and in college, that part of Vonleh's game hasn't blossomed with consistency in the NBA. He's attempted 297 3-pointers over six seasons, but is shooting just 31 percent from distance.
What has translated, however, is Vonleh's prowess on the glass. In his one season at Indiana, he was arguably the Big Ten's best rebounder. Over his NBA career, Vonleh has continued to excel on the boards with an average of 5.2 rebounds in 17 minutes per game.
Given his youth and pedigree as a former lottery pick, it seems likely that Vonleh will continue to find himself on an NBA roster as teams look for frontcourt depth and rebounding.
Bottom Line: Of the nine current Hoosiers currently in the NBA, Vonleh is at the bottom of the list in terms of his connection with IU fans.
He spent just one forgettable season in Bloomington before moving onto the NBA at just 18 years old. He's earned over $15 million thus far in his professional career, but didn't land the coveted rookie contract extension that would have tripled his career earnings.
Despite bouncing around the league in his first six seasons, Vonleh still has the potential to play in the NBA for the foreseeable future. He will turn 25 this August and will be an unrestricted free agent when the current NBA season concludes.
Quotable: "I think with the Knicks, we weren't the best team in the league, but we had a bunch of guys who were talented. They [the organization] wanted to evaluate all of the players, so they just told us to go out there and play. I just went out there and played to the best of my abilities. I know what my game is, I'm a versatile player who can defend many positions. I can rebound well and push [the ball up the court]. I can shoot the ball and do a lot of different things.
"[In Denver] this is a system where I see the guys maneuver through it and I feel I can fit right in. I feel I can bring some of that stuff [that I showed in New York] back out. I just have to keep working and wait for my opportunity." – Vonleh after being acquired by the Nuggets in February.
Filed to: Noah Vonleh